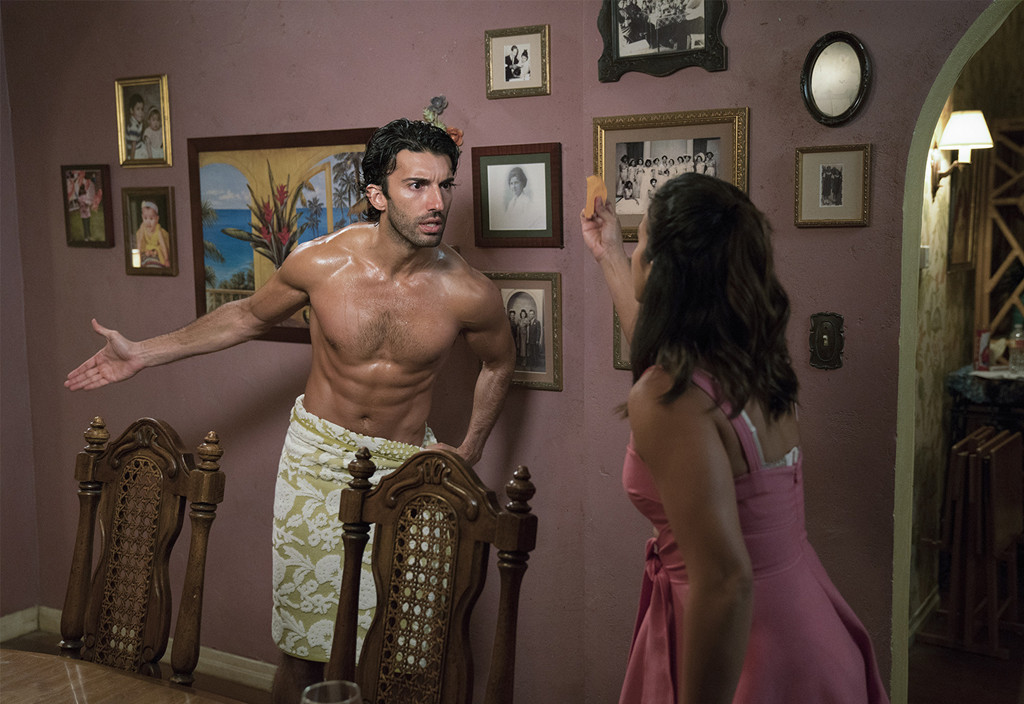 The CW
In this Friday's Jane the Virgin premiere, Rafael (Justin Baldoni) is shirtless. And angry.
According to this new pic, exclusive to E! News, Rafael clearly had no time for clothes or even anything more than a towel before getting into what looks like a pretty serious argument with Jane (Gina Rodriguez) that appears to involve a post-it note. Since we've seen the truly adorable and kind of perfect season four premiere, we won't tell you what the post-it note says or why everyone's so mad about it, but we will simply say that this scene in which Raf is shirtless is not the scene anyone was expecting it to be. 
When the show returns on Friday, Rafael is broke, homeless, and living with Jane after some hotel business went bad with Petra (Yael Groblas) and his kinda evil sister Luisa (Yara Martinez). Meanwhile, Jane had just been about to tell Rafael about her feelings for him when she went to meet the guy who had found the letter from her late husband Michael, only to discover it was her adorable first love, Tyler Posey. Or Adam. Whatever you want to call him. 
Now, the question that has to be answered is whether or not this is a sexy shirtless argument with Rafael that sends Adam out of the picture, or a real serious argument that sends Jane's feelings out of the picture instead. 
You'll just have to see! 
Jane the Virgin returns Friday at 9 p.m. on the CW.