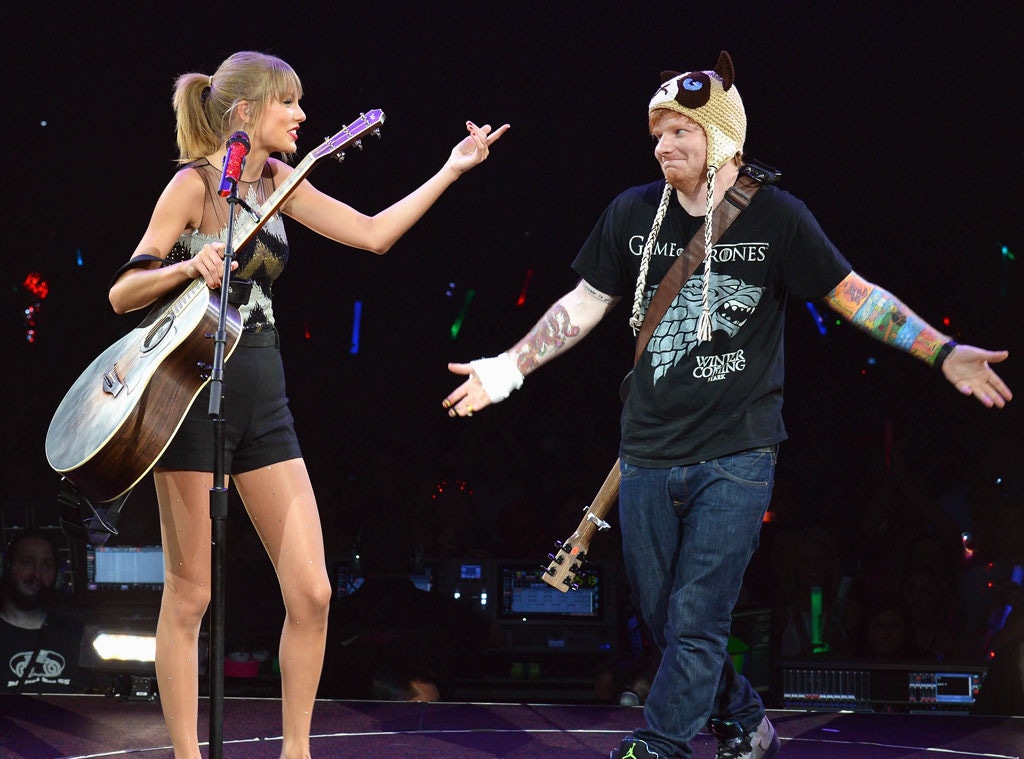 Larry Busacca/TAS/Getty Images for TAS
'Tis the season to be jolly and get your Jingle Ball tickets.
As the holidays begin to approach, iHeartRadio stations across the country are announcing the lineups for their annual Jingle Ball concerts presented by Capital One.
Earlier this afternoon, E! News learned that Taylor Swift will be performing at The Forum in Los Angeles for 102.7 KIISFM's concert as well as Z100's event at Madison Square Garden.
Joining the "Shake It Off" singer will be Ed Sheeran, The Chainsmokers, Sam Smith, Demi Lovato, Logic, Niall Horan, Charlie Puth and Liam Payne.
Other talented performers set to appear at select shows during the tour include Kesha, Nick Jonas, Camila Cabello, Julias Michaels, Fall Out Boy, Fifth Harmony and more.
JKING/FAMEFLYNET PICTURES
"The iHeartRadio Jingle Ball Tour has become a staple of the holiday season and one of the year's most anticipated events, with performances from today's most influential artists," said Tom Poleman, Chief Programming Officer for iHeartMedia. "With this year's lineup, the holiday concert event will once again bring the joy of the season to fans nationwide. Can't imagine a better way to end the year!"
Because Capital One is the national presenting sponsor for the third straight year, Capital One cardholders will be the first to get exclusive access to high demand tickets through a special presale. All other ticket sales go on sale October 16 at 12 p.m. local market time.
And for those who can't obtain tickets, you're also in luck. Highlights from the Jingle Ball Tour will air December 14 on the CW Network. Without further ado, find out who's performing at your city's concert below!  
106.1 KISS FM'S Jingle Ball; Dallas; November 28
The Chainsmokers, Charlie Puth, Kesha, Niall Horan, Liam Payne, Camila Cabello, Julia Michaels and Why Don't We
WILD 94.9's Jingle Ball; San Francisco; November 30
Demi Lovato, Nick Jonas, Charlie Puth, Camila Cabello, Niall Horan, Liam Payne, Julia Michaels and Why Don't We
102.7 KIISFM's Jingle Ball; Los Angeles, December 1
Taylor Swift, Ed Sheeran, The Chainsmokers, Sam Smith, Demi Lovato, Logic, Kesha, Niall Horan, Halsey, Charlie Puth and Liam Payne
101.3 KDWB's Jingle Ball; Minneapolis; December 4
Fall Out Boy, Kesha, Charlie Puth, Niall Horan, Camila Cabello, Liam Payne, Julia Michaels and Why Don't We
Q102's Jingle Ball; Philadelphia; December 6
The Chainsmokers, Fall Out Boy, Kesha, Halsey, Logic, Niall Horan, Charlie Puth, Liam Payne, Julia Michaels and Why Don't We                                                                                                
Z100's Jingle Ball; New York City; December 8
Taylor Swift, Ed Sheeran, The Chainsmokers, Sam Smith, Halsey, Fall Out Boy, Demi Lovato, Logic, Charlie Puth, Niall Horan, Camila Cabello, Liam Payne, Julia Michaels and Why Don't We
KISS 108's Jingle Ball; Boston, December 10
Fall Out Boy, Kelly Clarkson, Fifth Harmony, Halsey, Charlie Puth, Camila Cabello and Why Don't We
Hot 99.5's Jingle Ball; Washington D.C.; December 11
Fall Out Boy, Kesha, Logic, Zedd, Charlie Puth, Camila Cabello, Liam Payne, Julia Michaels and Why Don't We
103.5 KISSFM's Jingle Ball; Chicago; December 13
The Chainsmokers, Demi Lovato, Charlie Puth, Kesha, Camila Cabello, Liam Payne, Julia Michaels and Why Don't We
Power 96.1's Jingle Ball; Atlanta; December 15
Demi Lovato, Logic, Zedd, Fifth Harmony, Nick Jonas, Charlie Puth, Camila Cabello, Liam Payne, Julia Michaels and Why Don't We
93.3 FLZ's Jingle Ball; Tampa Bay; December 16
Zedd, Nick Jonas, Charlie Puth, Camila Cabello, Liam Payne and Why Don't We
Y100 Jingle Ball; Miami; December 17
Zedd, Nick Jonas, Charlie Puth, Camila Cabello, Liam Payne and Why Don't We