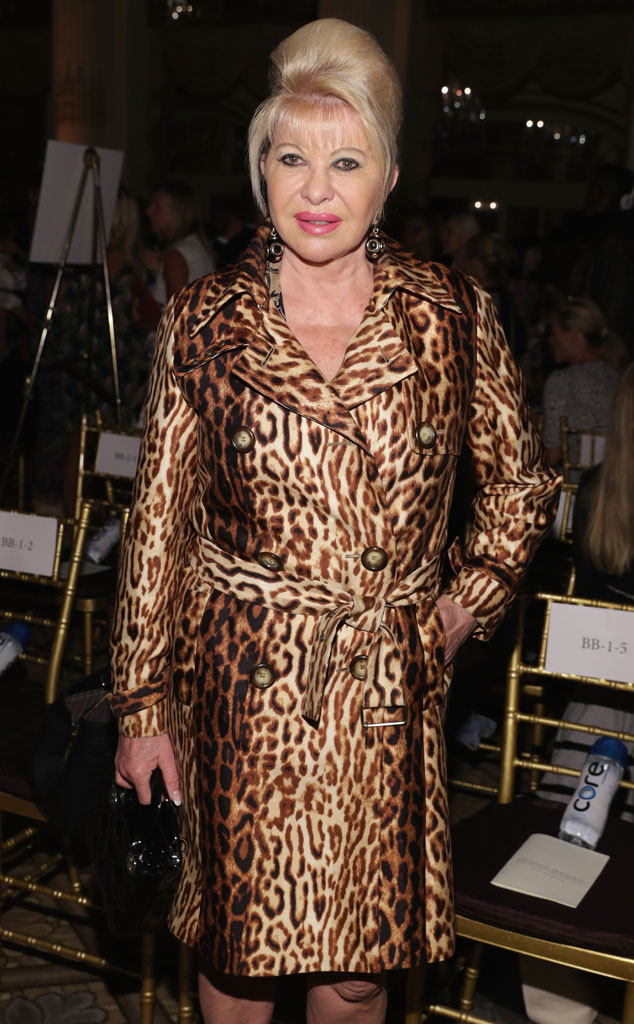 Cindy Ord/Getty Images For NYFW: The Shows
Melania Trump may be living in the White House, but Ivana Trump considers herself President Donald Trump's original first lady. The first Mrs. Trump gave herself this title during a recent interview with Good Morning America.
During the interview, Ivana said she has the "direct number to [the] White House" but that she doesn't really use it.
"I don't really want to call him there because Melania is there and I don't want to cause any kind of jealousy or something like that," she said, "because I'm basically first Trump wife, OK? I'm [the] first lady."
Still, Ivana doesn't seem jealous of Melania's position.
"I think for her to be in Washington must be terrible," Ivana said, according ABC News. "It's better her than me. I would hate Washington."
In response to Ivana's comments, Stephanie Grisham, a spokesperson for Melania, issued the following statement:
"Mrs. Trump has made the White House a home for Barron and The President. She loves living in Washington, DC and is honored by her role as First Lady of the United States. She plans to use her title and role to help children, not sell books. There is clearly no substance to this statement from an ex. Unfortunately only attention seeking and self-serving noise."
Ivana and the president were married from 1977 to 1992 and had three children together: Donald Trump Jr., Ivanka Trump and Eric Trump. When asked if she ever thought her ex would be president, Ivana said she did.
"Donald got letter from Reagan, President Reagan, and he said, 'You should run for president,'" she said. "And I think he could do it if there would not be a scandal."
Of course, the scandal Ivana was referring to was Donald's affair with Marla Maples, who he later married in 1993. Ivana didn't even refer to Maples by name but instead called her a "showgirl."
Ivana also said she offers the president advice and that she agrees with him on certain aspects.
"Sometimes I tell him to just, not to speak that much, and tweet are the tweets," she said. "I think I don't disagree with him because he has so much press against him, so if he says something his words are going to be twisted immediately."
To see the interview, watch the tweeted video.