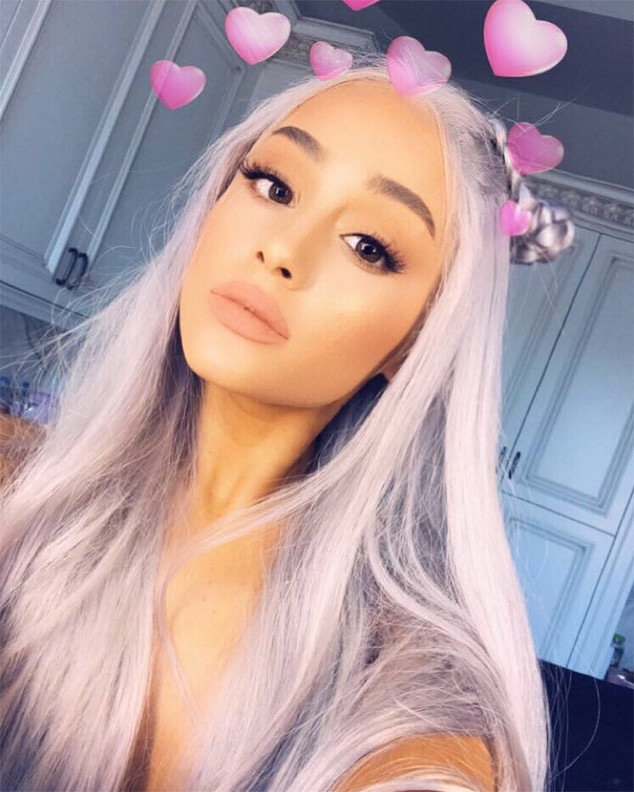 Instagram
What color is Ariana Grande's hair? As it turns out, the answer has shades of grey.
Over the weekend, the 24-year-old pop star unveiled her newly dyed hair on Instagram. And though it appears purple, she assured fans "it's grey." But Chris Appleton, whose other clients include Kim Kardashian and Jennifer Lopez, said it has a metallic sheen: "LOVE the silver vibes."
Josh Liu helped Appleton take Grande's hair from an ombré "bronde" color to grey. Before she shared her look with fans, Grande asked Patrick Ta to do her makeup (assisted by Carly Fisher).
"New Look Who Dis," Ta joked in his Instagram caption.
The two photos of Grande were both overlaid with a Snapchat filter.
Grande wore a similarly colored wig in her "Focus" music video, released in 2015.
The "Side to Side" singer debuted her "ombré" makeover in June, referring to herself as "moonlightbae." And she famously defended her trademark ponytail in a 2014 Facebook post, writing, "I wear extensions but I wear it in a ponytail because my actually hair is so broken that it looks absolutely ratchet and absurd when I let it down. I tried wigs; they looked RIDICULOUS."
Grande has no intention of retiring the ponytail, either. As she told Byrdie last year, "I had no idea that it was going to become, like, a thing. It's how I like my hair. It's how I've always liked my hair. Picture me in fourth grade with a little half-up side-pony flopping around my head. I never expected it to become such a thing. This is what makes me comfortable, and I feel like there's a thousand different ways to do a ponytail. A million!" Though she's more apt to switch things up than she once was, Grande explained, "It brings me so much joy, honestly. Every time I put my hair up, it's like a surprise. Like, I forget how much I love it, and then I tie it back and I'm like, 'I love this look! Ooh, girl!' Every time I tie it up is like the first time. It's like true love."