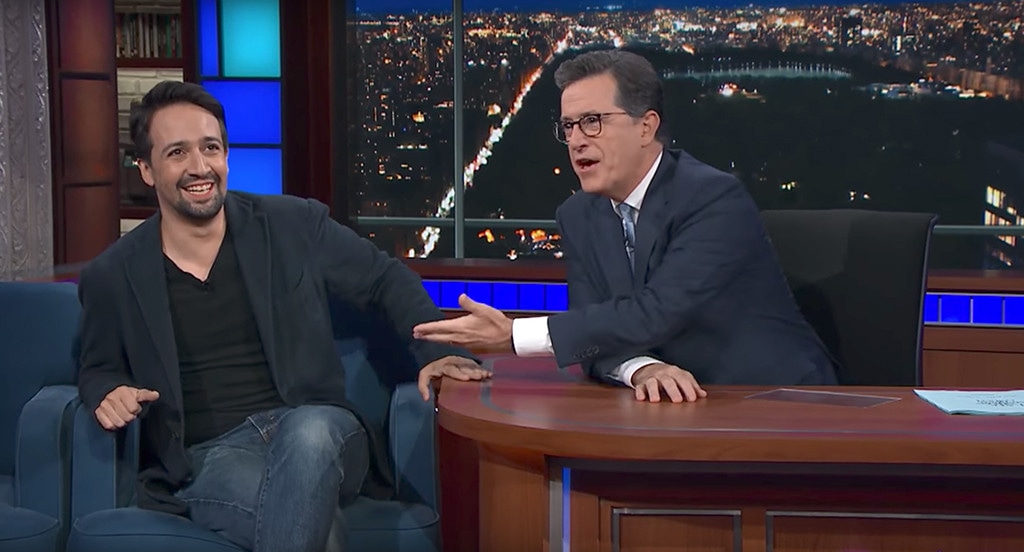 CBS
Puerto Rico thanks you, Lin-Manuel Miranda!
On an episode of The Late Show last week, Nick Kroll and host Stephen Colbert launched a fundraising campaign to help the people of Puerto Rico, which was devastated by Hurricane Maria last week. They called on celebs to share awkward childhood photos with the hashtags #PuberMe" and #PuertoRicorelief. They took part in the campaign themselves and many celebrities also heeded the call.
On Thursday, Colbert announced on his show that the #PuberMe fundraising campaign had reached $1 million in donations, thanks to Miranda, who contributed a #PuberMe video of himself at age 13, singing a song he made up about Puerto Rico.
Colbert's Americone Dream Fund committed to give the One America Appeal for Hurricane Relief fund $1,000 for every celebrity #PuberMe photo, garnering $233,000 in donations. With the help of Kroll and his colleagues on the Netflix show Big Mouth, some $100,000 was added, while CBS chef Leslie Moonves matched the combined sum to bring the total to $666,000. The Americone Dream Fund added a second donation of $266,000 due to the #PuberMe pics posted by non-famous people and the grand total came to $999,000.
"If only we had one more awkward celebrity puberty photo, but we just don't," Colbert said.
Or do they?
Miranda then appeared in person, receiving a standing ovation from the studio audience.
"Wait a minute, Stephen," he said.
He then had his #PuberMe video screened, symbolically pushing the campaign total to $1 million.
The creator of the Broadway musical Hamilton and actor, who is mostly of Puerto Rican descent and has family in the country, has been particularly active and vocal in his hurricane relief efforts.
On Friday, he released a much-anticipated star-studded charity single titled "Almost Like Praying," whose name comes from the lyrics of the West Side Story musical's song "Maria." The single features the likes of Jennifer Lopez, Marc Anthony, Camila Cabello, Gloria Estefan, Fat Joe, Luis Fonsi, John Leguizamo and Rita Moreno. Proceeds will go to the Hispanic Federation UNIDOS Disaster Relief Fund to help the victims of Hurricane Maria. Miranda promoted the single on The Late Show.
Miranda has also been promoting Moveon.org's crowdfunding campaign, which has raised more than $3.1 million as of Friday morning.