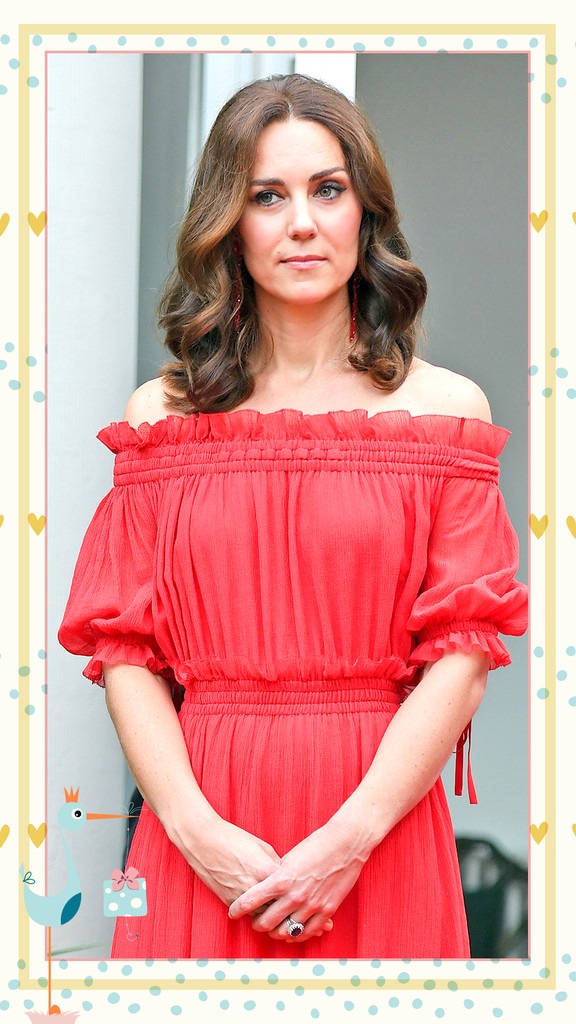 Getty Images
Kate Middleton is a great many things. She's a Duchess, of course. She's a mental health advocate. She's the owner of the most enviable hair around. But first and foremost, she's a badass. 
She may not be the first person most think of when it comes to toughness—all those riding boots and blazers don't exactly scream edgy—but as a mother she's as impressive as it gets. The Royal has endured not one but two pregnancies with Hyperemesis Gravidarum, the morning sickness so severe it's in a class by itself—and now she's embarking on a third. 
Her experiences carrying both George, now four, and Charlotte, two, reads almost like a horror novel. The disease is characterized by nausea and vomiting, which can occur as often as every 10 minutes and last throughout the entire 40 weeks. It often requires extra hydration and nutrition supplements, and that's exactly what happened with Prince George. 
Middleton was hospitalized early on in the 2012 pregnancy, staying for a few days as she regained her strength. The disease came back with a vengeance with Princess Charlotte, but she had been warned by her doctors that most women who suffer from HG, as it's known, experience repeats with every baby, so she was better prepared for the symptoms—a fact that presumably brought little relief to the Duchess. 
Despite these struggles, William and Kate have long been eager to build a large family; he being exceptionally close to his brother and she being one of three children herself. Royal-watchers were waiting for the moment when they would add to their brood yet again, but most were surprised when the announcement of the third Royal-baby-to-be came so soon. 
The palace put out the news that Middleton was expecting again in early September. "Their Royal Highnesses The Duke and Duchess of Cambridge are very pleased to announce that The Duchess of Cambridge is expecting their third child," a statement read. "The Queen and members of both families are delighted with the news."
While all of England rejoiced, speculation also began almost immediately. There had been almost no hints that the announcement was coming, and word started to spread that Middleton was still in her first trimester—a point at which most people still keep mum about the news. As it turned out, they released the news because Middleton was so ill that she was going to miss public appearances and, most importantly, George's first day of school. This bout of HG was so bad that she was forced to sit out of what would be a marquee day in the little Prince's life. 
At the time, sources told E! News that Kate was "very much hoping to be at George's first day of school, but because of her illness it is looking unlikely." As we all know now, William took George on his own—it gave the world that adorable father-son photo opp, but it was a hard moment for Middleton to miss. 
And it may not have been entirely her choice either. It seems that her medical team jumped into action as soon as the first symptoms of HG presented themselves, giving her a routine that they hoped would prevent future hospital stays—as a source explained, she was under strict doctor's order to rest and "take each day one at a time." 
The Duchess has spent her days since announcing the pregnancy holed up in Kensington Palace, receiving regular visits from those doctors. And, as William told a well-wisher at a recent event, using ginger biscuits to try and ease her nausea symptoms. And, as a silver lining, her time at home has given her many opportunities to bond with Princess Charlotte, while the rest of the family is off at school and work. 
While there is almost no way to predict how long the most severe symptoms of HG will last, a Middleton family source is assuring E! News that as of the last few days the family believes the worst of the condition may be behind them. 
"She has such a rotten time during these early month," they said. "But she's out of the woods now and doing well."
In fact, since she recently entered her second trimester, she's even started to enjoy her pregnancy. That means the Duchess is preparing to get back to business as usual—make that royal business as usual. Next Tuesday, Middleton will be attending a reception at Buckingham Palace alongside the Duke and Prince Harry as part of the World Mental Health Day, a cause that has been very near and dear to her heart. 
It's a marquee event for Kate's first public appearance since the announcement of her pregnancy: The reception is put on to celebrate and thank those who are working in the mental health field across the United Kingdom and guests have been invited from across the country. Kate, William and Harry will get to meet with all of the people who have been dedicating their lives to the cause, speak with them about their work, and The Duke will even give a speech. There is no word on whether Kate will be giving any formal words, but even her attendance is a huge step forward in the pregnancy. 
Given that she is approximately six months out from the newest royal baby—the Palace has yet to release a due date, but royal-watchers have been able to do some rough math—Duchess Kate is also beefing up her team in advance of what will surely be an incredibly busy schedule. According to Hello, her new private secretary is set to start work this month. Catherine Quinn was formerly the chief operating officer and associate dean at the University of Oxford's Saïd School of Business, and also holds her own MBA from the university. 
In other words, she comes to the job more than qualified.
Quinn's duties will be wide-ranging, but she'll serve as Kate's right-hand woman in pretty much anything she needs. Right now that means preparing her for next week's scheduled engagement, but she'll also reportedly be organizing official royal programs and making sure that Kate is briefed on all the people she meets at her events. The private secretary is also tasked with the all-important duty of collecting flowers and cards that the Duchess receives from members of the public while out at events. 
And, as one can imagine, she'll probably do a fair amount of coordinating for the three royal children as well.
Royal fans and watchers alike will be hoping to get a renewed update from Middleton on her well being next week, but if we know one thing it's that the Duchess is one tough cookie.