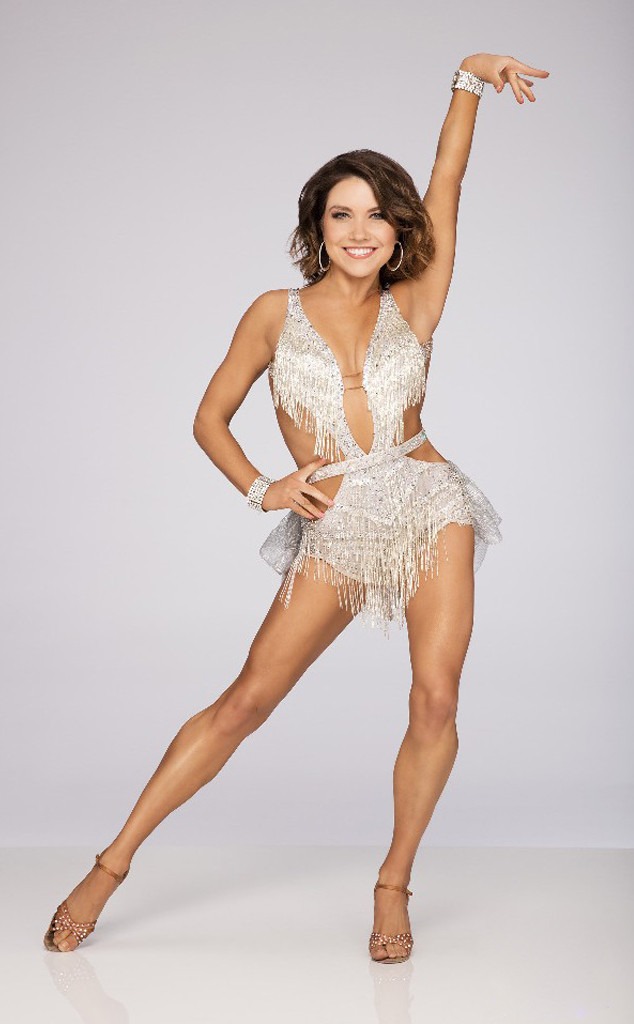 ABC
Dancing With the Stars professional dancer Jenna Johnson, now part of the dance troupe on the ABC series, is taking you behind the scenes of season 25.
Before I get into my blog, I want to say my heart goes out to those who were affected by the horrific attack in Las Vegas. Hearing all the stories of heroism and how Vegas has responded has given me hope that even in times of tragedy it's a reminder to have gratitude every day and love the ones around us. (Editor's note: DWTS took a moment to honor the victims of the Las Vegas shooting at the beginning of the Oct. 2 episode.)
I'm officially, officially back! I forgot how much I missed the countdown before going live and Tuesday's show last week was a blast.
First things first, Tom Bergeron and I have reunited and here's the backstory to that: A few seasons back, Tom and I were joking around and thought we had a funny concept for a video. We shot it and thought we were pretty hysterical and decided we were going to make it our little thing, which has now become our little tradition on show days to make some fun content. Well, first day back and Tom had a brilliant idea for my comeback video! I love that man. He's the absolute best!
It's interesting though because I feel like I'm playing a bit of catch up. I missed the first few introduction weeks where everyone has some time off camera to get to know everyone but now I'm having to crash course get to know everybody before someone gets eliminated! I stand by my statement that this is probably one of the best cast seasons of DWTS in terms of the celebrity talent we have. I am still getting to know everybody but so far I am loving everyone and here's why:
Before the season started I had heard that Sasha [Pieterse] was super cute and really nice. That is an understatement. She's an angel. I want to be her best friend and I can't wait to get to know her better!
I grew up idolizing Lindsey Stirling since we are both Utah natives. She reminds me of an energetic Tinkerbell! I think she and Mark [Ballas] are a dancing match made in heaven.
I want to be Nikki Bella when I grow up. I mean, she is a QUEEN and such a sweetheart! I'm so happy she has an amazing partner to take her through this competition. I think they are going to go really far this season.
Every time I speak to Victoria Arlen I want to give her a huge hug. How is someone seriously so inspiring?? And she's younger than I am!! She's a walking miracle and I'm grateful that I get to share moments with her and learn from her young and mighty wisdom.
How funny is Drew Scott? I'm loving the humor and personality he brings to the show. He and Emma [Slater] complement each other so well and I think their packages are the best, too.
Nick Lachey exceeds all my childhood expectations! I'm so happy he's on the show so I can relive my childhood every week and stay young forever.
That's it for this week! I'll be back soon with more behind the scenes updates but until then, I want to know which celebrity dancer YOU are loving so far. Let's hear in the comments below!
DWTS airs Mondays at 8 p.m. on ABC.