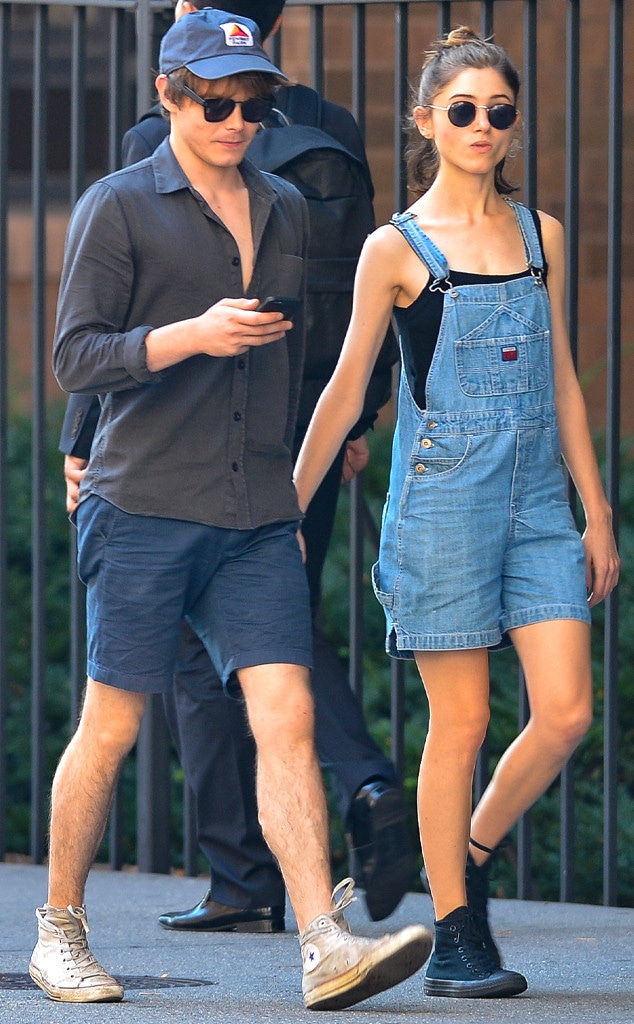 TheImageDirect.com
After months of speculation, Stranger Things stars Natalia Dyer and Charlie Heaton were spotted holding hands earlier today—and fans went crazy.
Today, the 20-year-old actress, who plays Nancy Wheeler, and the 23-year-old Brit, who plays Jonathan Byers on the hit Netflix show, held hands while hanging out in New York City.
While the pair have not officially confirmed their relationship status, the duo have quietly left a trail of breadcrumbs all over the Internet, leading to the logical conclusion that they're more than just co-stars.
Let's check out all the times that two sparked romance rumors on their social media...
Sept. 14, 2016: This is the first time that Charlie appeared on Natalia's Instagram. She jokes that "We're sure going to miss you" on season 2.
Their show debuted in July 15 2016, but the two were still hanging out on Sept. 14. People of the Internet took notice of Natalia's post and started commenting about a potential romance. Given that Natalia posted about La Sagrada Familia (a church in Barcelona, Spain) just days before the pigeon post and Spaniards are known to paint their pigeons a tie-dye of colors, it's quite possible the two were on a trip to Barcelona, Spain together.
Sept. 22, 2016: Natalia posted an Instagram that said, "Don't forget your patriotism folks #nationalicecreamconeday." The photo shows a man's hand holding an ice cream cone in front of her face—and fans were quick to point out that it could be Charlie's.
July 16, 2017: Almost a year later, Charlie posted quite a similar ice cream photo—only with a woman's hand in front of his face. 
Coincidence? We think not!
November 2016: ET reported that the rumored pair was holding hands at a restaurant in Nashville, TN.
Jan. 10, 2017: Charlie was clearly gushing over his co-stars when he posted a snap of Natalia and Joe Keery with the caption, "To the best of times with the best of friends! Thank you @goldenglobes & @instylemagazine for hosting us. I've had an incredible very fortunate year and I'm so honoured to have been a part of it all."
Jan. 11, 2017: Charlie slipped on Nancy Wheeler's shoes and wrote, "@nattyiceofficial Need my converse back!"
Now if that hasn't convinced you, check out all the times they sparked rumors while out and about...
Watch Daily Pop weekdays at 12:30 p.m., only on E!