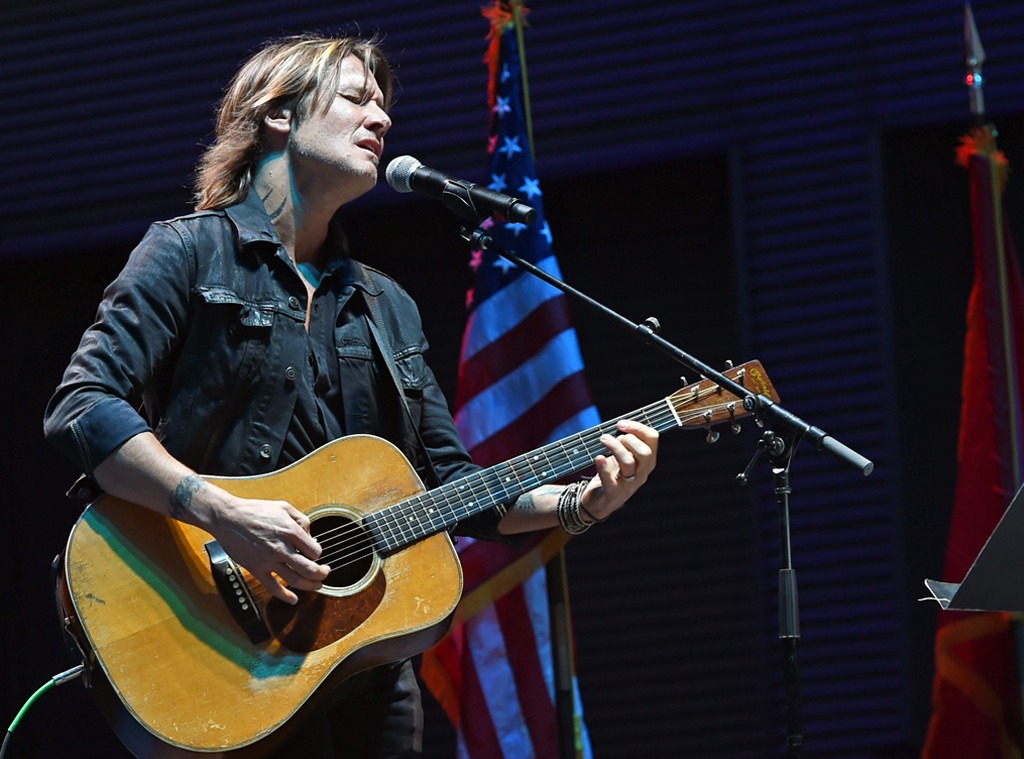 Rick Diamond/Getty Images
While nearly 2,000 miles separated him from Las Vegas, Keith Urban had the victims of Sunday night's deadliest mass shooting in American history on his mind and in his heart. 
In honor of the 58 concertgoers who have died and the 527 injured, country stars like Vince Gill, Amy Grant, Alison Krauss, Chip Esten and Urban banded together and took the stage during a candlelight vigil in Nashville Monday night.
Organized by the city, Nashville Convention & Visitors Corp and the Country Music Association, the event drew a crowd of reportedly 600 people. Urban serenaded attendees with Simon & Garfunkel's soothing "Bridge Over Troubled Water" after sharing with the crowd how he had learned of Sunday night's devastating turn of events. 
Late Sunday, lone gunman Stephen Paddock, 64, opened fire on a crowd of 22,000 Route 91 Harvest Festival concertgoers from the 32nd floor of the Mandalay Bay Resort and Casino as Jason Aldean was mid-performance. 
"I started this morning finding out about it and being shell-shocked. My 9-year-old asked, 'Dad, you seem quiet,'" Urban said of his daughter Sunday Rose. "I said, 'Yeah a lot of people died last night,' and she said, 'Did you know any of them?'"
"They're like family," Urban said of the country concert crowd. "It's the one thing about country music. It is a community. I do know those people. It just hit me."
All donations made to the Community Foundation of Middle Tennessee's Music City Cares Fund will go to Las Vegas "to help with the immediate and long-term needs of victims," the organization announced on Twitter. 
As Nashville Mayor Megan Barry told the crowd Monday night, "Love is the answer and the only thing we know."