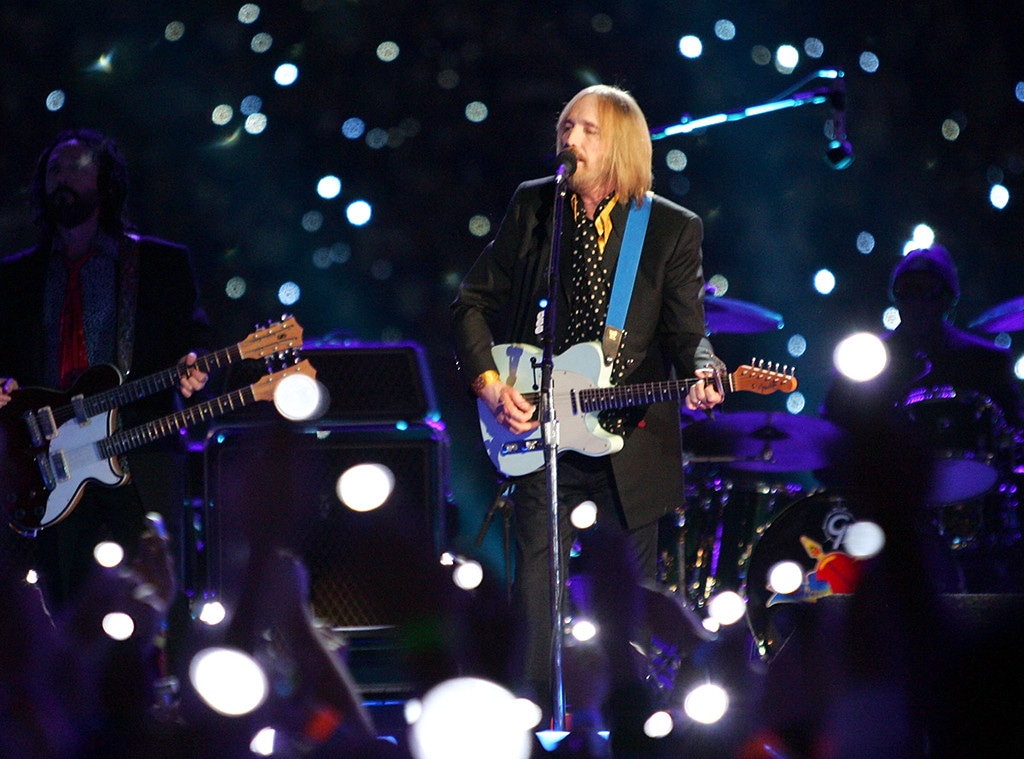 Streeter Lecka/Getty Images
Tom Petty wasn't supposed to be done yet.
Though the 66-year-old rocker, who'd been filling arenas for the better part of 40 years, had said that his just-concluded tour with his longtime band the Heartbreakers would likely be their last, he wasn't planning on packing it in.
"It's very likely we'll keep playing, but will we take on 50 shows in one tour? I don't think so," Petty told Rolling Stone last December. "I'd be lying if I didn't say I was thinking this might be the last big one. We're all on the backside of our sixties. I have a granddaughter now I'd like to see as much as I can. I don't want to spend my life on the road. This tour will take me away for four months. With a little kid, that's a lot of time."
"I've been hearing that for 15 years," guitarist Mike Campbell told the magazine while on the road in June. "We'll see."
At least it's fitting that, just eight days ago, their tour wrapped up at the Hollywood Bowl, a cultural landmark in the city that the Florida-born Petty adopted and turned into his own personal heartland, settling by the ocean in Malibu and fronting one of the quintessential Los Angeles bands.
Because, instead of having time to reflect on the adulation that followed him all over the country from one sold-out show to another, Tom Petty died Monday.
The old rock 'n' roll trope made famous in song by the now 68-year-old Billy Joel—"only the good die young"—maybe used to be true. It sounded profound. It sounded sexy.
But now the good, the great, the legendary are dying in pedestrian middle age—old enough that the number probably sounded nonchalantly unattainable to them back when they were living hard and having way too much fun making music to worry about it, but young enough so that their deaths keep coming as a grievous shock to the many who assumed people like David Bowie, Prince and, now, Tom Petty, would live forever.
That's a minute sampling of the growing list of influential artists who've left this world recently, due to disappointingly mortal causes such as cancer, heart attacks, drug abuse and suicide, but the disbelief remains. The mark these artists left on all of pop culture, let alone the music world, has assured them a prominent place in history, but no one is ever ready to be left with just their body of work.
Courtesy Randall Michelson
Despite having been in declining health for weeks before he died, Prince had just performed for an adoring crowd in Atlanta one week before his death. Bowie released an album two days before he lost a battle with cancer that very few people knew he was fighting. And now Petty is gone, exactly one week after he was the picture of rock 'n' roll-fueled immortality onstage.
At the Hollywood Bowl on Sept. 21 and 25, he delved deep into the Heartbreakers' vast catalog and his own—the two having become fairly indistinguishable over the years thanks to Petty's instantly recognizable vocals and because the band readily backed him in concert on his solo classics such as "Free Fallin'."
Courtesy Randall Michelson
As he himself said, just this past February when he was honored at the MusiCares Person of the Year dinner, Petty considered the Heartbreakers "one of the two or three best bands there is."
Thomas Earl Petty was an 11-year-old kid growing up in the "redneck, hillbilly part" of Gainesville, Fla., when he met Elvis Presley on a movie set in 1961 and promptly became a devoted fan of the 1950s-era rock 'n' roll greats. But it never occurred to him to follow suit until he saw the Beatles perform on The Ed Sullivan Show three years later. "It sort of hit me like a lightning bolt to the brain," he recalled on NPR's Fresh Air in 2006. 
And so he set out to form a band, and he was in several in Florida, most notably Mudcrutch with Randall Marsh, Tom Leadon, Benmont Tench and Mike Campbell. (Their Americana sound would find new appreciation decades later with the release of their eponymous first studio album in 2008.)
But it was after forming Tom Petty & the Heartbreakers in L.A. with keyboardist Tench, lead guitarist Campbell, bassist Ron Blair and drummer Stan Lynch in the 1970s that he first found major success.
The Heartbreakers' 1976 self-titled debut album—featuring "Breakdown" and the inescapable future classic "American Girl"—was a hit in the U.K. before it made much noise in the U.S., which is ironic since the band would end up helping to define the sound of American rock in the 1970s and '80s. But they steadily found a following with their SoCal-bred, country-inflected rock and finally their third album, 1979's Damn the Torpedoes, went platinum.
They went on to sell tens of millions of albums and, along with a select few of their peers, enjoy not just longevity but also relevance into an age when most are relying solely on their stable of decades-old hits.
Not that fans didn't come out to hear the hits, but there were just so many, coming from every era of Petty's career.
After the release of his seventh studio album with the Heartbreakers, Let Me Up (I've Had Enough), Petty joined the super-group the Traveling Wilburys with George Harrison, ELO's Jeff Lynne, Roy Orbison and Bob Dylan—a who's who of rock 'n' roll history—and the reflective harmonies of "End of the Line" and "Handle With Care" would join the list of Petty concert staples.
Teaming with writing partner Lynne, Petty released his first solo album, Full Moon Fever, in 1989, featuring backing from select Wilburys and Heartbreakers. "Free Fallin'," the album's lead track, became a Top 40 radio favorite and ushered Ventura Boulevard and the San Fernando Valley neighborhood of Reseda into the pantheon of everyday locations made memorable by being mentioned in a rock song.
Also boasting "I Won't Back Down," "Runnin' Down a Dream," "A Face in the Crowd" and "I'll Feel a Whole Lot Better," Full Moon Fever went platinum five times over. Petty followed it up with 1994's Wildflowers, a mellow reverie of an album that stood out from the Seattle-sprung grunge and gangsta rap that was memorably carving out its place in the pop music scene at the time.
Yet there was a romantic, world-weary edge to Wildflowers songs like "You Don't Know How It Feels" (which won him one of his three Grammys, and his only one as a solo artist) and "Time to Move On" (which provided this writer's senior yearbook quote). It was still rock 'n' roll, just as filtered through the pleasantly stoned perspective of someone who was only in his 40s but had seen it all.
At the time he and the Heartbreakers also had a hit with the still-haunting "Mary Jane's Last Dance" (made all the more so by Petty's waltz with Kim Basinger's stolen corpse in the VMA-winning video), which was included on their 1993 album Greatest Hits. 
They further endeared themselves to the 1990s-era MTV crowd by contributing most of the soundtrack to the 1996 teen comedy She's the One, which is considered the band's ninth studio album.
Very much the professional songwriter in addition to the poetic lyricist, Petty acknowledged writing "Supernatural Radio" because, well... he had to for the movie. One night after a studio session, he told Performing Songwriter in 1999, "I got into that space and it drifted in, and the very next day I brought it to the band and we cut it. We were all just knocked out."
Powering through the obstacles that came their way—including Petty's descent into heroin addiction in the 1990s—the Heartbreakers maintained their prolific output, their biggest gap between studio album releases being the eight years between 2002's The Last DJ and 2010's Mojo. Not that anyone was taking a breather during that time: Petty released his third solo album, Highway Companion, in 2006; he and the Heartbreakers headlined the Super Bowl XLII in 2008; and later that year Petty, Tench and Campbell got Mudcrutch back together.
Tom Petty & The Heartbreakers' 13th and final studio album, 2014's Hypnotic Eye, debuted at No. 1 on the Billboard 200 album chart—the band's first No. 1 debut—and was nominated for the Grammy for Best Rock Album.
"After you've written 300, 400 [songs], you've got to really concentrate so you can get something that feels fresh and is worth the money to someone who has a whole bunch of Tom Petty records. 'Why would I buy another one?' Well, because it's worth it, you know?" Petty mused to the Los Angeles Times when Hypnotic Eye came out.
Brandon Marshall/Rex Features/ZUMAPRESS.com
The band was the subject of Peter Bogdanavich's 2007 documentary Runnin' Down a Dream, but it wasn't until the release of the 2015 book Petty: The Biography that the extent of the singer's battle with drugs came to light—with his permission, though he was worried that his addiction story might come off as a by-product of the glamorous rock star life.
"I just had to work with him and say, 'I think you're going to come off as a cautionary tale rather than a romantic tale,'" Petty author Warren Zanes told the Washington Post two years ago. "But I wanted to show that Tom Petty is a man who lived the bulk of his life in the album cycle. He wrote songs, they recorded those songs, they put a record together with artwork, they released it, and they went out on the road to support it. Over and over and over and over and over. And he, being the leader of the band, had to do most of the work around it.
"I think he was invested in being caught in that cycle in part because there was so much movement in it all that the trouble from his past was kept at bay. But then, when he left his marriage and moved into a house, by himself, things slowed just long enough that all of that past came right as he's coming into the pain of not being able to control the well-being of his kids and not being able to control a dialogue with his ex-wife. The classic situation of midlife pinning a person down to the mat."
Petty and his first wife, Jane Benyo, divorced in 1996 after 22 years of marriage. They have two daughters together, Adria and AnnaKim Violette. He married his second wife, Dana York, who survives him, in 2001.
He eventually went to rehab to get clean.
Petty recalls in the book, "Using heroin went against my grain. I didn't want to be enslaved to anything. So I was always trying to figure out how to do less, and then that wouldn't work. Tried to go cold turkey, and that wouldn't work. It's an ugly f---ing thing. Really ugly. I fear that if I talk about it, people will think, 'Well, I could do it and get off.' But you can't. Very few people do."
Meanwhile, bassist Ron Blair had left the Heartbreakers in 1982, and he was replaced by Howie Epstein, who stayed with the band for 20 years. He too battled heroin addiction, which led to his ultimate dismissal from the band, and he died in 2003.
Ron Galella, Ltd./WireImage
Asked if there was a certain hypocrisy in that timeline, Zanes told the Post, "The Heartbreakers sent Howie to rehab. They tried to help him. The last tour that they had Howie on, in the days prior to the tour, he was stopped by police in a stolen car with [country singer] Carlene Carter with black tar heroin. And he was still on that tour. The Heartbreakers are hardly a case study in intolerance. They held on trying to keep that band together. That's kind of the Heartbreakers code. You keep this band together. But it got untenable."
Blair then rejoined the band after 20 years away. "I don't think the band continues without Ron," Tench told Rolling Stone recently, recalling that pivotal time. "Bringing in someone new wouldn't have worked."
Stan Lynch, who left the Heartbreakers in 1994, reunited with Petty and the band for their 2002 induction into the Rock and Roll Hall of Fame. Epstein was there, but in poor health, and he'd be gone a year later. It would also be the last time Lynch ever played with Petty.
He admitted to Zanes that he never forgave Petty for not attending Epstein's funeral. "I can't, I wish I could," he said.
In response, Petty says he went to a separate, private memorial for his fallen bandmate. "I don't think Stan knows what we went through with Howie," says Petty. "Nobody does. I owe Howie more than to tell those tales. But I will say that I miss him all the time. I hear his voice on records, and it just kills me."
It's still hard to grasp that, from now on, when we hear Tom Petty's voice we'll be remembering him.
In 2004, when George Harrison was inducted posthumously as a solo artist into the Rock and Roll Hall of Fame, Petty teamed with fellow Traveling Wilbury Jeff Lynne, Steve Winwood, George's son Dhani Harrison, guitarist Marc Mann and Prince (who was also being inducted that year) for a tribute performance of "As My Guitar Gently Weeps."
After Prince died last year, Petty was among those who remembered the performance—which was punctuated by a three-minute Prince solo—to the New York Times.
"It's funny because just a few days ago, he was in mind all afternoon, I was thinking about him," Petty said about his fellow rock star. "And I had just been talking with Susanna Hoffs of the Bangles—he wrote their 'Manic Monday' song. She was telling me the story of that, of how she came to have that song and meet Prince. And I was thinking about him a lot that day, and I almost told myself I was going to call him and just see how he was. I'm starting to think you should just act on those things all the time."