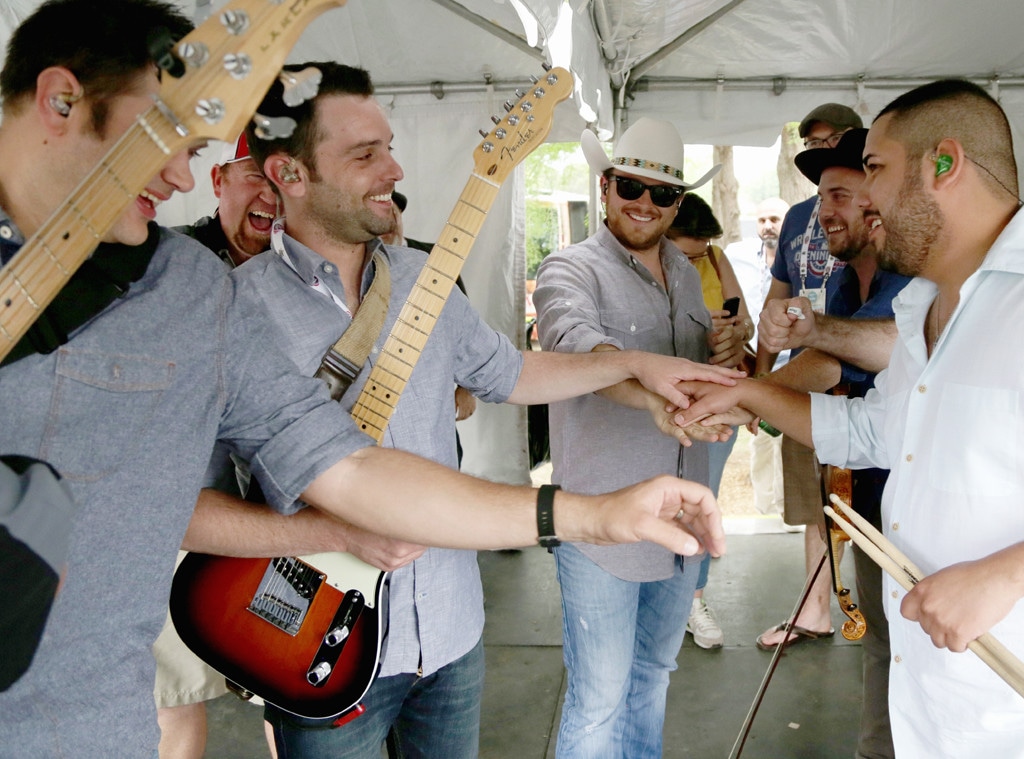 Sara Kauss/ACM2015/Getty Images for dcp
Josh Abbott Band guitarist Caleb Keeter took to Twitter Monday to start a conversation about gun control in the wake of last night's shooting that left 58 people dead and 515 others injured.
Hours after the band left the main stage at Route 91 Harvest Festival in Las Vegas Sunday evening, gunman Stephen Paddock opened fire on the crowd of 22,000 from the 32nd floor of the Mandalay Bay Casino & Resort. After his friends were account for, Josh Abbott issued a statement to E! News. "Everyone in our band and crew are safe. I had just left and was in the Mandalay Bay on the 20th floor with my fiancée during the shooting just a few floors away. The band & crew were on the concert grounds and saw people get shot. Some of my crew members were hit with shrapnel, but not injured. We are deeply disturbed by this horrific act of violence and send our thoughts and prayers to the victims and their families," the country artist said. "It was a long awful night but we are blessed to be alive and healthy. Hug your loved ones tight."
Keeter, understandably, was shaken by the tragedy.
A "proponent of the Second Amendment" his entire life, Keeter is now rethinking his stance on gun control. In a Twitter note, he wrote, "I cannot express how wrong I was. We actually have members of our crew with CHL licenses, and legal firearms on the bus. They were useless. We couldn't touch them for fear police might think we were part of the massacre and shoot us..."
The guitarist watched as "fearless police officers" safeguarded concertgoers, with many standing in the line of fire. "Writing my parents and the love of my life a goodbye last night and a living will because I felt like I wasn't going to live through the night was enough to for me to realize that this is completely and totally out of hand. These rounds were powerful enough that my crew guys just standing in close proximity of a victim shot by this f--king coward received shrapnel wounds. We need gun control RIGHT. NOW," he wrote. "My biggest regret is that I stubbornly didn't realize it until my brothers on the road and myself were threatened by it."
David Becker/Getty Images
Now that he is out of harm's way, Keeter told his Twitter followers, "We are unbelievably fortunate to not be among the number of victims killed or seriously wounded by this maniac."
White House Press Secretary Sarah Huckabee Sanders said Monday it was "premature" to discuss potential legislation before all the facts about the Las Vegas mass shooting are revealed. "This is an unspeakable tragedy. Today is a day for consoling the survivors and mourning those we lost. Our thoughts and prayers are certainly with all of those individuals. There's a time and place for a political debate, but now is the time to unite as a country. There is currently an open and ongoing law enforcement investigation; a motive has yet to be determined, and it would be premature for us to discuss policy when we don't fully know all the facts or what took place last night. I think there will be certainly time for that policy discussion to take place, but that's not the place that we're in at this moment. But certainly, I think there's a time for that to happen."
Local police are urging families trying to locate missing loved ones to call 1-866-535-5654. The FBI is also asking anyone who has pictures or videos from the shooting to call 1-800-255-5324.
For those who would like to donate blood for the injured victims of the Strip shooting, police officers have asked them to visit the Labor Health & Welfare Clinic, located at 7135 W. Sahara.