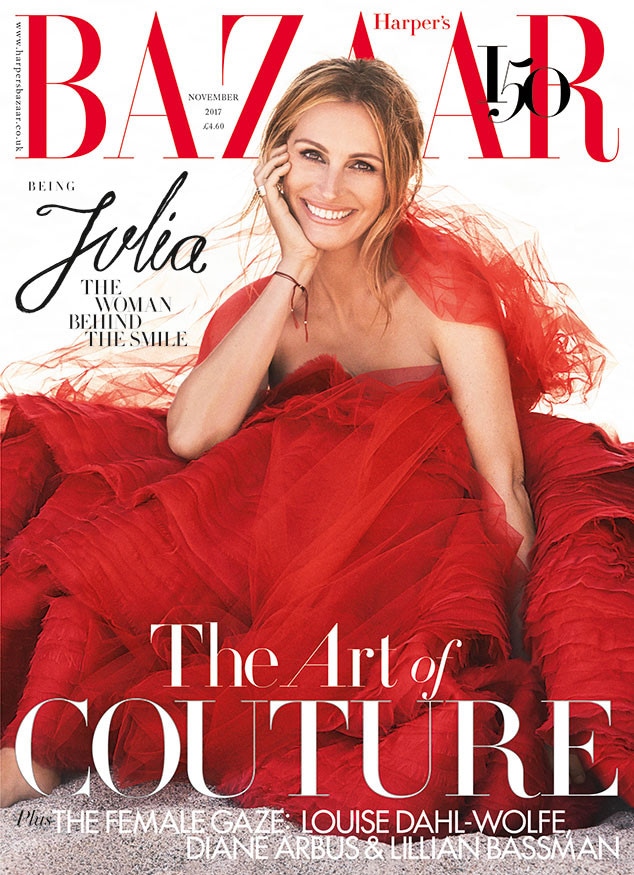 Harper's Bazaar/ Alexi Lubomirski
Julia Roberts has carved out a Hollywood career most only dream of. 
An Academy Award—and several more nominations—a handful of iconic roles and close-knit relationships with the best in the business, the actress has seen many milestones in her nearly 50 years of life—more than half of them in the movies. 
However, looking back on the early years of her blockbuster career, Roberts does admit she was singularly focused. "I was my priority, a selfish little brat running around making films," she candidly told Harper's Bazaar U.K. 
According to the star, she shifted after meeting her husband of 15 years, Danny Moder, and experiencing motherhood. "It was meeting Danny…finding my person. When I think about what makes my life my life, and makes sense and just shine inside of me, it's him," she told the magazine. "Everything has come from that for me."
The husband and wife share their lives together both off and on the screen, having worked together on films like The Mexican, The Normal Heart and Secret in Their Eyes. While the actress and cinematographer are each other's biggest supporters, Roberts wants to do well in front of her real-life leading man. 
"There's comfort there, but also terror, which is a good combination," she said of working with Moder. "Terror because the person I want to impress most is looking right at me."
When she's not busy on the set of her latest film, the 49-year-old mother of three is fulfilling typical responsibilities for her 12-year-old twins, Hazel and Finn, and 10-year-old son, Henry. "If I wasn't here today, I'd be in the carpool lane ferrying my kids to school," she told the magazine. 
Harper's Bazaar/ Alexi Lubomirski
While she continues to navigate motherhood, Roberts sets the bar high in her professional life. "I just wait to see what comes along, as opposed to looking for it. It makes it fun and organic," she explained of her outlook on new roles. "There's an almost unfair bar that a script has to attain for me to say, 'I'm going to drop everything for this.' Sometimes I think, 'I'm pretending my name is Jane and I work in a bank.' That's kinda silly—I'm a grown-up woman!"
That selectiveness shows in her filmography as of late, starring in two films at most a year. As for whether she would consider giving up acting altogether, she said, "Well, if I did much less, I wouldn't be in the business at all. I was saying to my husband the other day that I haven't worked in almost a year."
After all, Roberts isn't about to settle for any part. "Remember why you're doing what you're doing. That's your anchor," she advised. "Cultivate your taste and decision making. I didn't work for a couple of years in my twenties, because I was being offered scripts and thinking 'Is it me or is this all just crap?' I figured I could cover my rent and wait for something good. I'd been spoilt with some great jobs already, so I was like, 'Why do that part with that person, when I was just doing that part with these people!'"
As for what her future holds, the Wonder star sounds like she's at ease with how everything has turned out already. 
"Deep down, we all know you can't stand on the top point of a pinnacle on your tiptoes, and not at some point lose your balance, or get tired, or say, 'OK somebody else take over, I have to go to the bathroom,'" she explained to the magazine. "There are great things I've accomplished and I'd be happy to accomplish more, of course, to impress my children and my husband. But you know what? I've been spoilt already."
The full interview appears in the November issue of Harper's Bazaar available on October 6.