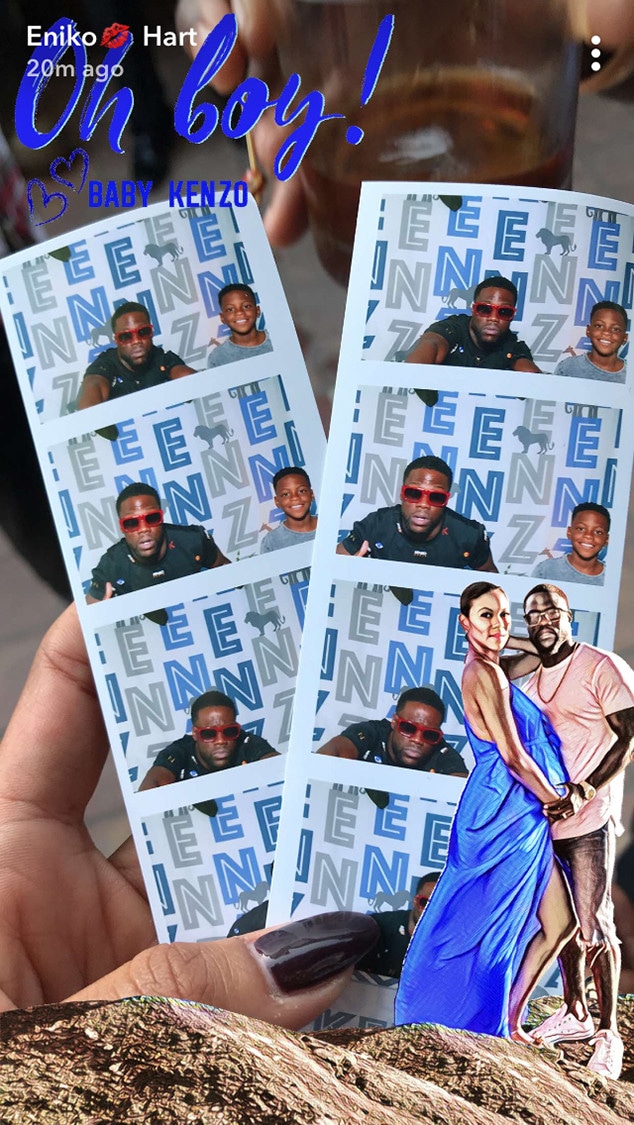 Snapchat
Kevin Hart and Eniko Parrish took a walk on the wild side Sunday afternoon.
A lavish Lion King-themed baby shower was thrown in Parrish's honor at the Calamigos Beach Club in Malibu; on Sept. 21, TMZ reported the event cost the couple an astonishing $117,855. Hart and Parrish shared videos from the event via their respective Snapchat accounts, and in one video, the comedian joked about the price tag. "We couldn't afford a lion, so we got the dog and just put the [mane] around the dog," he laughed. "It's still ballin'; it's just on a budget!"
Guests could use a custom Snapchat filter on their pictures and videos, which featured an artistic rendering of the couple and the words "Oh, Boy! Baby Kenzo" written in blue letters. Ludacris made an appearance, and other friends played a game called "The Pride Is Right." A little later on, Parrish's mom competed in a gluten-free, vegan baby food taste-testing contest.
Hart, who went for a long run and took his daughter shopping in Calabasas earlier in the day, was fawning over his wife as she posed for photos. "Work it! I'm coming in, but work it!" the Jumanji: Welcome to the Jungle actor jokingly instructed her. "Work it! Work it! Work it! Yeah!"
What a difference a few weeks can make.
In mid-September, Hart publicly apologized to his family via Instagram. "I'm at a place in my life where I feel like I have a target on my back and because of that, I should make smart decisions," he explained. "And recently, I didn't. You know, I'm not perfect. I'm not going to sit up here and say that I am or claim to be in any way shape or form. I made a bad error in judgment and I put myself in a bad environment where only bad things can happen and they did. And in doing that, I know that I'm going to hurt the people closest to me, who've I talked to and apologized to, that would be my wife and my kids." Though Hart didn't go into detail, his rep later gave a statement to E! News, saying, "Someone tried to set Kevin up in a failed extortion attempt. As law enforcement is involved, we cannot comment further as it could affect the investigation."
While sources said Hart was "really embarrassed" and Parrish was "very upset," one of the sources revealed, "She is still very much in love with Kevin and isn't ready to throw it all away."
Though Kevin was on location in Georgia to film Night School, Parrish was never far from his thoughts. "He wishes he could take what happen all away," a source said last month. "He doesn't want to lose the woman he adores. He's doing whatever he can to gain her trust back."
If Sunday's baby shower is any indication, it's working.