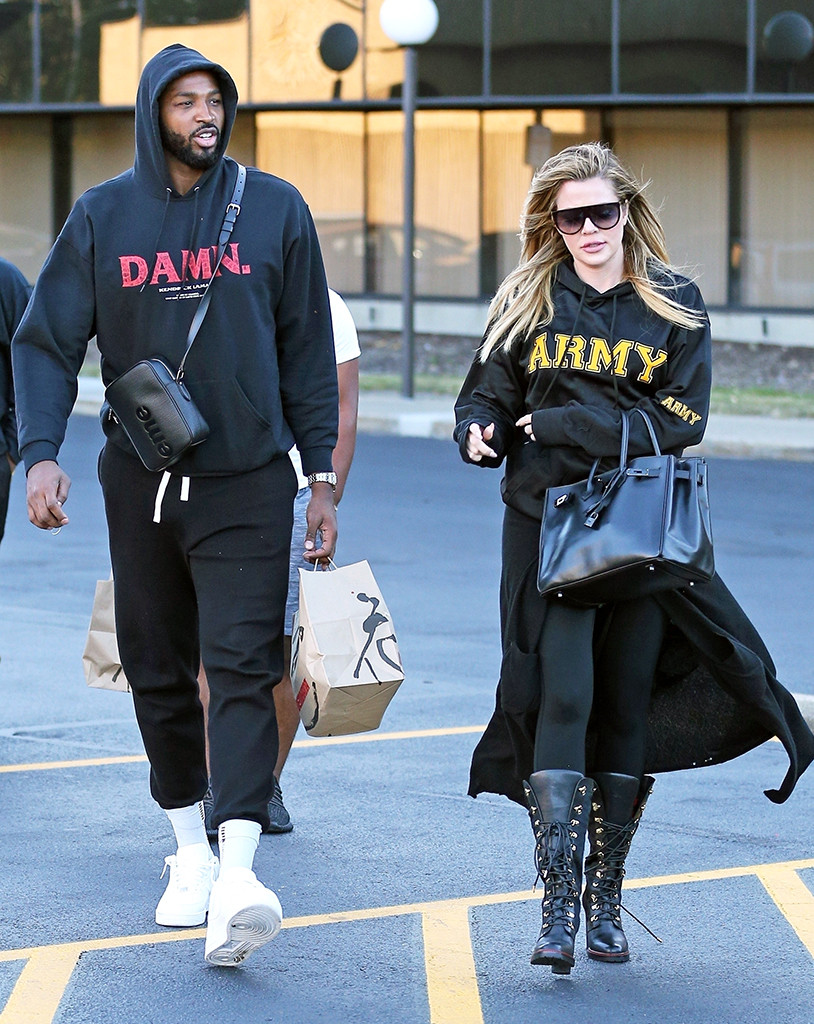 BACKGRID USA
Khloe Kardashian stepped out in Cleveland on Sunday with boyfriend Tristan Thompson on Sunday for the first time since multiple sources told E! News that the 33-year-old Keeping Up With the Kardashians star is expecting her first child with the 26-year-old Cleveland Cavaliers player, whom she has been dating for more than a year. 
The reality star donned a black Army sweatshirt, leggings and knee-high boots. She was blocking her mid-section with her hand.
While she had a serious face on in Ohio today, yesterday she was all smiles while with her main man and that's perhaps because there is much to smile about. One of the insiders said, "Khloe is so happy. You have no idea."
Khloe and Tristan have not commented on the pregnancy news but did drop what could be interpreted as several hints about it on social media in recent weeks.
On Saturday, they dined with friends. That afternoon, Tristan posted a sweet video of the two cuddling, with him resting his neck and head back against her chest and blocking any view of her stomach. She chews gum, smiles at the camera and rubs his belly.
"I ate too much," he says.
"Your tummy hurts?" Khloe asks.
"My tummy hurts," Tristan says.
Also this weekend, the two were spotted out walking in Cleveland, marking the first time they were photographed in public since their pregnancy news broke. As seen in pics posted on TMZ, both wore black sweatshirts. Khloe sported one with the word "Army" printed on it, paired with a long black skirt, matching leggings and chucky-heel black lace-up calf-high boots, as well as sunglasses.
Snapchat / Tristan Thompson
E! News reported about Khloe's pregnancy days after recent reports said her youngest sister Kylie Jenner, 20, is pregnant with her first child with boyfriend Travis Scott. When asked about it, their mom Kris Jenner told Ryan Seacrest, "Kylie's not confirming anything."
It's apparently a baby boom for the Kardashian-Jenner family; On Thursday, a promo for season 14 of Keeping Up With the Kardashians was released and shows sister Kim Kardashian telling Khloe that she and Kanye West are expecting their third child. Multiple sources told E! News in June that the couple planned to use a surrogate to carry the baby due to Kim's past pregnancy complications with daughter North West, 4, and son Saint West, who is now 1 and 1/2.
While the family has not commented about Khloe and Kylie's reported pregnancies, many fans have speculated Kim dropped a massive clue about it in early September, with an Instagram post of the three sisters.
Watch the season 14 premiere of Keeping Up With the Kardashians tonight at 9 p.m., only on E!