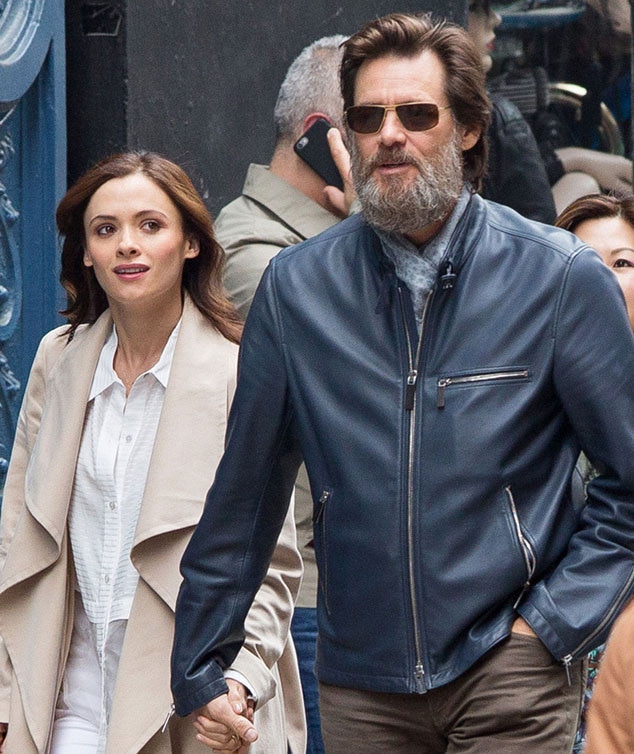 MaxNY/FAMEFLYNET PICTURES
Jim Carrey is not backing down in the wrongful death lawsuit filed against him by Cathriona White's family and has counter-sued.
Meanwhile, attorneys representing White's family recently released to the press a 2013 iPad note White allegedly wrote to Carrey, in which she accuses him of introducing her to "cocaine, prostitutes, mental abuse and disease."
White—an Irish hair and makeup artist who dated Carrey on and off since 2012—committed suicide in 2016. That September, White's mother, Bridgid Sweetman, and her estranged husband, Mark Burton, sued Carrey, accusing him of giving White the drugs that ultimately caused her to overdose and die. They also claimed he "knowingly" gave her three sexually transmitted diseases "without warning her."
On Friday, Carrey filed a countersuit against White's family and attorney.
"Today I filed a cross-complaint against Filippo Marchino, The X Law Group, Mark Burton and Bridgid Sweetman," Carrey tweeted. "Unfortunately, I made the mistake three years ago and giving in and settling false claims made against me by Mr. Marchino, on behalf of Cat, as mounting public defense is a very costly and painful process."
He continued, "At the time I felt Cat was being exploited by Marchino. Since this new case was filed, I have discovered the depth of deception behind those false claims, the kind of deception decent people fall for, because to us, such behavior is unimaginable." 
According to The Hollywood Reporter, in the cross-complaint, Carrey claimed White threatened to "go to the press" with false claims that the actor had given her STDs—an idea, Carrey said, was curated "with the participation and assistance" of Marchino. Carrey went on to explain that White and the attorney allegedly supported their claims with records that were filed under an alias, "purportedly" showing she did not have the STDs prior to meeting Carrey.
The iPad note released by White's family's attorney also states, "This is what I want, you gave me hsv and hpv, I want you to apologize for it because you care enough to."
Carrey states that White and Marchino "knew the claim was false," but they allegedly threatened to push forward with them, knowing the "mere allegations would impact" the actor's career. Therefore, Carrey "succumbed to the demands and privately resolved the issue."
The countersuit also claims White and her attorney knew she had herpes before meeting Carrey in 2012 and unlawfully extorting him.
Carrey is suing Marchino and The X-Law Group for extortion and implied indemnity and suing Sweetman for implied indemnity, alleging that White suffered from depression as a result of her traumatic childhood.
"Jim Carrey is so desperate to avoid the public knowing the truth about his own outrageous conduct, that he has now resorted to outlandish accusations against innocent people," Sweetman and Burton's attorney Michael Avenetti said in a statement to E! News. "As his red carpet interview from a few weeks ago shows, the guy is incoherent and unhinged. He needs help."
Carrey said in his statement, "I will not give in a second time to these same fraudulent charges initiated by Cat's husband in name but not substance Mark Burton, and her estranged mother. Nor am I responsible for what these desperate characters have inadvertently unearthed about the woman I adored. I was clearly blinded by my affection. Regardless, I will hold a place of empathy and forgiveness for Cat and continue to focus on many blessing in this life."