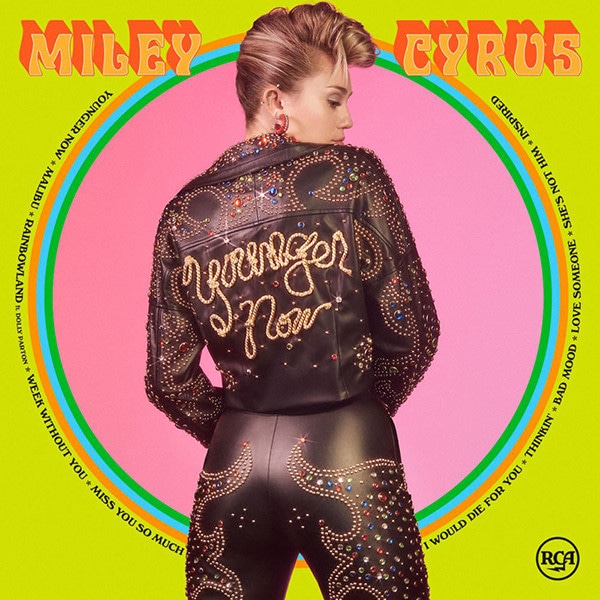 RCA Records
The Bangerz era is officially over.
Miley Cyrus has reinvented herself yet again with Younger Now, her sixth studio album from RCA Records (out now). Cyrus wrote seven of the 11 tracks herself, co-writing three with Oren Yoel and one with Dolly Parton. Rather than rehash the brash music she released four years ago, she retraced her roots to Nashville and blended the sounds of her youth with an L.A. vibe. For Cyrus, Younger Now represents an important evolution, both personally and professionally.
"I am so much more complete than these headlines, these records, these No. 1s—whatever. I love my life and the fact that I'm just alive…" Cyrus told Beats 1 Radio's Zane Lowe Thursday. "Write whatever you want. I'm so happy to be on this planet and be able to be in the position I'm in. These things are so mindless and below my ultimate goal." Which is? "To make the world better, to make the world change, to make Happy Hippie and what we stand for a reality, which is for the world not to be the way it is now. I think we're on the right path," she explained. "A lot of us are trying hard. But, anytime you think you're doing enough, know you can do more."
Prior to the album's release, Cyrus dropped two singles, "Malibu" (May 11) and "Younger Now" (Aug. 18), and two promotional singles, "Inspired" (June 9) and "Week Without You" (Sept. 21).
Of Younger Now, she said, "I've never put an album out this way."
"I wrote the record kind of while it was coming out, if that makes sense. So, when 'Malibu' was coming out, I was still working on the rest of the record and promising an album," she recalled to Lowe. "Like, 'Everybody! My album's coming out later this year! I've only got six songs on it.'"
But, Cyrus explained, "It was the prefect timing for me. I grow and evolve and change very quickly, so I always want to put the music out before I hate it. I want to put it out while I still live in Malibu, because I'm spending most of my time in Nashville now. That's what happens."
In a separate interview with Grammy.com, Cyrus said, "Writing the lyrics for me solo on this record was important because I'm really trying to project what I think and feel, and I don't think that anyone can know that besides me. It's just a different time for me in my life—how I want to create, how I want to co-create and how I want to collaborate. Lyrics are very sacred to me, and also to my fans. I want them to understand that this record is really all the truth, from me."
So, what does Cyrus have to say on Younger Now? Allow E! News to decode the lyrics:
1. "Younger Now"
Cyrus embraces her past while acknowledging change is inevitable and necessary. "Feels like I just woke up / Like all this time I've been asleep / Even though it's not who I am / I'm not afraid of who I used to be," the former Disney Channel star sings in the first verse. In the second verse, the singer-songwriter sings, "Feels like I've been living in a dream / But never make it to the end / My eyes open when they feel the light / It's always right before I'm about to scream."
"I think when you are a teenager, young adult, you're trying so hard to be cool or to prove something or to be something away from who you've been as a kid," Cyrus explained in a Sept. 24 interview with NPR's Weekend Edition Sunday. "And I guess as I've gotten older—what 'Younger Now' says is, 'Even though it's not who I am / I'm not afraid of who I used to be.'"
2. "Malibu"
In her ode to fiancé Liam Hemsworth, whom she met on the set of the 2010 movie The Last Song, Cyrus sings, "I never came to the beach, or stood by the ocean / I never sat by the shore, under the sun with my feet in the sand / But you brought me here and I'm happy that you did."
The song's chorus reflects on her life with the actor in—you guessed it—Malibu. "But here I am, next to you / The sky's more blue in Malibu," Cyrus sings. "Next to you in Malibu / Next to you."
"They're going to talk about me if I come out of a restaurant with Liam," she told Billboard earlier this year. "Why not put the power back in my relationship and say, 'This is how I feel?'"
3. "Rainbowland" (feat. Parton)        
"Livin' in a rainbowland / Where you and I go hand in hand / Oh, I'd be lyin' (I'd be lyin'), if I said this was fine / All the hurt and the hate going on here (hate going on here)," the pop princess and her Grammy-winning godmother sing in the track's chorus. "We are rainbows, me and you / Every color, every hue / Let's shine through / Together we can start livin' in a rainbowland."
"One line is such a Dolly lyric," Cyrus said of her "political" collaboration in NME's Sept. 29 issue. "It says, 'We are rainbows, me and you / Every color, every hue.' And it's about all these different races and genders and religions, if we all did come together to create and said, 'Hey, we're different; that's awesome! Let's not change to be the same. Let's stay different but let's come together anyway.' Because a rainbow's not a rainbow without all the different colors."

4. "Week Without You"
Inspired by her second major breakup with Hemsworth, Cyrus sings, "If I spent a week without you / Bet you'd wonder what I'd do / I think that I'd start goin' out / Get caught kissin' other dudes / And it seems you just want to bring me down, down / With your bad attitude (bad attitude) / When you know I'm not one to keep dealin' with the s--t / That you put me through."
In the bitter chorus, Cyrus tells her fiancé, "I know that I gave you my heart / But you stomped it to the ground / And that's what's got me wondering what it's like / To not have you around."
Today, Cyrus and Hemsworth are in a happier, healthier place. "I think people who break up and get back together, that's awesome. You get time to be yourself," she told SiriusXM in May. "You get time to grow up. I think if you're growing up attached to another person, you never really get solid as your own being. So, I'm really solid, and then he gets to be really solid. And together, we get to be two really grounded people. It's not a half and a half making a whole."
5. "Miss You So Much"
Contrary to reports, this one isn't about her past issues with Hemsworth. "They say good things come to those who wait / It's like countin' in light years / I'd physically live without you, but I don't want to / And death's never been my fear / You can take my blood, take my bones," she sings. "My heart is yours, I volunteer / But how can I miss you so much when you're right here?"
Cyrus told NPR she wrote the song "for one of my really close friends whose boyfriend surprisingly OD'ed. It's about how "once someone's gone, they're not really gone; if you love them, they're here." Cyrus added that the song could be applied to her relationship with her grandmother, noting that she was "hanging out with her the day I was going to record that song. And it made me kind of think about her, the more I started singing it. I started thinking about, 'How can I miss you already?' Hopefully no time in my near future, but there's going to probably be a time in my life where I'm not gonna have her. And [she's] been someone that I really, really lean on. She's my biggest [fan]; she literally runs my fan club. I mean that literally; She writes back to all my fans, does all my fan mail. It made me think about how you can miss someone when they're still here, but you start thinking about a time when they might not be."
6. "I Would Die for You"
The idea of getting married weighs heavily on Cyrus. "I have your heart, I don't even need a ring," she tells her fiancé. "I'd give up all I have in exchange for who I love more than anything."
In the chorus, the singer coos, "When you're gone time moves so slow / Like the grass, I've watched us grow / I've heard you reap only what you'll sow / How could I never let you know?"
The song's sentiments echo comments Cyrus made in 2014. "When I went through a really intense breakup—you know, I was engaged—and when I was with him or when I was on Disney, the thing that gave me the most anxiety was not knowing what to do with myself when Disney wasn't there to carry me anymore or if I didn't have him. And now I'm free of both of those things, and I'm fine," the single musician explained to Elle magazine at the time. "Like, I lay in bed at night by myself and I'm totally OK, and that's so much stronger than the person three years ago, who would have thought they would have died if they didn't have a boyfriend."
7. "Thinkin'"
Could this one be about Patrick Schwarzenegger, whom she dated after calling off her engagement to Hemsworth? "I don't know where you always go / Why you tryin' to keep it on the low? / I'm always like, 'Where the hell you been?' / You tell me that you've been hanging with your friends / Somethin' seems just a little sus / We ain't got nothin' if there ain't no trust," Cyrus sings. "I'm not sure, but I got a hunch / And now you got me thinkin' way too much." In 2015, the political scion was photographed getting cozy with a female friend during spring break in Cabo San Lucas. The "Cabo thing" caused a huge rift in their relationship," a source told E! News at the time. Schwarzenegger was "so embarrassed and knows he screwed up," the source said. "He doesn't even know what to do with himself and just wants to hide from the world." Though they tried to mend their issues, she eventually broke up with Schwarzenegger.
In the second verse, the pop star gives more insight into what was going through her head at the time. "It's getting late, I'm starting to obsess / You got me crying and lookin' like a mess," she sings. "My daddy said, 'Stay away from such' / But now you got me thinkin' way too much."
8. "Bad Mood"
Cyrus feels disrespected daily, and in the chorus, she sings, "(Ooh) I wake up in a bad mood / (Ooh) I wake up in a bad mood / And you know that I got the proof / We're held together just by a string / While you're hangin' round with your crew / I'm here balancin' too many things."
In the bridge, the pop star finally puts her foot down, singing, "You know it's gone on way too long (don't ya?) / And you know it's wrong (don't ya?) / But I know I'm strong (don't ya?) / I don't give up (no sir) / And when it gets rough (rough) / I get tough (tough) / I've had enough."
Cyrus hasn't revealed who the song is about—but fans have speculated it's about Hemsworth.

9. "Love Someone"
More relationship problems with Hemsworth? Sounds like it. In the chorus, Cyrus sings, "Ever since the day that I met you / I knew you weren't the one / But nothing ever stops me from forgetting / Packing all my s--t and moving on." But it's the second verse that really has fans talking on Twitter. "I'm not sure where I'd even go / 'Cause I made your house my home / It's come to an end, I hate how it's been / Lights are getting dim and the walls are caving in / And it's time for this queen to go and find another throne / When I give it up, I give it all / I went and made you my life / Don't you dare say I don't care," she sings. "When I need you most you know you're never there / It'd be a cold day in hell before I'd ever be your wife, that's right."
Cyrus has not confirmed or denied rumors that the song is about her fiancé, though she did talk about exploring more mature subject matter in a recent NPR interview. "At one point, it was fun for me as a little girl to get dressed up as a pop star, because I wasn't one. It was fun for me to write about relationships in this innocent way, because I was young and innocent and discovering love and what that meant. And so now, I write about it in a more evolved way, or a way that feels happy or more confident. But that's because as I grow up, I understand who I am in a different way. I'm happy to be who I am rather than running from it. But running from who you are is a total normal part of growing up, too," Cyrus explained, "because you're just trying to figure out what parts of yourself you like and what parts of yourself you want to work on."
10. "She's Not Him"
Many fans believe this track is about the pansexual pop star's brief romance with model Stella Maxwell, whom she dated before reuniting with Hemsworth. "I want to start by saying thank you / I'm gonna miss ya, honey / You gave me things, you can't buy back with money," Cyrus sings in the first verse. "You changed my life / You've been my world / There's no other girl that looks like ya, darling / Those eyes, that tongue, those teeth, that face, that body / Even though we've gone to outer space / Still no way you can take his place." In the second verse, Cyrus asks, "Why, why can't I love you, baby? / Like I wanna love you, baby / I'm sorry / And maybe it's beyond my control / Some sort of chemical reaction / Making it impossible to let him go."
11. "Inspired"
"We are meant for more / You're the handle on the door that opens up to change / I know it sounds so strange / To think we are meant for more / You're the handle on the door that opens up the change / I know that sounds so strange / Because you always felt so small, but know you aren't at all," the musician croons. "And I hope you feel inspired / Oh, I hope you feel inspired."
Cyrus released the song in celebration of Pride Month and informed her Twitter followers it had been written in response to "the desperate cry for more love in this world." The lyrics also touch on environmental issues and mental health, and during a June appearance on The Zach Sang Show, Cyrus described the track as a "new, older version" of her 2009 smash "The Climb."
Younger Now is available to purchase or stream now.