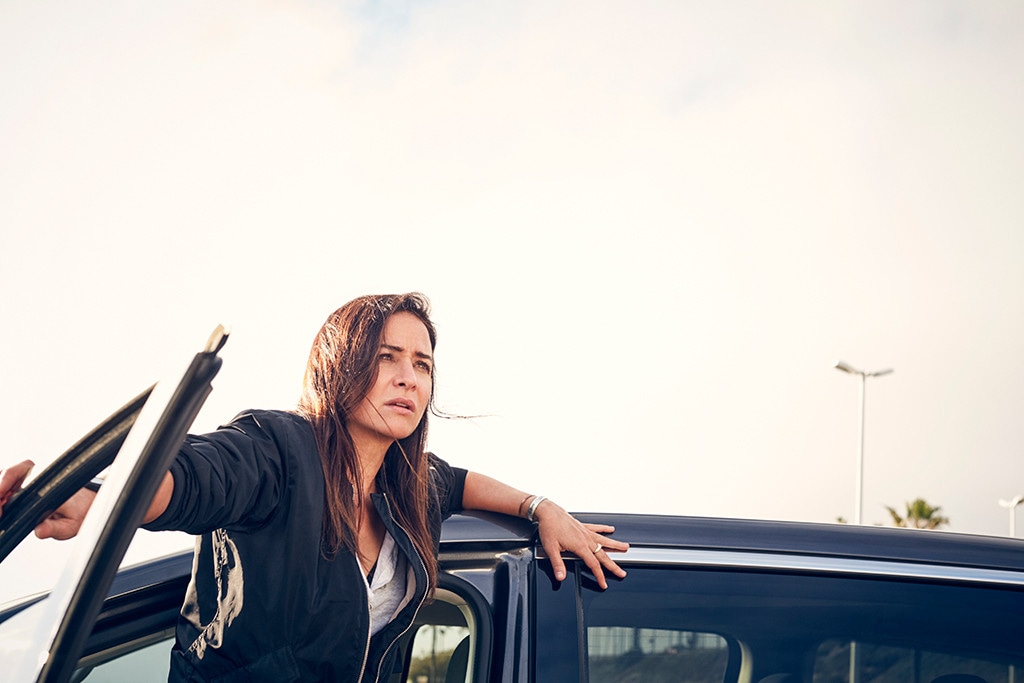 FX
"F—k yes," Pamela Adlon said when rosé wine was suggested for the table at a New York restaurant on a recent Friday.
Adlon, who was clad in a black leather jacket, a black top and white pants—she assured me the outfit was only because she had a Tribeca TV Festival event—was coming off a big week. Her FX comedy, Better Things, returned for second season, it was being featured at the aforementioned TV festival, and she was nominated for an Emmy for Outstanding Lead Actress in a Comedy Series, an award she never expected to win that night. (Please note, she already has an Emmy for her King of the Hill work.)
"I didn't feel robbed. My heart didn't skip a beat at all. I just was like—I swear to god, they got to my category and I was like, 'We are one step closer to sandwiches.' …I was rooting for Julia Louis-Dreyfus to get a sixth Emmy. I was like, 'This would be kind of cool.' I was rooting for Lily Tomlin. [Allison] Janney is one of my best friends, I adore her. I was rooting for f—king Tracee [Ellis Ross]…I knew I didn't have a shot because Stanley Tucci was sitting directly in front of me and Jimmy Kimmel was behind me. Jimmy lost, Stanley lost and I turned to them both and I was like, 'You guys f—ked me because this is like centipede,'" Adlon said.
She survived the night eating snacks from Kimmel and ham sandwiches smuggled back to the seats by BD Wong. "I'm eating it, but like behind Stanley Tucci. It looks like I'm going down on Louis C.K. It was a nightmare, but it was the greatest thing in the world, and then finally it was over," Adlon said. From there, she was struck with inspiration for her show, thanks in part to Mandy Patinkin and his wife, Kathryn Grody. The couple approached her and praised Better Things, the comedy loosely based on her life, which follows Sam Fox, a working actress and single mom to three daughters. Now she wants to write them parts in her show.
"Things happen and then you get inspired. That's how it starts, those little threads. I was getting ready in LA…and I said to Gideon, my oldest daughter, 'Can you look and see if Mandy Patinkin's wife is an actor?' and that's how it happens. You get inspired by people and actors and things like that and it just kind of snowballs," she said.
That's how it's rolled for Better Things from the start. The first season introduced the characters in Sam Fox's world, this season there were no mandates given out (to herself), but she did take on another role in addition to star, executive producer and writer: the season's only director. She told a crowd during an event with Ali Wentworth that she would be directing every episode.
"The whole audience gasped and I went, 'Oh f—k. Should I be afraid?' That's the only thing that gave me pause and then when I was doing it I started counting the days," she said, noting she feared something bad would happen to her.
Regardless of any fears, she's living the dream. Adlon started out young in Hollywood with roles in The Facts of Life, Grease 2, Growing Pains and Say Anything..., but this, what she's doing now—being the creator, writer, director and star of her own show—"is a bigger dream than I ever had."
"Knowing I have like four to six jobs now, four to six ways that I can make a living and earn is everything to me as the kid of two people who did everything to put food on the table," she said. "My mom supported us while my dad was writing. It's absolutely everything to me to have the ability. I'm not saying I'm earning right now, it's still a struggle…I was at the Emmys and it was like half the people didn't know who the f—k I was."
Her parents, writer-producer Donald Maxwell Segall and Marina L. Segall, also had an influence on how she approached developing the show. While the idea of the show was gestating, Adlon said she would abide by an old adage.
"I have to do what my dad always said to me: You write what you know. From doing that and giving myself the bones for my show, then it all just started fleshing out with the actors I hire and then the ideas that I have. Then it just takes on a life of its own," she said. "It's the natural evolution all these stories take. It was the natural evolution for me to take over my show as a director. It wasn't a thing like, 'Oh, I want to be the director. I want to direct all the episodes.' It was just, I was there anyway, you know what I mean?
"So it's like, just one other thing. It's a really handmade piece. It was the natural way to go…One thing that I fear is people are going to be like, 'Oh my god. People are saying so many great things about this show.' I want them to find it on their own and decide how they feel about it themselves," she continued.
Because she's involved with just about every aspect of the show, the world of Better Things is denser in season two. The emotions are heavier. Things linger in the best way possible. It's real and raw and something viewers everywhere can relate to, not just moms, but Adlon said she's approached and hearing from men of all ages because of the show.
"I feel like organically it just happened because the material is so rich with all of these people and this world. Certainly because I was managing the whole thing and everything was flowing through me, maybe the emotion—I was able to just squeeze all of those feelings…I was in my full flower, so all of those disgusting emotions that I just…I can't—When I get emotional, I try and shake it off and get through it…It's like, you know when you have to throw up? When I feel like I'm about to cry, I'm just like [grunts]. Stephanie [Adlon's FX publicist] knows this about me, I'm just like, 'I don't wanna!'…But I can't help it because I thrive on that. I like to procure that everywhere I go."
"When I meet people, I like to check in. Louie told me, one day ...If I get in an elevator and somebody's in there, I start talking and they're like, 'The f—k?' People just have a weird first reaction and by the end of the elevator ride they're like, 'Oh my god, I'm totally going to do that. I'm going to call my mom and I'm going to be my own boss,'" she continued. "It's like I have these little windows and I'm like, 'Let me get in there,' you know what I mean? I like connecting in that way. I get off on it and now I'm being allowed to do it with my art, with my acting, with my directing, it's just like—it's all exploding for me."
It's all exploding in the form of a must-watch TV show, but please tell Pamela Adlon you found Better Things on your own on Thursdays at 10 p.m. on FX.