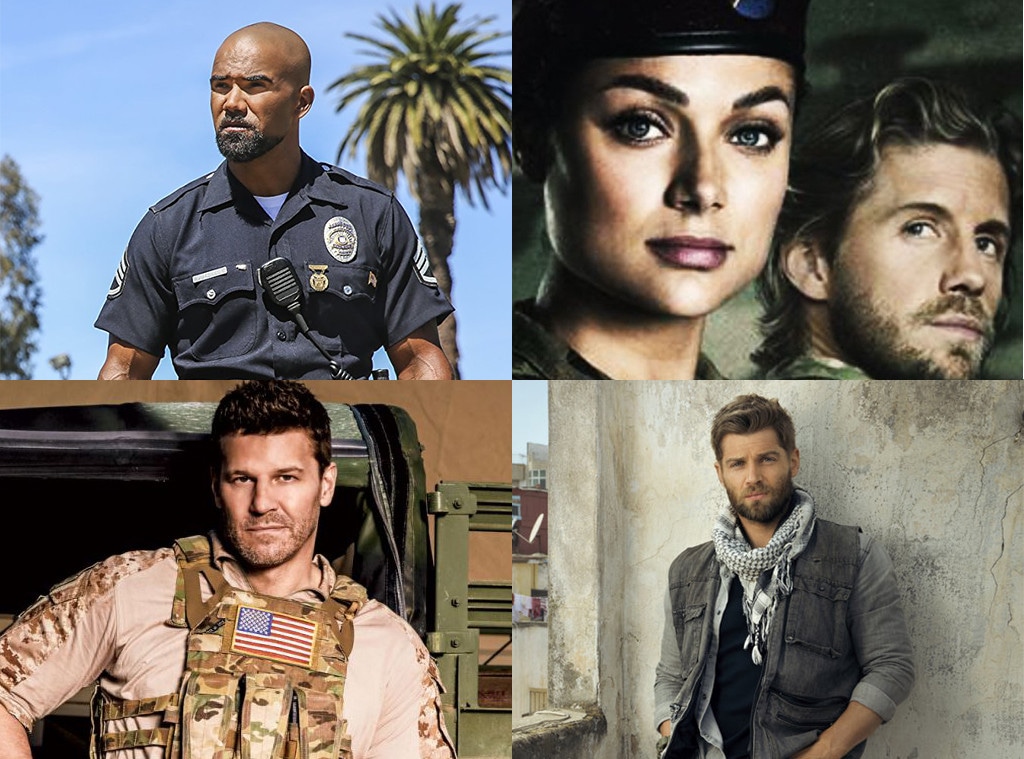 CBS / The CW / NBC
Get your bunk in order, because tonight is the official premiere of the first of this fall's many military dramas!
There are at least three but also maybe four new shows coming your way that are about elite members of an elite team of elite something or other, just on network TV. We know it's hard to keep all the fall shows straight, and that it's especially hard to keep all the shows straight when they are, in basic description, the same show, so we're here to help with a quick and easy guide to figuring out which show is which.
The first thing you need to know is that everyone is elite, as is every team. The second thing you need to know is that nearly everyone is very hot. Other than that, the graphic above has the basics, and the guide below has the details, all in the name of making sure you know which military drama you're watching this fall. 
Once you've got them all figured out, head to the comments below to let us know which one you'll be watching! 
The Brave (NBC)
Premieres: Monday, September 25 at 10 p.m.
Stars: Anne Heche, Mike Vogel, Demetrius Grosse, Tate Ellington, Noah Mills, Sofia Pernas, Natacha Karam, Hadi Tabbal
We'll start with the one that debuts first—The Brave—which is described as "a journey into the world of America's elite undercover military heroes." That's about as vague as the title is, but the tagline on all the billboards—"When there's no way out, they go in,"—is at least a little bit more informative. Maybe? I don't know. The pilot is about the hunt for a hostage, and of course, everyone is very elite. There's a dog in this one, and that's always good.
How it's different: This one spends a lot of time with Anne Heche in a control room, and has a cliffhanger!   
Valor (The CW)
Airs: Monday, October 9 at 9 p.m.
Stars: Christina Ochoa, Matt Barr, Charlie Barnett, W. Tre Davis, Corbin Reid, Nigel Thatch, Melissa Roxburgh
Valor is exactly what you'd expect from a military drama on the CW. That is not good or bad, it's just a fact. The regulation T-shirts are just a little bit less regulation, the love triangles are sexier, and just in general there's a lot more smoldering going on as some elite helicopter pilots pilot helicopters and try to solve a conspiracy that got their comrade captured. But it's also fun to watch Christina Ochoa be the badass first female helicopter pilot in this elite unit of helicopter pilots.
How it's different: Like we said—the smoldering, the sexiness, but also this one has way more helicopters. And berets.
SEAL Team (CBS)
Premieres: Wednesday, September 27 at 9 p.m. 
Stars: David Boreanaz, Max Thieriot, Neil Brown Jr., A.J. Buckley, Jessica Pare, Toni Trucks
SEAL Team is about an elite team of Navy Seals, and one of them is David Boreanaz, who is at his most David Boreanaz, exasperated by all the non-David Boreanazes and convinced he can both save the hostage and grab the target on the same op with no problemo. There is also a dog!
How it's different: David Boreanaz. And while this show does have helicopters and sexy people, Valor has more helicopters and more sexy people. Just know that if you see David Boreanaz, you're watching SEAL Team. Or a Bones rerun.
S.W.A.T. (CBS)
Premieres: Thursday, November 2
Stars: Shemar Moore, Stephanie Sigman, Alex Russell, Jay Harrington, Lina Esco, Kenny Johnson, Peter Onorati, David Lim
You're right, people in the comments, probably. S.W.A.T. is not technically a military show, but it does feature an elite team using military tactics and equipment, and the main character is a former Marine. Soooo we're gonna let it stay here in this list, OK? It's about how Shemar Moore is now law enforcement in the same neighborhood where he grew up, so he's struggling with his loyalty to his neighborhood or to the police. It's actually incredibly timely and relevant but also has trouble not trying to be a Fast and Furious movie, so there are some kinks to work out.
How it's different: It's about police officers in Los Angeles, even if they're still elite police officers doing elite things.