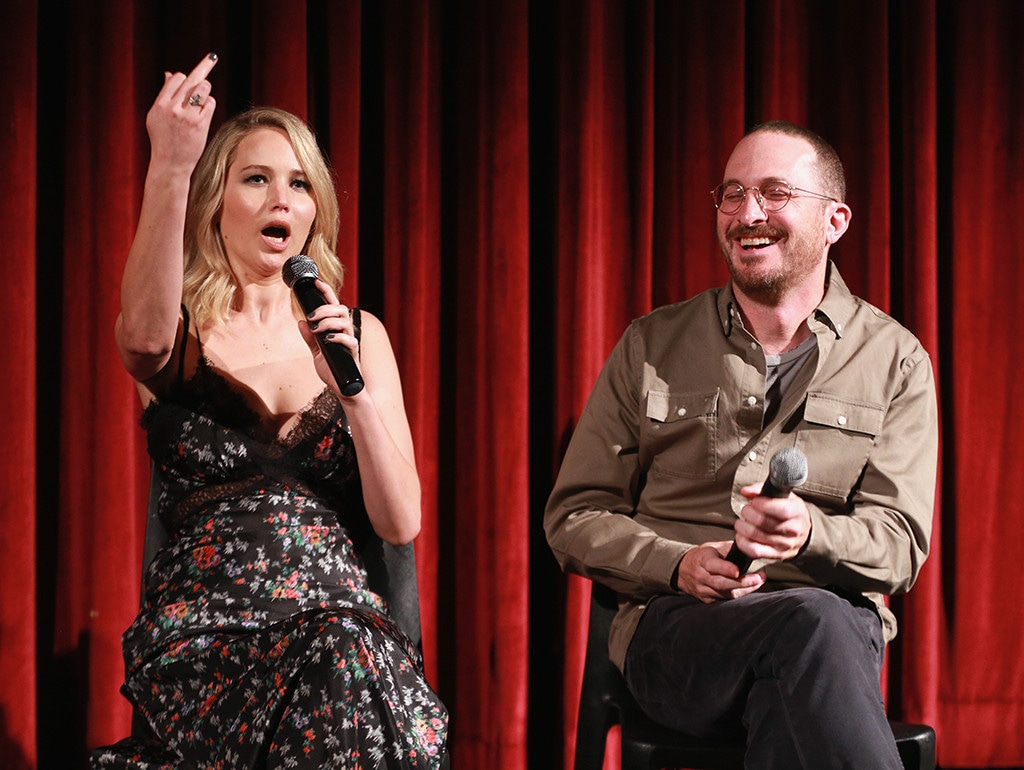 The Academy of Motion Picture Arts & Sciences
Jennifer Lawrence is never one to shy away from expressing how she feels. 
The actress reminded us all of this again on Friday when she flipped the middle finger during a Q&A session at The Academy of Motion Picture Arts and Sciences' screening of mother! in New York.
According to Daily Mail, the actress, 27, watched the film with her director and boyfriend Darren Aronofsky, 48, at the Museum of Modern Art, where the event was held. Lawrence and Aronofsky took the stage after the presentation, the media outlet continued, to answer questions about the film along with producer Ari Handel and moderator Sara Wilkomerson.
People wrote that Lawrence told the audience a story of how she injured her diaphragm hyperventilating on set. The celebrity news outlet reported that Aronofsky then said, "It's only a movie," which led Lawrence to jokingly flip him off.
Aronofsky didn't seem bothered by Lawrence's gesture and began to laugh.
E! News' Catt Sadler once talked to Lawrence about how she doesn't censor herself and asked if the backlash she's gotten at times (like with her comment about "Mother Nature's rage or wrath") has caused her to rethink the way she does interviews.
"It actually can't really," Lawrence said. "I don't really have a choice, which can be scary some times. If it was something I was doing on purpose, then when I got bit by it I could be like, 'Oh, I'm not going to do that anymore.' I don't really have the ability to be different. So, when it bites me in the a-- it just bites me in the a--."
Like Lawrence's gesture, perhaps, the film has been controversial and has generated mixed reviews (see here and here). Lawrence told Sadler that even she thought the film was "too dark" when she first came across it.
"When I first read the script I was like, 'This is too much. It's too dark.' I didn't even want the script in my home," Lawrence told her; however, she also said it was these ideas that made her want to work with Aronofsky.
Still, fans of the movie will have to wait until early next year to find out what the Academy really thought of the film and whether it will be in the running for an Oscar.