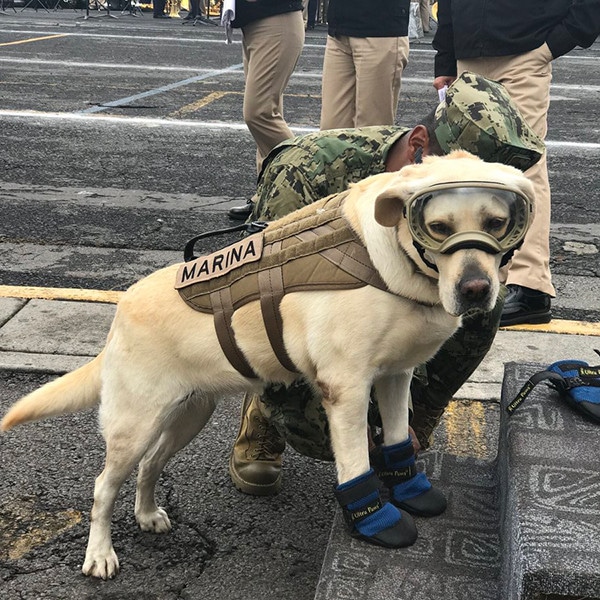 Secretaría de Marina
Thousands of people have poured into the streets of Mexico City and other cities that were affected by Tuesday's catastrophic earthquake. Four-legged friends also joined the rescue efforts, and one of those heroic animals is Frida. 
The 7-year-old Labrador is one of the stars of Mexican Navy's (SEMAR) Canine Unit and just made the Internet fall in love with her. 
During her career, Frida has detected 52 people in various natural disasters and saved 12 lives, according to the Los Angeles Times.
Two weeks ago, the lab identified the body of a police officer in Juchitan after an earthquake hit the state of Oaxaca. 
Frida now joins 15 other dogs who have been deployed to search for people in Mexico City. 
At least 286 people have been killed by Tuesday's magnitude 7.1 quake, says NBC News. 
The Navy shared this video in a tweet that has gone viral. The clip shares how Frida prepares and proudly highlights her rescues. 
After only a few days, Frida has become a social media star and many are offering to send her more booties to keep her safe during her rescue missions. 
The Los Angeles Times reports that Frida's handler, Israel Arauz Salinas, said that the lab had suffered from exhaustion after searching the collapsed Enrique Rebsamen school on Wednesday, where 11 children were found alive. But he stated that Frida was back in good spirits Thursday after getting some well-deserved rest and electrolyte replenishment. 
As her handler explains, Frida has tons of help from her two Belgian Malinois coworkers, Evil and Echo. Since they're significantly younger (a year and a half old) they tend to go into collapsed buildings first. When the two detect a person, Frida follows up to give the team the final confirmation and barks if she detects signs of life.
This badass canine is not just a hero in Mexico, according to Salinas, she also helped find survivors in the Ecuador during the April 2016 earthquake.