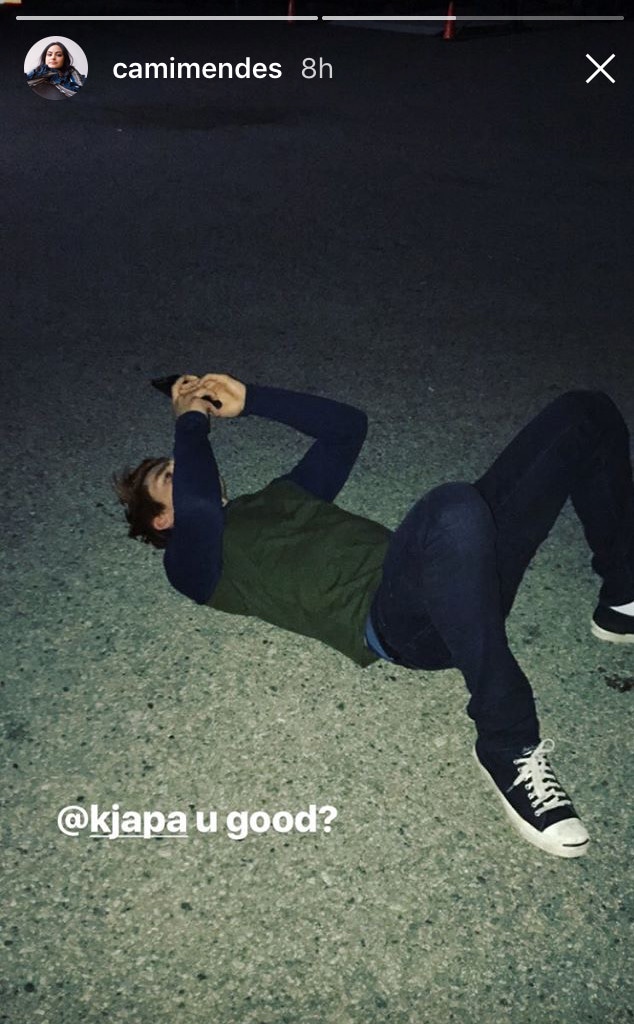 Instagram
After being involved in a late-night car accident near Vancouver last week, it looks like Riverdale's K.J. Apa is getting back to his normal routine.
Apa's co-star Camila Mendes posted a picture of the Archie actor lying on his back checking his phone on Instagram yesterday. 
"@kjapa, u good?" the Veronica character wrote on the photo. 
Warner Bros. Television, which produces Riverdale, recently released a statement about Apa, saying the company was "extremely grateful" he was OK. The company also explained how the accident occurred.
"We have a large cast of series regulars, and our actors do not work every day," part of the statement read. "On the day of the accident, KJ worked 14.2 hours. The previous day he worked 2.5 hours, and the day before that he worked 7.7 hours. KJ has repeatedly been informed about making production aware if he is tired or feels unsafe, and if so, either a ride or hotel room will be provided for him. The accident occurred last Thursday. Additionally, it is untrue that KJ was taken to the hospital. He was treated by first responders on the scene and released by them. We also sent a doctor to his home later that same day for a follow-up to confirm his well-being."
In addition, the company's statement addressed its emphasis on its cast's and crew's safety.
"The safety of the cast and crew on all of our productions is of paramount importance to the Studio," it read. "Productions adhere to the Screen Actors Guild–mandated turnaround time of 12 hours from wrap time to next day call time for cast members. In accordance with industry standard policy, if any cast or crew member feels tired or unsafe at any time after working, the Studio will provide a taxi, a driver or a hotel room upon request. This is communicated to all cast and crew, both in writing and verbally, at the beginning of production and is reiterated continuously throughout the duration of production."
Mendes' photo wasn't the only sign Apa is doing well. Apa shared his own Instagram photo and video featuring his fellow cast member Martin Cummins. Cummins plays Sheriff Keller on the popular TV show.
The actor's co-star Cole Sprouse, who plays the character Jughead Jones, also posted a picture of Apa.
Fans are looking forward to Riverdale's upcoming season premiere Wednesday Oct. 11—and the trailer for the new season looks pretty intense. But this is just one of CW's many fall season premieres. Check out this list of CW Fall premiere dates.
Season two also introduces a new actor for the character Reggie. Charles Melton will be taking over the role from Ross Butler. 
Only a few more weeks until we can see Apa and the crew back on the screen.