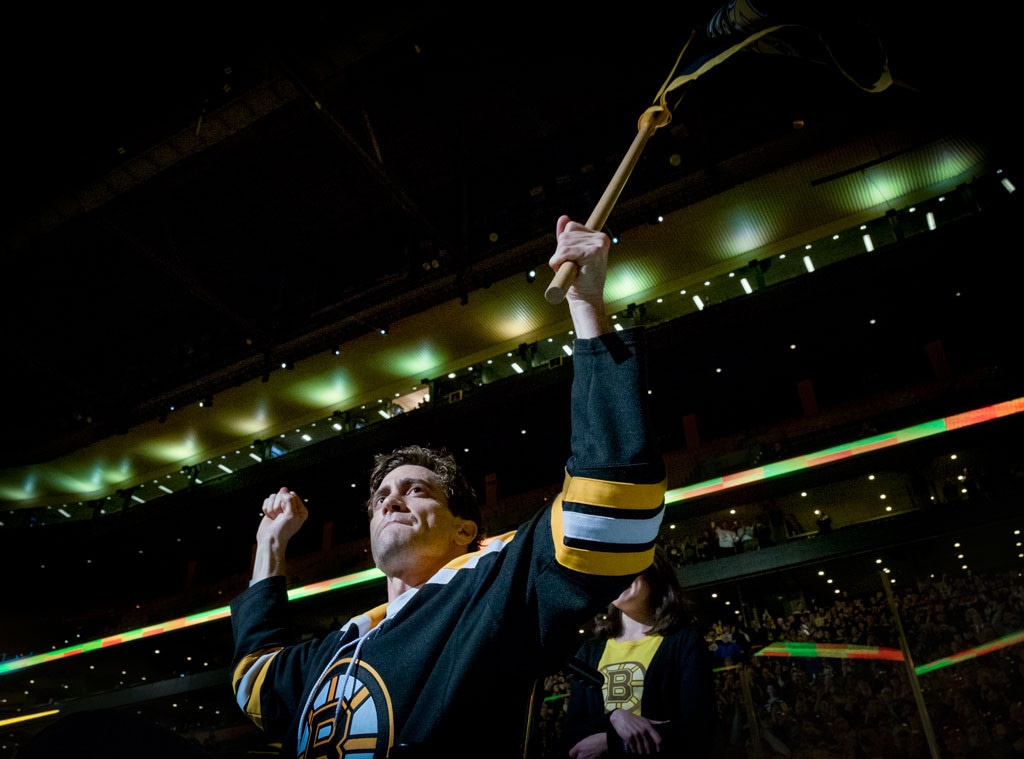 Jake Gyllenhaal has always been considered one of Hollywood's top-tier actors—he's certainly a fan favorite. (His rugged good looks don't hurt). But despite an impressive resumé chock-a-block full of epic dramas and respected indie movies, he hasn't seen the love during award season quite like his peers. 
But this could be his year. 
Gyllenhaal is the star of Stronger, the emotional true story of Jeff Bauman, one of the most well-known victims of the Boston Marathon bombing. The movie follows Bauman's journey in the days and months following the terror attack (in which he tragically lost both of his legs) while he grapples with his new life and his reluctant role as a hometown hero. 
It's an ambitious project and one that seems tailor-made to please the Academy, but it was also a passion project for Gyllenhaal—so much so that he took it all into his own hands, using his newly-minted production company to put the movie-making team together. He told E! News at the recent Toronto International Film Festival that he read Bauman's book about his journey and was so inspired that he knew he had to take the story to the big screen. 
Once the screenwriter and director were set the next step was preparing to play someone who was not only a real, live person, but a double amputee and also the victim of a severe trauma. It wasn't something that Jake was going to take lightly.
"I spent months going back and forth from New York to Boston every three or four days to prepare," he said. "I spent time talking with Jeff and researching all about amputees and prosthesis and how all those things work. And understanding this certain type of trauma." 
It's the kind of dedication that most actors don't do unless there's a physical aspect—fight training for a Marvel movie or Emma Stone's transformation to play tennis star Billie Jean King, for example. But to Gyllenhaal, he knew that the stakes were very, very high to get his portrayal of Bauman exactly right. 
"In playing Jeff there was a great responsibility and I felt a kind of pressure like I've never felt before," he explained. "His journey and what people know of it, it was really important to me to get the honesty of the pain of his experience, and also understand what really lifted him up. I wanted to show how hard it is and what a triumph it is for him to even take a few steps."
Stronger is slightly unusual in the biopic genre, because not only is Bauman still very much alive, he was involved with the movie every step of the way. The script was adapted from his own book and he worked the the filmmakers to make sure everything was exactly right. And while he wasn't in charge of the casting, he told E! News that he was thrilled to have Jake Gyllenhaal playing him onscreen. (Even if his star power was slightly intimidating).
"I was really excited about Jake," he said. " I joke with him a lot that he's too big to play me, I didn't want the movie to be that big."
The movie hit theaters this weekend and to no one's surprise, there has already been considerable Oscar buzz. It started after the TIFF premiere, with critics heralding Gyllenhaal's performance. And, it's worth mentioning that since he is a co-producer, he would likely be up named as part of a Best Picture nominee, too. With only one nod under his belt (for his role in Brokeback Mountain), the actor still managed to be incredibly gracious about all the buzz. 
"It's a lovely thing to hear," he said softly. "It's an honor to hear somebody say something nice about work you've done...it's been a labor of love. It's not an easy movie to get made nowadays." 
More than any award recognition, Jake has one simple request for the audience: "I hope everyone will go see it and laugh together and cry together and walk out of the theater thinking they can help someone they love get through something."