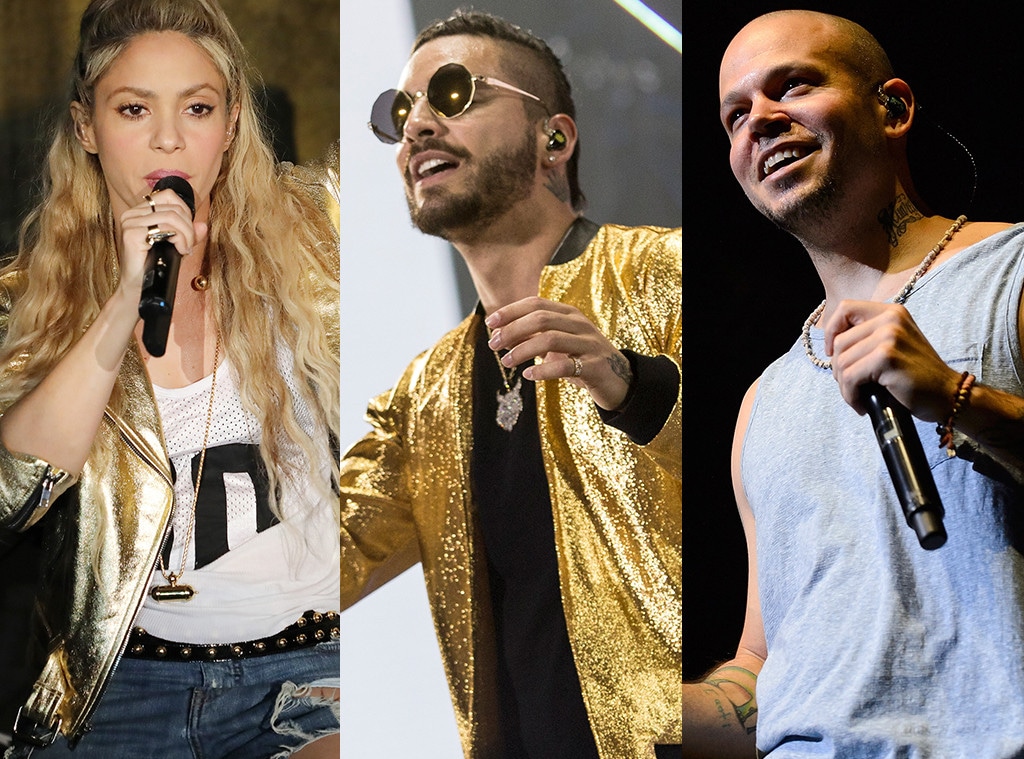 Getty Images / WireImage
One of Latin music's biggest nights is almost here!
The Latin Recording Academy has announced the nominees for the 18th annual Latin Grammy Awards and the list includes a diverse group of established artists and also many newcomers. Leading the list this year is Residente with nine nominations, Maluma with seven, Shakira with six, and Kevin Jiménez ADG, Juanes, and Mon Laferte with five each. 
In addition to the top nominees, several artists and technical professionals received four nominations each: Rafa Arcaute (producer and engineer), Tom Coyne (engineer), Luis Fonsi, Vicente García, Nicky Jam, Natalia Lafourcade, Danay Suarez, and Daddy Yankee.
The 2017 Latin Grammy Awards go live on Nov. 16 from the MGM Grand Garden Arena in Las Vegas and will broadcast on Univision from 8-11PM ET.
"More than ever, Latin music continues to have an enormous cultural impact by uniting people throughout the world," said Gabriel Abaroa Jr., President/CEO of The Latin Recording Academy. "Many of this year's nominees have expanded beyond traditional genres to create different fusions through creative collaborations. These artists, producers, and writers, united by artistic excellence and devotion to their craft, have come together to deliver eclectic music that has resulted in worldwide success."
Check out a sampling of the major nominations below, and see the full 48 categories here: 
Album Of The Year
Salsa Big Band — Rubén Blades and Roberto Delgado & Orquesta
Obras Son Amores — Antonio Carmona
A La Mar — Vicente García
Fénix — Nicky Jam
Mis Planes Son Amarte — Juanes
La Trenza — Mon Laferte
Musas (Un Homenaje Al Folclore Latinoamericano En Manos De Los Macorinos, Vol. 1) — Natalia Lafourcade
Residente — Residente
El Dorado — Shakira
Palabras Manuales — Danay Suarez
Record Of The Year
"La Flor De La Canela" — Rubén Blades
"El Surco" — Jorge Drexler
"Quiero Que Vuelvas" — Alejandro Fernández
"Despacito" — Luis Fonsi featuring Daddy Yankee
"El Ratico" — Juanes featuring Kali Uchis
"Amárrame" — Mon Laferte featuring Juanes
"Felices Los 4" — Maluma
"Vente Pa' Ca" — Ricky Martin featuring Maluma
"Guerra" — Residente
"Chantaje" — Shakira featuring Maluma
Song Of The Year (A Songwriter's Award)
"Amárrame" — Mon Laferte, songwriter (Mon Laferte featuring Juanes)
"Chantaje" — Kevin Mauricio Jiménez Londoño, Bryan Snaider Lezcano Chaverra, Joel Antonio López Castro, Maluma and Shakira, songwriters (Shakira featuring Maluma)
"Desde Que Estamos Juntos" — Descemer Bueno and Melendi, songwriters (Melendi)
"Despacito" — Daddy Yankee, Erika Ender and Luis Fonsi, songwriters (Luis Fonsi featuring Daddy Yankee)
"Ella" — Ricardo Arjona, songwriter (Ricardo Arjona)
"Felices Los 4" — Mario Cáceres, Kevin Mauricio Jiménez Londoño, Maluma, Servando Primera, Stiven Rojas and Bryan Snaider Lezcano Chaverra, songwriters (Maluma)
"Guerra" — Residente and Jeff Trooko, songwriters (Residente)
"La Fortuna" — Diana Fuentes and Tommy Torres, songwriters (Diana Fuentes featuring Tommy Torres)
"Tú Sí Sabes Quererme" — Natalia Lafourcade, songwriter (Natalia Lafourcade featuring Los Macorinos)
"Vente Pa' Ca " — Nermin Harambasic, Maluma, Ricky Martin, Mauricio Montaner, Ricky Montaner, Lars Pedersen, Carl Ryden, Justin Stein, Ronny Vidar Svendsen and Anne Judith Stokke Wik, songwriters (Ricky Martin featuring Maluma)
Best New Artist
Paula Arenas
CNCO
Vicente García
Martina La Peligrosa
Mau y Ricky
Rawayana
Sofía Reyes
Rosalía
Danay Suarez
Sebastián Yatra
Best Contemporary Pop Vocal Album
Hijos Del Mar — David Bisbal
Rompiendo Fronteras — Alejandro Fernández
Flora Y Faῦna — Camila Luna
El Dorado — Shakira
Extended Play Yatra — Sebastián Yatra
Best Urban Fusion / Performance
"Si Tu Novio Te Deja Sola" — J. Balvin featuring Bad Bunny
"Despacito" (Remix) — Luis Fonsi and Daddy Yankee featuring Justin Bieber
"El Amante" — Nicky Jam
"Dagombas En Tamale" — Residente
"Chantaje" — Shakira featuring Maluma
Best Alternative Music Album
Jei Beibi — Café Tacvba
Apocalipsis Zombi — El Cuarteto de Nos
La Trenza — Mon Laferte
La Promesa De Thamar — Sig Ragga
Palabras Manuales — Danay Suarez
Best Regional Song (A Songwriter's Award)
"Compromiso Descartado" — Espinoza Paz, songwriter (Leonardo Aguilar)
"Ganas De Volver" — Horacio Palencia, songwriter (Horacio Palencia)
"Sentimiento Emborrachado" — Raúl Jiménez E. and Chucho Rincón, songwriters (Santiago Arroyo)
"Siempre Es Así" — Juan Treviño, songwriter (Juan Treviño featuring AJ Castillo)
"Vale La Pena" — Edgar Barrera, Martín Castro Ortega and Alfonso Lizárraga, songwriters (Banda El Recodo de Cruz Lizárraga)
Best MPB (Música Popular Brasileira) Album
Dos Navegantes — Edu Lobo, Romero Lubambo, and Mauro Senise
DNA Musical — Alexandre Pires
Silva Canta Marisa — Silva
Até Pensei Que Fosse Minha — António Zambujo
Zanna — Zanna