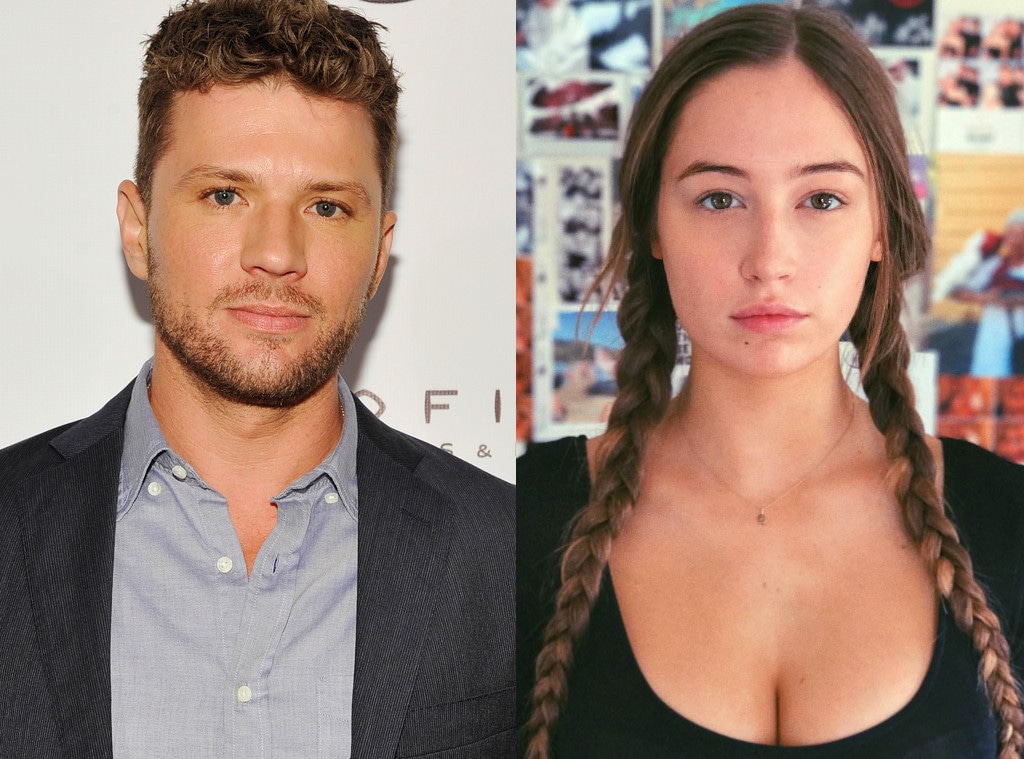 Instagram; John Sciulli/USA Network
UPDATE: Two years later, on Thursday, October 10, a notice of a settlement between Ryan Phillippe and ex-girlfriend Elsie Hewitt over her $1 million lawsuit for alleged assault was filed at a Los Angeles court.
Phillippe's attorney had denied Hewitt's allegations, saying in November 2017 that they were "utterly false" and an "unjustified attempt to extort money from Phillippe, and to gain publicity for herself and her modeling career."
______________
Playboy model Elsie Hewitt has accused ex-boyfriend Ryan Phillippe of assaulting her earlier this year. The alleged incident happened on July 4. However, earlier today, Hewitt filed a $1 million lawsuit against the Shooter star, claiming assault, battery and intentional infliction of emotional distress.
In documents obtained by E! News, the 21-year-old, who was Playboy's Miss June 2017, alleges that the 43-year-old actor kicked, punched and threw her down a flight of stairs during a fight that happened on July 4 of this year. 
The documents claim that during the fight at the actor's house, Hewitt gathered her things to leave and that, "Phillippe reacted by attacking Hewitt. He grabbed Hewitt's upper arm so tightly that his grip left heavy bruises on her arm hours later. He then braced his body and violently threw her down his staircase as hard as he could."
The claims go on to allege, "When Hewitt finally made it back to the top of the second staircase to pick up her belongings, Phillippe repeatedly grabbed Hewitt, struck her, cornered her, kicked her, and aggressively pushed her to the ground."
A source close to Phillippe tells E! News that, "there is no restraining order presently in force of any kind" and that there was an emergency protective order, but it was terminated a few days after the alleged incident.
Picture Perfect / Splash News
The Blast reported that police issued an Emergency Protective Order against Phillippe on July 6, forcing him to stay 100 yards away from the model. Hewitt alleges that she told cops that the actor was trying to contact her and she feared he would "cause her additional injury." 
As for what Hewitt had to say, she shared a pointed Instagram post with her 400K followers soon after the news broke today. The ex-girlfriend wrote, "We spend a lot of time on here showing our happiest moments and it's easy to assume someone's life is perfect. Everyone's fighting their own battles that they understandably choose not to share."
The model continued, "Sometimes it's crazy to me that people show interest in me/my life when I've shared so much more of what I'm doing and how I look as opposed to who I really am. I'm a very private person but there are some tribulations I've been facing recently so I wanted to say thank u guys for your love, thank you to those who have been there for me, and thank you for those in my life who haven't, for teaching me a good lesson."
Hewitt added, "I think it's important to feel all your feelings, both happy and sad in order to overcome and to grow stronger. Everyone is on their own path and has their own pain. always get back up, keep trying and stand up for yourself and what you believe in."
She ended the lengthy post, "I'll keep working hard and working on lifting my spirits and if anything, just take this as a positive reminder to be the best and kindest you can be in a struggling world full of enough suffering and hatred. i love u."
Phillippe and Hewitt were first spotted hanging out at the Coachella Valley Music and Arts Festival in April. The two were then spotted out together having lunch in Beverly Hills.
Previously, Phillippe dated a law student Paulina Slagter for a number of years. They got engaged but called things off in November 2016.
His most famous relationship has been with ex-wife Reese Witherspoon, whom he was married to from 1999-2007. They have daughter Ava and son Deacon. The Shooter star also has a 6-year-old daughter named Kai from a relationship with actress Alexis Knapp.
We have reached out to Hewitt's rep for comment.
(Originally published on Sept. 18, 2017 at 7:56 p.m. PT)