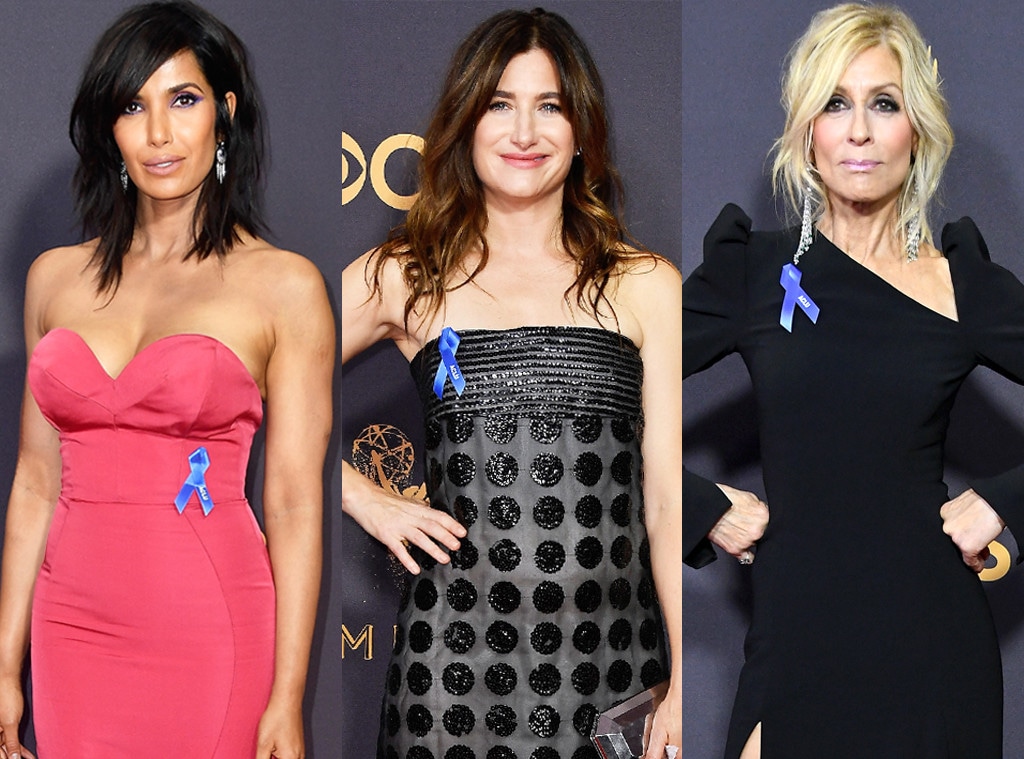 Frazer Harrison/Getty Images, Steve Granitz/WireImage
The biggest fashion statement the stars were making on the red carpet at the 69th Annual Primetime Emmy Awards? Turns out it was simply a small blue ribbon.
As fans watched TV's best and brightest arrive at the Microsoft Theater for the small screen's big night in Los Angeles on Sunday, they watched as Riz Ahmed, Padma Lakshmi, Kumail Nanjiani, Judith Light and more did so with an important pop of color adorned to their haute couture. But why? It turns out, the accessory has a very important meaning behind it.
Just like the stars at the Oscars earlier this year, the blue ribbons are out tonight to allow stars to show their support for the American Civil Liberties Union and their "Stand With the ACLU" initiative. For those unfamiliar with the ACLU, the non-partisan, non-profit organization has been working tirelessly fornearly 100 years to defend and protect individual rights and liberties guaranteed by the Constitution and law of the U.S.
"We have been incredibly heartened by the outpouring of support for the ACLU from the entertainment community at large as we band together to protect and defend the rights and civil liberties guaranteed by the U.S. Constitution for everyone in this country," said Michele Moore, ACLU chief communications officer, in a statement, back when the blue ribbons rocked the Oscars red carpet, according to The Hollywood Reporter
From the Oscars to the Tonys to New York Fashion Week, where more than 50 designers worked with the ACLU to draw attention to the cause, per Refinery 29, Hollywood has taken nearly every opportunity this year to show their support for the organization, which has seen its membership double since President Donald Trump took office.
Who says red carpets can't be about more than just the fashion?
Don't miss E! News tonight at 7 and 11 p.m. and tune in to the Fashion Police 2017 Emmys Special, with guest co-host Erika Jayne, at 8 p.m., only on E!