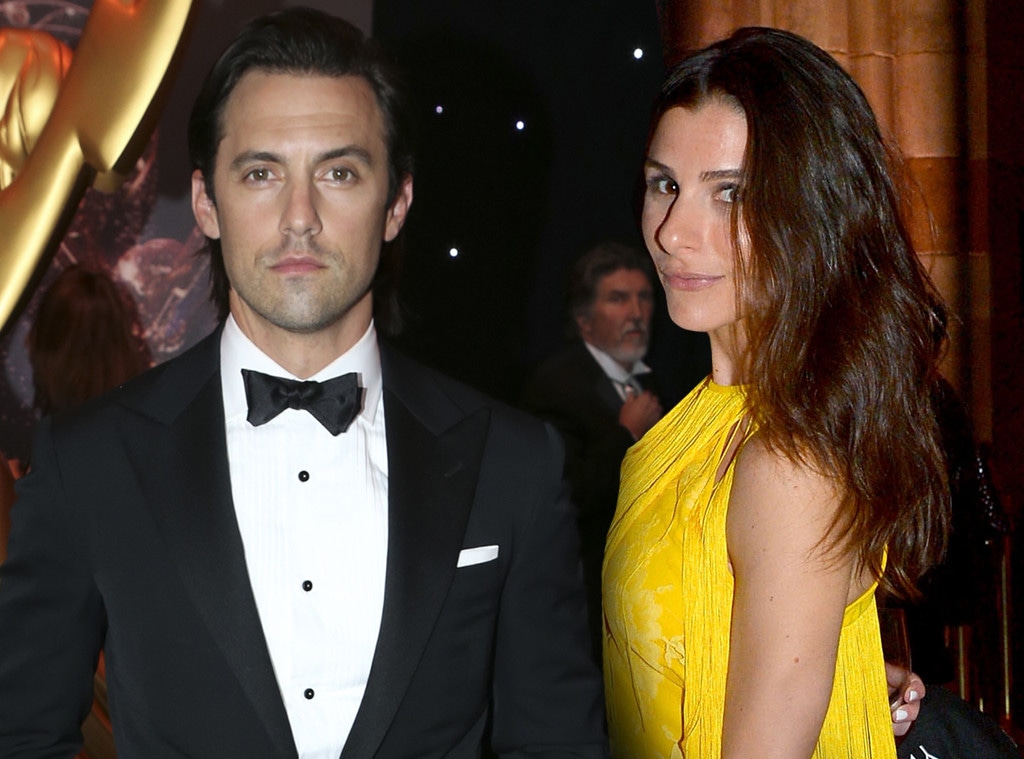 Mark Davis/CBS; Patrick McMullan via Getty Images
We saw the stars walk the red carpet in their most gorgeous ensembles, and our jaws dropped when Sean Spicer joined Stephen Colbert's epic opening monologue. We watched as speeches were made and tears flowed over emotional award wins, and we laughed over audience reactions (and sore losers)...but what about everything we didn't see on TV during the 2017 Emmy Awards?
Well, for one, E! News can confirm This Is Us' Milo Ventimiglia was spotted cozying up to rumored girlfriend Kelly Egarian, a marketing coordinator for luxury fashion house Stella McCartney.
They showed some PDA while hanging out in the VIP lounge area of the Micorsoft Theater as an onlooker told us Ventimiglia had his hand on her booty while whispering in her ear, holding her close before they headed back to their seats.
Though Ventimiglia hasn't confirmed he's dating Egarian, we're told they certainly looked like a couple!
But that's not all.
Scroll below for more things you didn't see on TV at the 2017 Emmys:
Ben Affleck Cozied Up With Lindsay Shookus: As we reported earlier, Affleck joined his girlfriend as her date to the show. Though they didn't walk the carpet, they came in through the VIP entrance on the side of the stage, and he sat beside her in the same row as the rest of the Saturday Night Live crew. Affleck and Shookus were later spotted hanging out backstage in the VIP lounge, holding each other closely and smiling at each other. An onlooker told E! News they looked "very happy together." Another source noted that they seemed "very normal" together, as though they've been "together for a long time."
Zandy Reich Was the Perfect Boyfriend of Instagram: Sticking to the theme of couples, Lea Michele's boyfriend Zandy Reich joined her at the show and was spotted holding her clutch as she posed for photos. At one point, he asked if she wanted him to take photos of her for her Instagram takeover for Glamour magazine. Now that's a good boyfriend!
Matt Baron/REX/Shutterstock; Getty Images
Sarah Paulson Fangirled Over Robin Wright: The two TV leading ladies ran into eachother on the red carpet, and Paulson couldn't help but freak out a little bit. After they shook hands and chatted for a bit, an onlooker told E! News Paulson turned around and gushed to her inner circle over how much she loves Wright's work.
Tony Hale Fangirled Over Rachel Bloom: The Arrested Development star gushed to Rachel Bloom over how much he loves Crazy Ex-Girlfriend, noting that he's on episode 4.
Shailene Woodley Is Running Around Without Shoes: The Big Little Lies actress was spotted running to the bathroom without shoes on—in a totally Woodley way!
David Fisher/REX/Shutterstock; Kevin Mazur/WireImage
Millie Bobby Brown Struggled With Her (Adorable) Dress: The Stranger Things star was having a difficult time walking down the stairs of the Microsoft Theater. Despite how gorgeous her white Calvin Klein dress was, she needed a little bit of help getting around!
Laverne Cox and Anna Chlumsky Shared a Sweet Look-Alike Moment: The Orange Is the New Black star and the Veep actress shared a cute moment together on the red carpet ahead of the Emmys. They were spotted giving one another a thumbs up and shimmying toward each other as a sort of nod of approval that they both chose sparkling silver gowns.
Celebs Wait in Bar Lines Just Like Us: Cox was also spotted standing in the long bar line during the show, eventually giving up to return to her seat as it was taking too long. We all know the pain of that!
The Big Little Lies "Tribe" Stuck Together: Woodley, Nicole Kidman, Reese Witherspoon, Laura Dern and Zoë Kravitz sat near each other, up front and center, throughout the show.
Nicole Kidman and Keith Urban Were as Cute as Ever: An onlooker described the couple as "grooming" each other all night. Kidman was spotted helping her man with his ensemble, while he helped find and fix her diamond bracelet that fell off near their seats. Then, Urban was spotted FaceTiming their children after Kidman's big Outstanding Lead Actress win, telling them "she won" before heading back to the photo area while still talking to them. So yes, this marks another awards show moment in which they're one of the cutest couples ever.
Reese Witherspoon Took a Lot of Selfies: The blonde beauty was spotted taking a number of selfies during commercial breaks, "smizing" and striking different poses while looking for the perfect one. She also included her hubby, Jim Toth, in on the fun at one point.
Rob Latour/Variety/REX/Shutterstock
The Bonding Bathroom: There's no place more welcoming and full of love than a women's restroom in a club at 2 a.m...or apparently, the women's restroom at the Emmys! Felicity Huffman was spotted touching up her makeup, thoughtfully sharing the mirror with the other women around her, while Laura Dern and Emmy Rossum shared a reunion hug after coming out of their separate stalls. 
The Crown Cast Had a Grand Time: An onlooker told E! News Claire Foy, Matt Smith and others were sitting in one of the hallways of the theater, having their own party. They were surrounded by beers—which the girls were drinking with straws—and snacks like popcorn and M&Ms. We're told they were laughing and talking loudly and appeared to be in good spirits. 
We Investigated the Announcer: A lot of Twitter users were asking about the announcer at the 2017 Emmys. His name is Jermaine Fowler, and he's one of the hilarious stars of CBS' Superior Donuts.
The Audience Was Pissed Sterling K. Brown's Speech Was Cut Off, Too: Brown won the award for Outstanding Lead Actor in a Drama Series, but his acceptance speech was cut off by very loud music. In that moment, the crowd began booing until Brown decided to just continue his speech, which sparked a loud applause from the audience. He also got the chance to finish his full speech backstage. 
This Is What Elisabeth Moss Said: Toward the end of her acceptance speech for Outstanding Lead Actress in a Drama Series, Moss was bleeped out before also getting her acceptance speech cut short. So what did she say? While speaking to her mother in the audience, she thanked her for teaching her to be kind and smart and a "f--king badass."
—Reporting by Alli Rosenbloom, Alessandra Mortellaro, Amanda Williams and Holly Passalaqua
Don't miss E! News tonight at 7 and 11 p.m. and tune in to the Fashion Police 2017 Emmys Special, with guest co-host Erika Jayne, at 8 p.m., only on E!