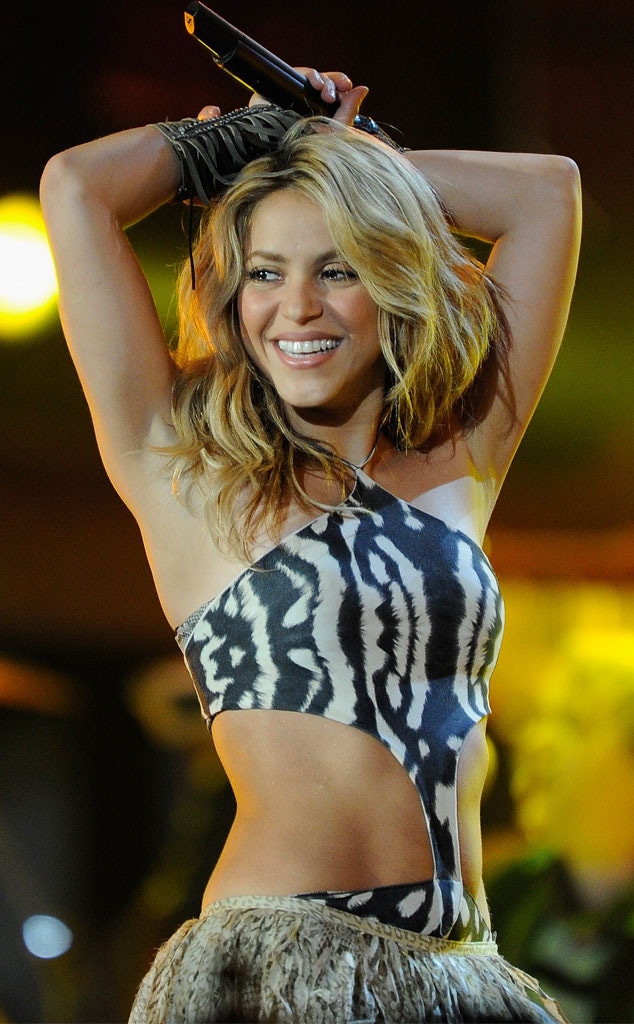 Stuart Franklin/Getty Images
Shakira's hips (and abs) don't lie! 
And after sitting with her trainer Anna Kaiser, we now know just how much work goes into being Shakira, and spoiler alert—it's a lot. 
The Colombian beauty works out about five days a week, and all of her workout goals are always around her heart rate monitor. As Kaiser tells E! News it "keeps her the most focused." The 40-year-old singer loves having a concrete goal and focusing on individual body parts and form, so she can concentrate on what she's doing and how she's doing it. 
"We alternate between strength and cardio intervals. Some days we do just cardio and then strength and some days we start with strength and then do cardio, we like to mix it up," the celebrity trainer explains. "I want to make sure that she is improving her endurance so that she can go into a two-hour show and also has the strength and stamina to make it through a five-month tour. It's about making sure she gets a little bit of everything."
Shakira also maintains her flexibility. Kaiser says that when she and Shakira started working together, the singer had a bit of arthritis in her elbows and that her wrists were weak. So they did exercises to make sure they were strengthening and keeping her flexible at the same time that she worked on her cardio stamina and endurance. 
"There are a lot of elements to make sure you can stay strong and healthy and still work out five or six days a week," she says. 
And as we've seen on Shakira's Instagram, the singer is extremely busy between studio time, being a mother, shooting music videos and working out, but even with all of that on her plate, she still sometimes even squeezes in exercise twice a day. 
"She's doing two-a-days twice a week and the other three days she's doing one workout per day," Kaiser says. "It's been a little bit harder to do two-a-days with our Skype training sessions because of our time difference. When I was there, we were definitely doing two-a-days for the month. Since then she got the initial drop, she lost a ton of weight and inches, so now we are making sure we are working on endurance and strength."
Kaiser explains that the hardest part of it all is needing to kick-start to get momentum going for those workouts. "Once you have a program and you get into the routine, it's much easier to keep going."
And as the fitness guru tells us, Shakira is hypermobile which means her joints and tendons are very flexible, so it's harder for her to stretch. 
"When you're hypermobile, it's easy to think your muscles are flexible but your flexibility is really around your joints and not your muscles," she explains. "Foam rolling is really important and making sure we are rolling out her fascia, her feet, her legs, and upper body to make sure she stays nice and healthy."
Not even being in the studio until 6 AM will stop a tired Shakira doing her "intense" workouts. That's some serious commitment! 
"It's really important to make sure you stay consistent. Even if that day it took longer to reach the goal she's aiming for, she still did it. She worked out longer but didn't work out as hard," Kaiser explains. "A heart rate monitor is very important because every day is different. Sometimes you may have a ton of energy and other days you may not, but you can hold yourself accountable for knowing how hard you're working by having a very specific goal to work toward."
The celebrity trainer says that the heart rate monitor helps because "Sometimes you'll think you're lifting some very heavy weight but you'll realize your heart isn't actually working that hard so you can push yourself a little bit harder."
But Shakira's workout is just half of the deal. The singer's meal plans are just as intense but oh so healthy. 
For seven years Kaiser prepared Shakira's meals herself, but now the singer has a chef to cook her dishes which are Kaiser's recipes. And for the celebrity trainer, it's imperative that the star is eating throughout the day. This meal plan includes two to three snacks aside from breakfast, lunch, and dinner. The goal is for Shakira to eat every two to three hours. Kaiser ensures that the singer's meals sustain her through long days and even longer nights of choreography, recording, and editing. 
So, what is Shakira eating? 
"Breakfast, lunch, & dinner with a protein in every meal and fresh veggies or small amounts of low glycemic fruit and for snacks, we started introducing soups. Some great soups are filling and warm. So, at the four o'clock hour, when people are craving caffeine and a cookie, soup is a really great option because it fills you up and feels like a meal so it can keep you going until dinner, but it's not hugely caloric," she explains. "Soup is really easy to make you can take basil, celery, acorn squash and boil them and then put them in the blender with sea salt. It's delicious and only takes about 15 minutes. You can make it the night before. It's kind of like making baby puree, and there are a ton of super easy recipes. You can make them with chicken stock, then add some veggies, boil it, and then put it all in the blender."
And Kaiser says that the singer has fish almost every day, but Shakira also does enjoy some treats.
"It doesn't have to be something big it can just be something different every day, for example, we would do a cacao topped rice cake or half of a protein bar, or I got her some chocolate tea which kind of feels like a treat with some dehydrated fruit," she says. "So it's about allowing yourself to have a lot of different things in small quantities and keep it as fresh as possible.". She has fish almost every day."
But when weekends come and Shakira's out with her children Milan, 4, and Sasha, 2, the singer will allow herself some treats because she wants to feel like she's able to enjoy the time with them. 
"She's honestly really good most of the time, and she doesn't drink so I didn't feel like I needed to focus on what not to eat because she was excited about food and what to eat which I think is a healthier attitude," Kaiser says. "It's better to say have this and that instead of, 'don't have X, Y, Z.'"
The celebrity trainer says she never has a conversation about cutting things out, instead, she just gives the chef a menu plan with fun different colors and different ideas on each day that don't feel monotonous. 
"We did some protein shakes, protein pancakes, and I would peel a couple of oranges and slice them up and top them with turmeric and cinnamon. It is pretty much about making it fun and different and also the presentation," Kaiser says. 
The star fitness guru says that it's all about taking the times for that treat or snack. 
"If you cut up a piece of fruit, peel it, put it on a dish, and top it with something fun and it feels like a real snack instead of just walking down the street while peeling an orange and eating it. You're not actually taking a minute to enjoy that snack so instead make it a little bit of a ritual and sit down every 2-3 hours even if it takes you five minutes to eat it," she says. "You'll be surprised how that triggers your brain."
Shakira likes to begin to physically prepare for her tour three months before to ensure that she's ready for all that it takes to perform night after night. 
And although the star has dropped weight, that's not what she and Kaiser focus on. 
"It's less about numbers and more about inches because of muscle, fat, and water, it weighs a ton if you're on your period or not. Weight is so subjective and it goes up and down a lot so you could drive yourself crazy weighing yourself. Especially, if you don't have 50 pounds to lose and just have those last few inches to lose," she says. 
The trainer, who measures Shakira weekly to make sure that she's on track, says inches tell her that the body is actually changing and getting smaller and that's what she wants to happen. As she explains, "Just because your body is losing inches doesn't mean you're losing weight or vice versa. It's not about the weight, it's about building lean muscle which is going to increase your metabolism and then allow you to lose weight quicker."
Shakira also does a swim workout, which she's featured on her Instagram and she usually does it at the end of the day. This means she could sometimes hit the pool at around midnight or 1 AM. 
"There isn't a better way to calm your central nervous system and move your body in a yummy way that almost feels like you're taking a bath before bed but still getting a really good second workout in by working against the resistance of the water with no impact on your joints. It's lovely but it was late and I'm really proud of us for doing it!" she says laughing. "It's those little things that kick it up a notch. She slept really well after those workouts and felt really good the next day. So, yeah, your body is still sweating and losing the water it's retaining when you're swimming."
Although it may seem counterintuitive, it's not, and you're still getting great results in the pool says the owner of AKT in Motion, a studio she founded in New York City.
"I apply the rules that I use in AKT and AKT workouts when we are doing in interval training in the pool. Some multi-planar cardio sections with freestyle and the breaststroke and back and side stroke and then pause for a strength interval using the resistance of the pool and then go back to cardio," she says. "It's the same principles that I use in the studio, but we would just take it to the pool."
The mother of one says, "She is going to look sick! Her body is really changing, and she's getting into fantastic shape, so I'm excited!"
But once Shakira kicks off on our world tour, it isn't the end of her workout regimen
"She's got to keep going and keep herself strong because it's tough to be on tour and I think because it's a stadium tour, it's one or two nighters. It's hard doing a two-hour show and then traveling and landing to do another show," she says. "Getting yourself into a workout schedule before that helps you get into a rhythm, and it will be easier to keep going because you already have a routine and are in the habit of working out."
Well, there you have it, Shakira puts in work! But now that we know what she eats and how she works out, we can all do it too!
—Reporting by Alessandra Mortellaro