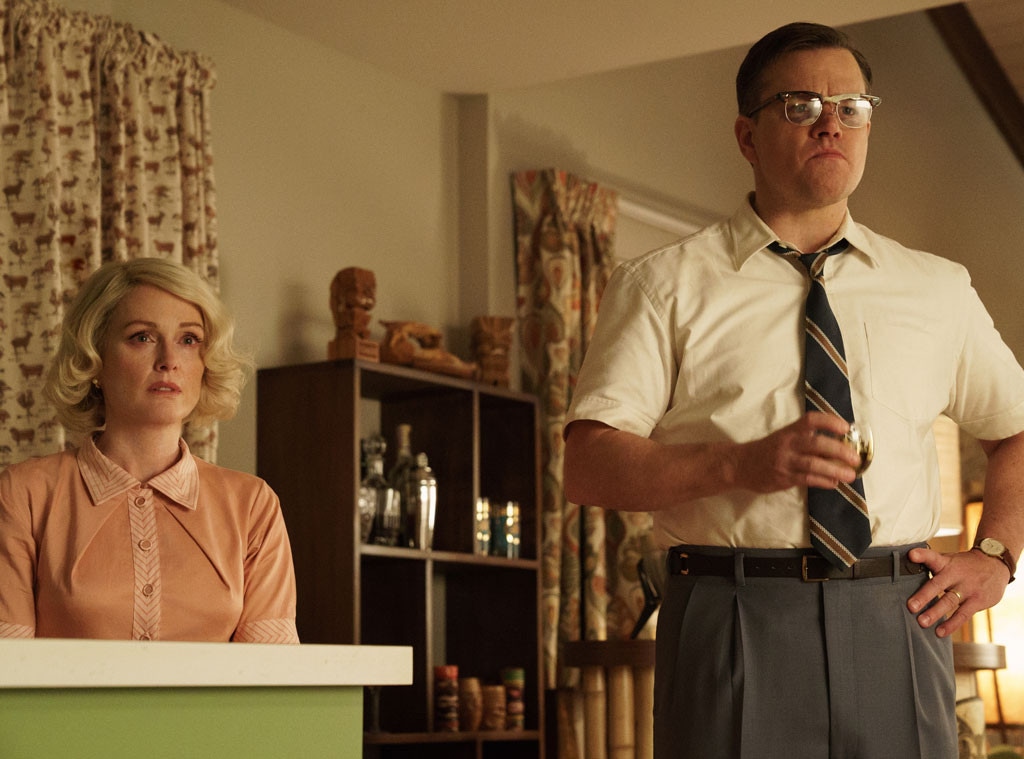 The first thing you should know about Julianne Moore in Suburbicon is that she technically plays two different roles in one film. The second thing you should know about Julianne Moore in Suburbicon is that she is absolutely terrifying—at least the second Julianne is.
Let's go back to the beginning. Suburbicon is technically a merging of two movies: It takes an old script by the Coen Brothers (a.k.a. the creative geniuses behind Fargo, among others) and combines it with a story about Levittown, Pennsylvania, where the idea of a suburb turned disturbingly racist. And it's all directed by George Clooney.
Moore first and foremost plays the wife of Matt Damon, a sweet and innocent homemaker who (presumably) wouldn't hurt a fly and is also inadvertently murdered in one of the flick's opening scenes, and also takes on the role of her twin sister, a much spicier, almost downright whack job who quickly moves into the home post-murder to help Damon keep house but also to assist in their newfound life of crime. This version of Julianne Moore speaks softly (and icily) and carries a very big stick, which she just so happens to use to beat mobsters.
You see, the whole thing is actually a setup. Damon's true motivations are quickly exposed; we don't bog you down in the complex and slightly spoiler-y details here, but the key takeaway is that it opens the door for Moore to go full murderess. Are you keeping up yet? Don't worry. We'll let Julianne give you the takeaway.
"What I love is that it starts at this kooky level," she said at the movie's TIFF press conference. "And then it gets progressively darker and darker until it becomes just bad people doing bad things."
It's hard to imagine Julianne Moore being truly murderous. We've seen her slightly icy, in The Hunger Games. This fall audiences will even see her as the Big Bad in a spy movie, as she takes on the role of the villain in Kingsman: The Golden Circle. But there's something about seeing Julianne Moore holding a metal pipe as mobsters bang down her suburban door that is just...jarring.
A movie like this could be nervewracking for some actors, because it could easily go awry. But Moore says that working alongside George Clooney, and knowing that he was in charge, was ultimately incredibly calming. "He was just so prepared," she said to E! News at the film's Toronto premiere. "He always has a great vision of what he wants and he's able to communicate it, which is exactly what you want from a director."
And in fact, as dark as the material was, it turns out that Julianne Moore rather liked portraying evil twins. During the press conference she assured the audience: "It was a tremendous pleasure to go to work every day." We'll take you at your word!
Suburbicon opens on October 27.