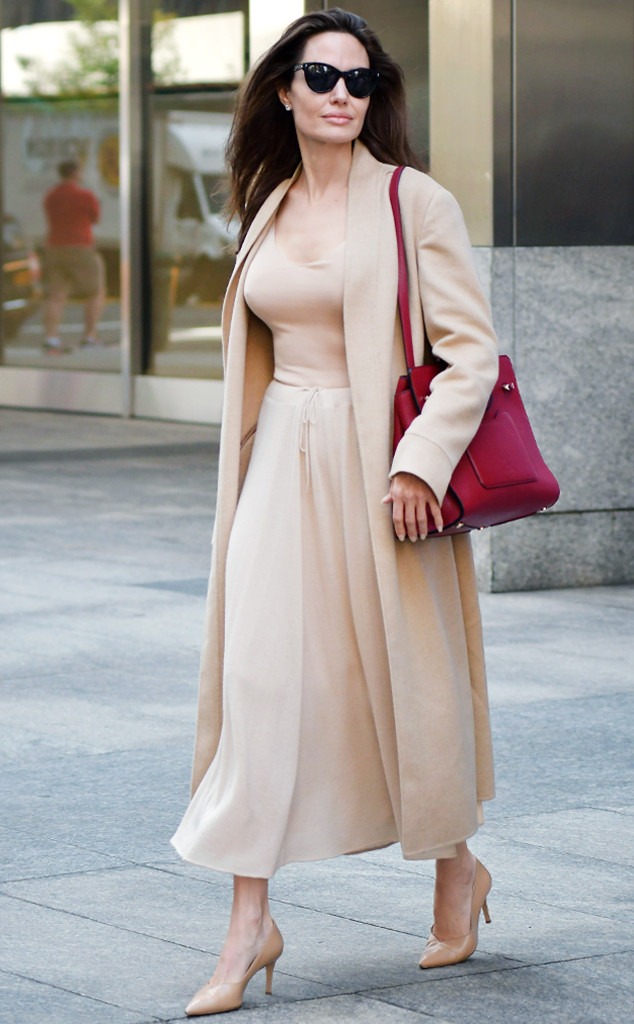 Edward Opi / Splash News
Before sticker shock commences, remember this is Angelina Jolie we're talking about.
The actress, who has fronted Louis Vuitton, St. John and Guerlain campaigns, seemingly has luxurious taste. So, it comes to no surprise that the A-lister stepped out in New York this past week in an all-nude ensemble from designer Ryan Roche—the Nude Silk Rib Bodysuit of which rings in at $1,022 alone.
Here's the silver neutral lining: The body-hugging piece is currently 20 percent off on e-tailer Farfetch. We know, we know—$818 is still a hefty price to pay for a basic layer, but keep in mind 100 percent silk isn't cheap. Wearing one must feel like being an angel on a cloud…or so we assume.
In terms of styling, there's so much you can do with a similar bodysuit. The ribbing gives it more texture, which can elevate an ensemble if worn without an extra layer on top. Because of its curve-hugging fabric, balance out the silhouettes with wide-leg trousers or even a comfy, draw-string, flouncy skirt, like Angelina did. A ribbed bodysuit is so universal, you can pair it with jeans, too.
Can't afford the celeb's pricey version? Shop similar styles below!
Watch:
Will Angelina Jolie Work With More of Her Kids on Screen?