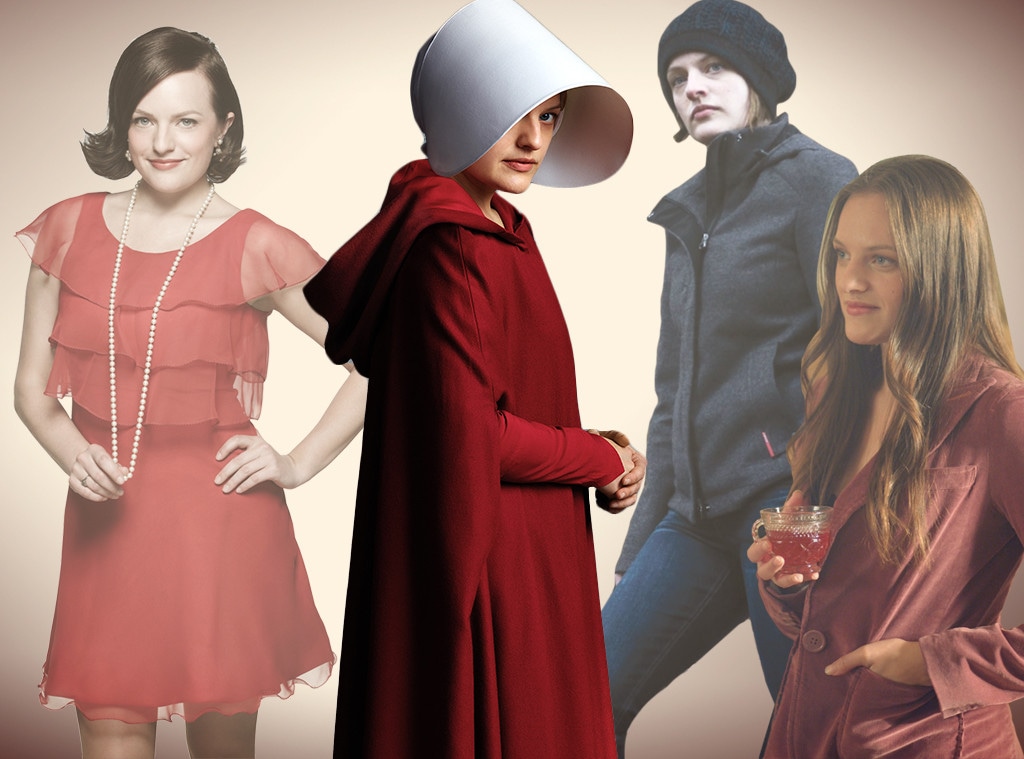 NBC; AMC; Sundance; Hulu / E! Illustration
The goal for any TV actor worth their salt is to find themselves on at least one show that will go down in the pantheon of all-time greats. But to land one such series after the other? Not possible, right?
Not unless you're Elisabeth Moss.
The 35-year-old actress, who began her career at the tender age of six with three episodes of the 1990 NBC mini-series Lucky Chances, has managed to star in not one, not two, not three, but four of prestige TV's stand-out shows since taking on the role of president's daughter Zoey Bartlett on NBC's beloved political drama The West Wing back in 1999. But how did the front runner to take home this year's Emmy for Outstanding Lead Actress in a Drama for her, well, outstanding work in The Handmaid's Tale manage to do the unthinkable and rise up as our current queen of prestige TV?
According to Moss herself, her good luck to land herself roles on The West Wing and Mad Men, where she earned six Emmy nominations—but shamefully, no win—for her breathtaking work as Peggy Olson, came down to one thing: She just followed the good writing. "I think that enabled me to say yes to some television things perhaps before everyone was saying yes to television things," she told New York Magazine earlier this year. "We were still in a world where, as an actor, you weren't really supposed to do television. It was kind of like the lesser group of people. But because I never put those parameters on things, and I was just like, 'This is an amazing script and an amazing project; of course I'm going to do this,' it became part of one of the greatest things that has ever happened to me."
Of course, she still had to have the acting prowess necessary to land the roles.
Though she spent her childhood auditioning for commercials and made-for-TV movies, Moss trained in ballet. When she eventually made the decision to pursue acting over dance, she was able to take the discipline and determination necessary to be a ballerina and apply it to her acting, which she credits for her success. "The harder you work, the better you'll be," she told The Guardian in 2015. "So those kinds of things really helped me to not be as skewed by the business and not be too taken up by the superficial side of it. There was always something more important than that. And in my mind there was something far more difficult than acting, which was either ballet or music – you have to practice for hours every day. And that's how you make it. That kind of discipline was very grounding I think."
As Moss has moved from The West Wing to Mad Men, from Top of the Lake (Sundance TV's Jane Campion-created mini-series, which just returned for a second story, subtitled China Girl) to The Handmaid's Tale, that dedication and determination hasn't gone unnoticed from the auteurs who've steered her performances from the other side of the camera. "I was shocked at how quickly she metabolized the material," Mad Men creator Matthew Weiner told the NY Times back in 2009. "She is that kind of actress where we don't intellectually ever delve into what is going on with her character. It's almost like it doesn't pass through Elisabeth's brain. It's completely instinctive. She works hard, but I think she also works hard to hide it. Either that, or she's an alien."
Ariel Kleiman, her director on Top of the Lake: China Girl, echoed Weiner's assessment, telling the New York Daily News earlier this year that the work Moss does might seem, to the naked eye on set, imperceptible, but once it's capture on camera, it explodes. "There are some actors who, off the screen, you might not think are doing much," he said. "But when you put a camera on them, they light the screen up. Elisabeth is one of those. She has the ability to express so much emotion while looking like she's doing very little. As a director, it's a lot of fun to work with that."
As Offred, much of her work in The Handmaid's Tale involves Moss alone onscreen, emoting to the camera while the voice-over of the character's commentary plays. "I can't stress to you enough how many times I heard people with 25 years of experience say, 'I've never seen anything like that,'" showrunner and EP Bruce Miller gushed to New York Magazine. "The DP [director of photography] and the camera operator really wanted to operate the camera themselves when it was Lizzie, because to watch her up close like that — that is something you don't get to do in your career."
Each of Moss' four landmark roles have a bit of shared darkness among them, though some more than others. Being forced into child-bearing slavery in an theocratic dystopia is a little heavier than dealing with the cruel sexism of the '60s, after all. But it's that darkness, that risk, that's drawn Moss to the work. "I find them more fun to play. The 'lighter' emotions are not as interesting for me to play, they're easier to play, especially since I'm a happy person," she admitted to news.com.au in August. "I like to do things that are different to my own life. Playing a girl in New York with a cat is quite boring. But I love the shows about that because they're about me!"
As her profile has risen, so to has her idea of what she wants out of her career. Before agreeing to sign on to The Handmaid's Tale, Moss told Miller that she wanted to be a producer credit—and not just a perfunctory vanity one.
"I couldn't sign on to something that was such a time commitment and not have a f--king creative say in it at this point in my career," she told New York Magazine. "I've been doing this for 28 years. I don't know everything, but I kind of know something about how to do this."
"She's in every scene, probably up at four in the morning," her co-star Joseph Fiennes gushed to the publication. "She's first in, last out, learning scripts over the weekend and probably doing huge amounts of voice-over in a studio when all of us are having our Sundays off, and then putting on her producer hat and spending her lunch break in meetings and watching dailies. I feel shattered. I feel ashamed thinking about her extraordinary work ethic."
It's that work ethic and her remarkable talent that are opening doors for the actress that she never believed possible. "All of a sudden there are lots of people saying 'yes' more than they're saying 'no', which is fantastic — especially in the producing realm, which I've been doing more and more," she told news.com.au. "It's all about doing more good work so whatever brings that, I'm very happy with."
As her Top of the Lake collaborator Campion gushed to New York Magazine, "Lizzie Moss occupies spaces hither fore unknown, she hits notes I didn't know existed. She is subversive and exciting, she is modest and vulnerable, AND she's a tigress, she can attack and she can watch."
Here's hoping come Sunday night, she'll be a tigress with an Emmy.
The Handmaid's Tale returns for season two on Hulu in 2018.