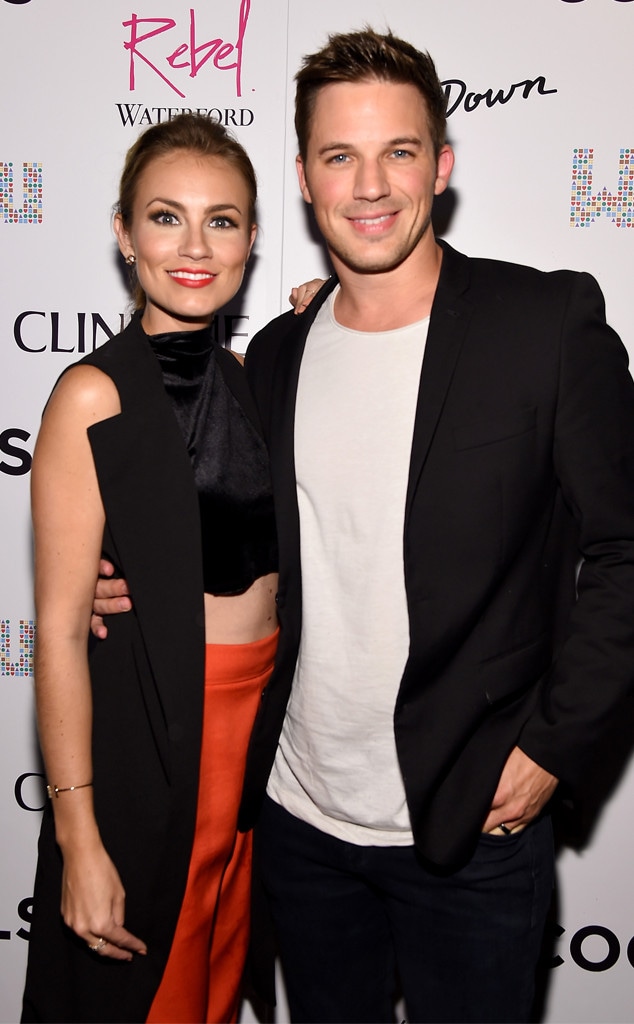 Gary Gershoff/Getty Images for RebelxWaterford
It'll be a girl for Matt Lanter and wife Angela Lanter.
The Timeless star and 90210 alum and his wife, a YouTuber and blogger, revealed in August they are expecting their first child. On an episode of their podcast Hello Bump that was released on Thursday, they revealed that she is pregnant with a baby girl.
Matt, 34, said Angela, 32, took a prenatal blood test that screens for genetic disorders as well as the child's sex and that they requested their clinic to have the results revealed in a note, placed inside an envelope. They received it when she was 14 weeks along.
Matt said they videotaped their reactions as they opened the envelope at home. He then played audio from that recording.
"It's a little girl! A little girl!" he exclaimed as Angela screamed with joy.
"You didn't expect that!" she said. "You thought it was a boy, you swore you saw testicles."
"I'm overjoyed," Matt said. "That's awesome." 
Watch:
"Timeless" Stars on Show Returning After Cancellation
After the recording was played, Angela teased her husband, saying, "You're gonna have a Daddy's girl."
"I can't wait to have a Daddy's girl!" he replied. "I'm gonna have a little princess on my hands."
Matt said he did not care whether or not their child would be revealed to be a girl or a boy.
"I think I would love maybe one of each, I dunno," he said. "We'll see what God has in store for us."
Angela said she has already purchased baby girl outfits as well as a pair of baby Stuart Weitzman boots and UGG boots with pink bows.
"And you were a little bit annoyed with me," she told her husband. "Until I put them in your hand."
Angela is currently in the middle of her second trimester. She and Matt have been together since 2009 and wed in 2013. They live in Los Angeles with their first baby, a Maltipoo pup named Ahsoka.
Angela had battled endometriosis for over 10 years before she got pregnant.
"I never thought that getting pregnant would be a breeze for us," she wrote on her blog.  "When that pregnancy test showed up positive, shocked doesn't begin to explain my feelings. After a trip to my surgeon back in March, I was planning to have another laparoscopy this summer...That's when God laughed and said He has other plans for us. The very next month I was pregnant!"