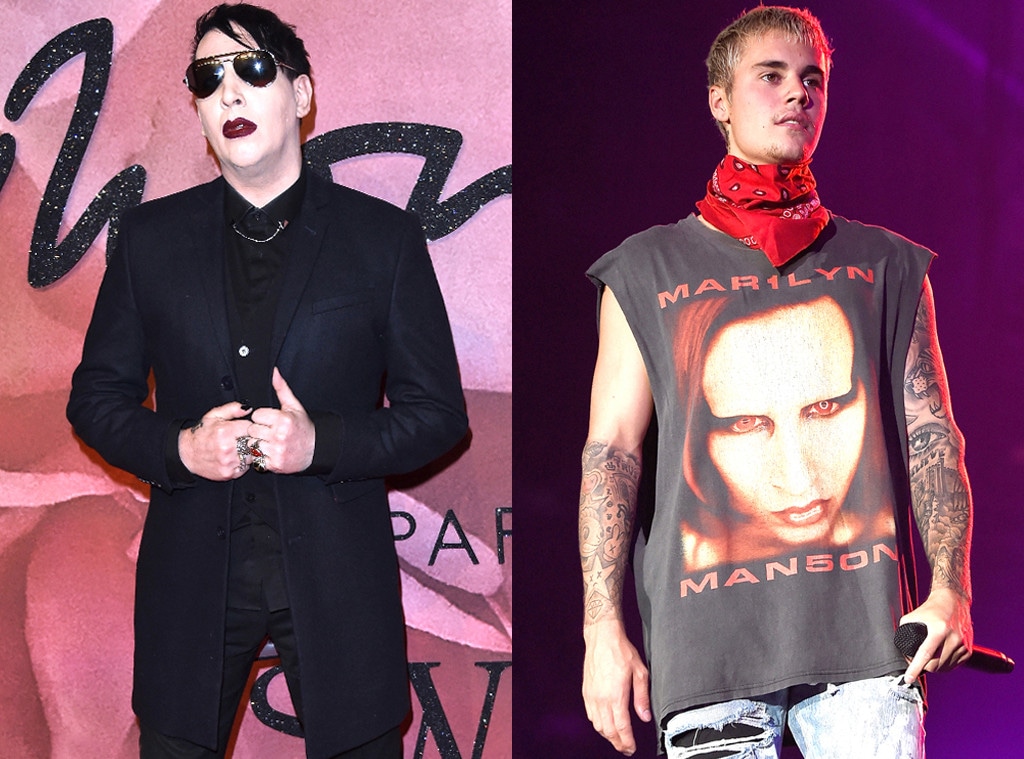 Kevin Mazur/Getty Images, Stuart C. Wilson/Getty Images
Marilyn Manson's not down with all the beautiful people...
After his image was used (allegedly without his consent) in Justin Bieber's Purpose tour merchandise in 2016, Manson had some not-so favorable word's for pop music's biggest heartthrob as a result of a not-so favorable interaction at a Los Angeles hotspot.
The shock rocker, whose 10th studio album is due out next month, recalled the run-in to Billboard, "I ran into him in some fancy bar where a lot of celebrities—a word that I despise—go. I saw a little girl in a pink hoodie with blond hair, and it turns out to be Bieber."
The surly singer went on, "I sit down, and I say, 'Hey, so you wore my shirt and everything onstage.' He was one of those touchy people that hit you when they talk, and he comes up to about dick height. Then he goes, 'I made you relevant again.'"
Of the interaction, the "Dope Show" singer also told Consequence of Sound, "[Bieber] was a real piece of s--t in the way he had the arrogance to say that."
The 48-year-old says his response to the slight was to flat-out lie to the "What Do You Mean?" singer.
The dark and stormy singer says he told the younger star, "'That was a great idea you had about doing 'The Beautiful People' at your show at Staples Center tomorrow.' And he goes, 'Yeah, it was,' not knowing that I told him an idea that I had just made up. His tour manager sat down, and I asked, 'What time is sound check tomorrow? What time should I be there? Because we're going to do 'Beautiful People.'' Obviously, when 4 p.m. rolled around the next day, I just didn't show."
More than a year has passed since the Canadian singer sold a $195 Fear of God t-shirt with Manson's face on the front, along with Bieber's name and the phrase "Bigger than God" on the back.
At the time, the brand's designer Jerry Lorenzo posted an Instagram thanking, "@marilynmanson for signing off on the 'Bigger than Satan' x #jb tee." The designer also wrote, "Thanks for understanding our approach and re-interpretation of your vision."
However, the goth rocker tells Billboard no such conversation ever happened.
Manson did say that he did from money for his likeness being used by the brand and it didn't wind up being a legal battle.
The singer claims, "It was nice though that I didn't have to sue his company for making the shirts that he wore with his name and my face on it. They were very much like, 'We know we're wrong here; just take as many dollars as you want.' So it was a double 'f--k you,' but wouldn't have happened if he hadn't said, 'I made you relevant again.'"
Guess he showed him!
Sadly, the Biebs does not appear to be a star in Manson's dope show...
Manson's new album, Heaven Upside Down, drops Oct. 6.