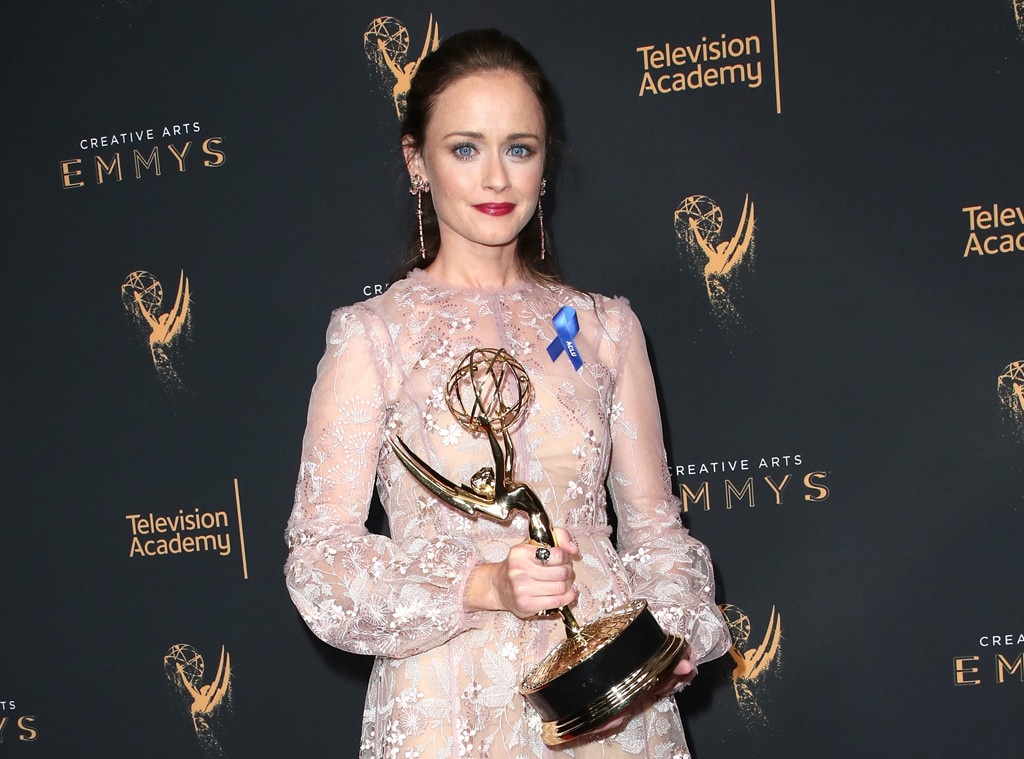 David Livingston/Getty Images
Four words we never thought we'd hear together, but that make perfect sense right now: "Emmy winner Alexis Bledel."
Bledel took home her first Emmy for playing Ofglen in Hulu's The Handmaid's Tale. This is the same television year she returned to playing the role that made her famous, Rory Gilmore, in Netflix's Gilmore Girls: A Year in the Life.
In the first season of The Handmaid's Tale, Bledel, who won for Outstanding Guest Actress in a Drama Series, turned in an unforgettable performance as Ofglen, one of the few fertile women in Gilead, the former United States, now ruled under totalitarian regime.
It doesn't matter that Ofglen, or Emily as she revealed her real name to be, is a lesbian, she was assigned to a house of a commander and is forced to take part in a sexual ceremony in hopes of bringing more children into the environmentally-ravaged world. Men have all the power in Gilead, women are subjugated. Warning, spoilers for The Handmaid's Tale follow.
Bledel's character becomes the spark that lights the fire of rebellion in Elisabeth Moss' Offred (Moss will probably, hopefully, finally win her first Emmy for this role). But their friendship was short-lived. Bledel's character was discovered to be having an affair with a Martha, a woman regulated to basically being the kitchen staff of a Commander, and she saw her lover killed and had clitoris removed. Then she was reassigned, but even that couldn't keep her down.
Viewers last saw Bledel's Ofglen mowing down a guard in a stolen car, a final (?) act of rebellion. Well, maybe not so final. Bledel has been upped to series regular for The Handmaid's Tale season two. Shooting on the 13-episode season begins this fall with a 2018 premiere date.
"I have been saying about the opening scene of season two that whatever you think it's going to be, just throw it out because it's gone in a completely different way that I never would've expected," Moss teased on Watch What Happens Live. Hmm…
How Bledel will be reintroduced in season two remains to be seen.
Bledel's performance in season one relied heavily on the use of her eyes. The pain she was able to express was palpable. It was a new side of the former Gilmore girl, one many didn't know was there. Bledel's eyes are often used to convey innocence and earnestness in projects, specifically Gilmore Girls and Sisterhood of the Traveling Pants, but in The Handmaid's Tale they were soulful, heartbreaking, and at time hopeful. She turned in the best work of her career, hands down, and deserved that Emmy win. Other nominated actors in her category were Cicely Tyson of How to Get Away With Murder, Laverne Cox for Orange Is the New Black, Stranger Things' Shannon Purser, The Americans' Alison Wright and Bledel's Handmaid's costar Ann Dowd, who was nominated in the category for The Leftovers.
Bledel flipped the script on everything viewers have ever thought about her in four episodes of TV, making it a very deserved win. The win is even better because it was for a performance in four episodes of the buzziest new show in years.
"I think it's a timely project, no matter who you are. I think everyone's going to be able to take something away from it that is really resonate and probably a bit emotional," Bledel previously told E! News about her series.  It brings everything into focus, right? It's a time in your life when you only want to leave home to work if you absolutely love the project and feel it's important."
Bledel's win is telling for what's ahead on Sunday, Sept. 17 at the 69th Annual Emmy Awards. Actual talent has been recognized, instead of the popularity game that sometimes takes place, and viewers can expect The Handmaid's Tale to pick up quite a few more trophies. The show was nominated for 13 Emmys (and won three already), with Moss, Dowd, Samira Wiley and the show itself in the Outstanding Drama Series category still up for wins on Sunday, Sept. 17. Its biggest competition? Netflix's The Crown.
The TV Academy loves a good period drama and The Crown was quite exceptional. Tune in on Sunday, Sept. 17 at 8 p.m. on CBS to see how it all shakes out.
Be sure to come back to E! News for all your 2017 Emmys needs.