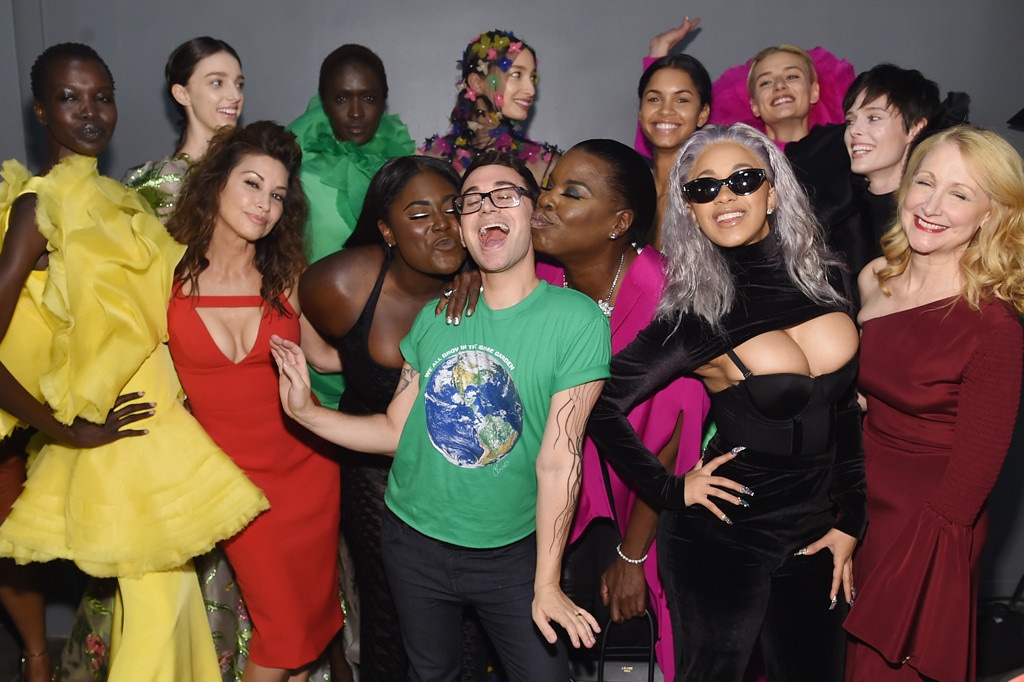 Jamie McCarthy/Getty Images
"I usually don't pay attention anymore."
When it comes to any outside flack, that's Christian Siriano's response. The 31-year-old designer, who opened the doors to his sartorial "psychedelic garden" on the runway at New York Fashion Week Saturday afternoon, is approaching a decade of doing what works for him—and that means what works for everyone.
In running his eponymous label, his work has chipped away at the size barriers that have so long kept clothing tags to single digits. For three consecutive collections, he has sent multiple plus-size models down his catwalks steps apart from their straight size colleagues. He has lent his talents to a line for Lane Bryant, a plus-size retailer, and collaborates with discount footwear retailer Payless for chic shoes on a budget.
On Saturday, he flexed his inclusive muscles even further when he cast not only a mixture of sizes, but also gender identities. Among straight-size supermodel Coco Rocha and plus-size superstar Precious Lee, Siriano also chose male model Austin Kairis to don a spaghetti strap black cocktail number, and Avie Acosta, a gender non-conforming model, to sport one of his gowns. His message was clear: Clothing should have no size, race or gender constraints. 
"It's a very diverse runway today," the designer told E! News. "We have boys. We have trans. We have curvy. We have everything.  As my T-shirt says, we all grow in the same garden, and I really wanted to bring that today."
While he intended for his blooming new designs to "celebrate beauty," after all this time, he also is aware of the greater potential impact his inclusive decisions have. "Every year is different, but it feels really good that now it's not that we're just making clothes," he explained. "We get to hopefully change a little bit of the world and that feels good."
However, despite ramped up industry conversation in recent years, some designers have still been slow to follow suit in the inclusivity department, particularly when it comes to sizing.
Antonio de Moraes Barros Filho/FilmMagic
"I've been very patient for a very long time and, yeah, that's running a little bit thin now," Candice Huffine, who has spent more than 15 years as curvy top model, said about the ongoing resistance to expanding sizes. 
"The majority of consumers are above a size 14, and I just feel like how much longer can they be denied the things that are so normal and a right for them to have? I just don't understand the exclusion." 
Siriano has noticed, but doesn't have an answer for why more designers are not embracing inclusivity. "I don't know. That's why for us we're just doing what we love. All the girls in my office, everyone that works for me loves what we do, and that makes it feel really good," he said.
"It feels amazing to be supported and loved and welcomed [by him] and I just hope that everything [Christian] does wakes a lot of people up and resonates with them," Huffine added. "You can only teach by doing or inspire by doing and that's what he does. I think there's a lot to learn from Christian Siriano." 
Fortunately, the designer does not stand alone. A few brands have prominently featured plus sizes in their collections in recent seasons, like the ever-inclusive Chromat, which paired size 16 Sports Illustrated star Hunter McGrady with a blue bodysuit and anti-chafing bands around her thighs during Friday's showing. The brand continuously features not only multiple curvy models, but also transgender models and models of color and has been a constant standout as far as diversity and inclusion on the runway is concerned. 
Meanwhile, Canadian retailer Addition Elle's sultry lingerie has been brought to life on the runway for the past three years by supermodel, body activist and designer Ashley Graham and her fellow curvy ladies. She also became the first plus-size model to walk Michael Kors' runway during his fall-winter 2017 show. 
Watch:
Ashley Graham on Becoming "Sports Illustrated" Cover Model
Unlike plus sizing, which found its way to only nine of last season's shows, different races and ethnicities have had much greater visibility on the catwalks of New York Fashion Week as of late. As The Fashion Spot reported, last season every show in the Big Apple featured at least one model of color. Of course, one is far from enough, but it is a major indicator of progress. 
So, while Siriano is not the first nor the only designer to broaden the runway horizons, it's certainly because of his and other designers' efforts that a widely ranging new standard of beauty is beginning to solidify—not just a trend. 
Ultimately, though, designers make their own decisions. "The rule is now in fashion, every designer has to do what works for them," Siriano told E! News. "It might be different than what works for the other, but the business is crazy. People are going out of business. Stores are closing. Right now, everybody has to do what works for them."
"I don't actually think every designer should step their toes into extending sizes unless they're actually going to be thoughtful about it," longtime plus size fashion blogger Nicolette Mason told E! News after Siriano's show. "For a lot of designers unfortunately, I think they use it as a PR opportunity and as a way to cash in on a conversation or a movement and that's not what it is."
That certainly does not appear to be the case for Siriano. With a new store opening soon and bevvies of Hollywood starlets and everyday women alike donning his designs, it seems the former Project Runway winner is becoming all types of women's go-to man.
As SNL star Leslie Jones enthusiastically shouted from the front row of his show, "Come on through!"