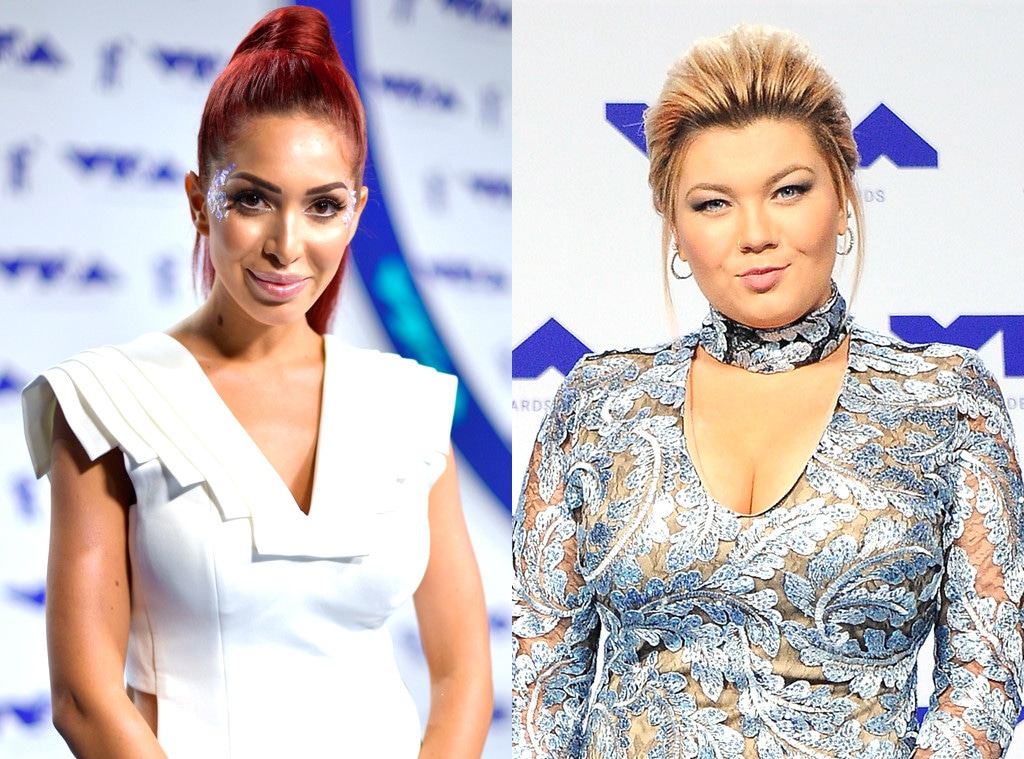 Matt Winkelmeyer/Getty Images, Jon Kopaloff/FilmMagic
Farrah Abraham is not convinced a renewing a friendship with Amber Portwood is in her best interest. 
E! News caught up with the Teen Mom OG star at New York Fashion Week, where she described what exactly is holding her back from ending their feud once and for all. "I would want to bury that hatchet, too," Abraham shared, "but I'm never wrong. I'm a great friend; I'm a stand-up individual and in the same sentence she wants to be friends with me, she always says I'm crazy."
When Portwood stopped by E!'s Daily Pop last month, described her co-star as "crazy," adding, "We used to be friends, but I don't know what happened. I think she did things for publicity. I still love her to death. She knows that."
Amber also said that although it's "natural" for the pair to clash, she's "ready to let everything go" and rekindle a friendship. 
Farrah's response? "She's the only one who is diagnosed with a split personality disorder amongst other things, which is not a joke. It's very serious." And would she pick up the phone if Amber called? "I believe she's blocked." (In 2011, Amber revealed her diagnosis of bipolar and dissociative disorder.)
"I just am on a whole other level of my life and I'm focused on my daughter and not on her," she noted.
Despite their differences, Abraham seems to only want the best for her co-star, as she told us, "I wish she would take other people in her circle more seriously so that she could be the happiest Amber. I think producers and production play off of that so I would just strive to keep people around who are there for you."
"I'm happy she's not dating Matt Baier anymore," Farrah added. "I told her years ago to ditch him and I'm happy to finally have found out."
Abraham also gave us the latest on her relationship with mom Debra Danielson, and why daughter Sophia Abraham refuses to attend her grandmother's upcoming wedding. 
"Sophie doesn't really want a relationship with my mom but I'm still trying to make sure that she is around and keep that relationship is surviving and alive," she shared, adding that Debra came along on their NYFW trip to see Sophia walk in a runway show. 
Farrah explained, "With my mom's wedding right now it's made Sophia not want to be around her. I'm kind of stuck in the middle trying to have everyone get along. Sophie is not approving of it but I am happy for her and supportive. I hope she has an amazing wedding and we send her our best wishes. We are taking her to Italy next week so we just try to keep it cordial."
The same goes for Farrah and her ex-boyfriend Simon Saran, who the 26-year-old split from earlier this year. 
"I would say I'm cordial with my ex but I'm not allowed to talk to him because Sophia doesn't like him," she said. "I think my daughter and I are having the times of our lives together right now and when I am [dating again] I'll let you know."