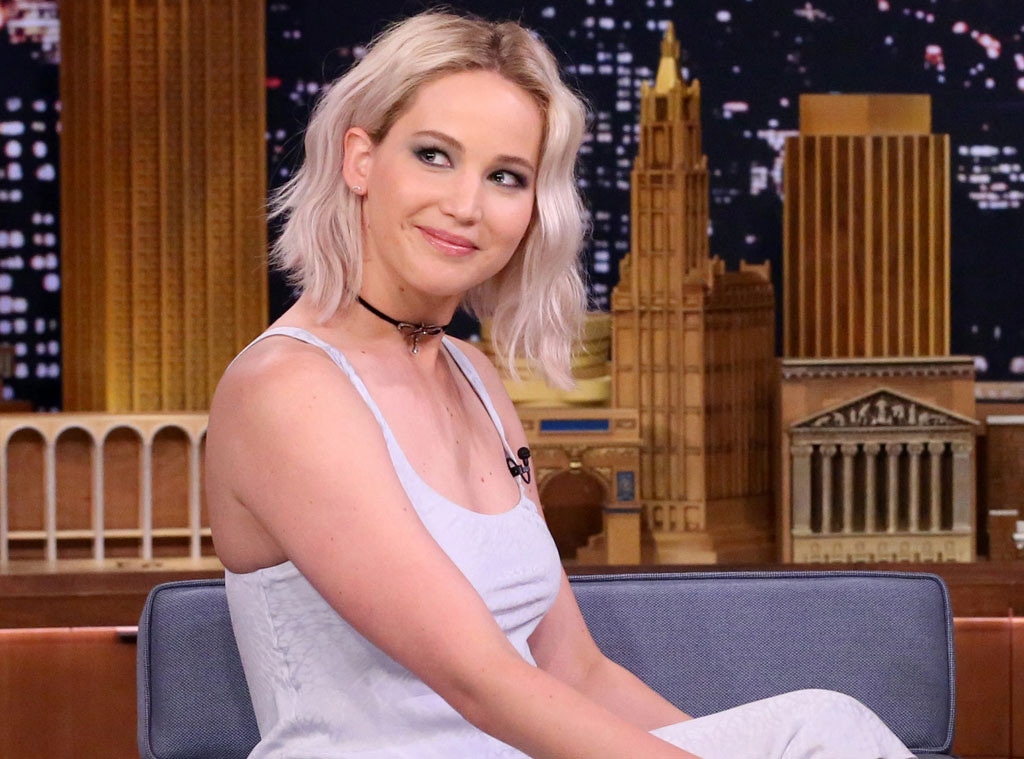 Andrew Lipovsky/NBC
Jennifer Lawrence speaks her mind.
The Oscar-winning actress spoke about climate change, President Trump and the gender pay gap while promoting her new film Mother, and one comment in particular has caused quite a stir.
In a recent Channel 4 News interview, social affairs editor Jackie Long questioned Lawrence about a statement director Darren Aronofsky issued with the movie at the 2017 Venice Film Festival. The statement begins with the words "It's a mad time to be alive." Long said the statement had an "end of days feeling" to it and suggested that it might particularly resonate with Americans.
"It's scary," Lawrence responded. "This new language that's forming. I don't even recognize it. It's also scary to know that climate change is due to human activity and we continue to ignore it, and the only voice that we really have is through voting."
Long pointed out that Americans, like Lawrence, did vote recently in the presidential election, to which the actress continued:
"And we voted, and it was really startling. You're watching these hurricanes now and it's hard, especially while promoting this movie, not to feel Mother Nature's rage or wrath."
This comment has garnered Lawrence a lot of media attention given the recent Irma and Harvey hurricanes. 
Long said climate change isn't the only issue people face, adding that Americans seem to be experiencing a "time of huge division."
"Yeah, it's really polarizing and upsetting," Lawrence said. "I've heard things and seen things on TV in my own country that devastate me and make me sick. It's just really confusing."
 When questioned whether she found President Donald Trump confusing, Lawrence responded, "I don't find him confusing. I think I know exactly what he is."
In addition to discussing climate change and Trump, Long asked Lawrence about her decision to speak out against her previous male co-stars being paid more money. The actress penned an article on the topic for Lena Dunham's website and newsletter Lenny Letter in 2015 after the 2014 Sony hack revealed that Lawrence and Amy Adams made less than their male co-stars in American Hustle.
"I'm so fortunate to have my job. My problem is not money," Lawrence told Long. "I wasn't upset that I only got this many millions for a movie. That's ridiculous. I was angry about the unfairness and inequality."
Lawrence continued to tell Long that the gender pay gap doesn't just exist in the movie industry.
"There's a 21% pay difference between men and women in America in all fields, in almost all fields," she added. "So, I felt like I had a voice. People look at me and listen to me. And to not use it, to not say anything, that's never really sat well with me."
The actress said she believed that the pay gap "slowly is closing" and that "more progress is being made very slowly" as people continue to talk about the issue.
When Long asked what the issue seemed to be rooted in, Lawrence said she didn't think it came down to one thing.
"I mean, I think on the one hand, if you can get away with paying somebody less, then do it," she said. "A lot of people just don't choose the moral high road and say, 'No, that's not fair.'" And, I don't know. Or, you could go philosophical and say, 'Why are we so afraid of women? Why are we so terrified of these beings who produce life?'"
As noted in the Lenny Letter, this isn't the first time Lawrence has shared her political views. She wrote an article for Vice's Broadly shortly after Trump was elected in which she encouraged people to speak up and be engaged citizens. And for her recent Vogue cover story, she talked about her involvement with Represent.Us, an organization that focuses on passing anti-corruption laws, and her belief that "there needs to be a bridge" between divided parties.
"We can't continue this divide and anger," she told the magazine. "There are issues affecting us as human beings, not as liberals and not as Republicans. We have to protect the foundation of this country and acceptance. If you're preaching acceptance, accept immigrants, accept Muslims accept everybody."
Lawrence even announced a partnership with Omaze—a fundraising platform that gives donors the opportunity to win "once in a lifetime" experiences—in which people could win a chance to have a picnic and drink wine with the star by donating to Represent.Us.
Lawrence's crew also has a history of publicly voicing their political views. For instance, when discussing his film Noah, Aronofsky, who is also Lawrence's boyfriend, told The New York Times, "Most of the work I do outside of storytelling is work for environmental causes." And for the presidential election, he walked around Duke University's campus encouraging students to vote, even letting a lucky few FaceTime with Lawrence if they agreed to do so. Lawrence is also friends with comedian Amy Schumer who has spoken up against reducing gun violence.
Despite the political issues raised, Lawrence remains hopeful for the future.
"I have to feel hope," she told Long at the end of the interview. "You have to feel hope. You can't just fall into despair, but a producer on the movie called this film an 'impotent howl of rage.' You know, it's like a helpless howl to the moon, and it's an assault."