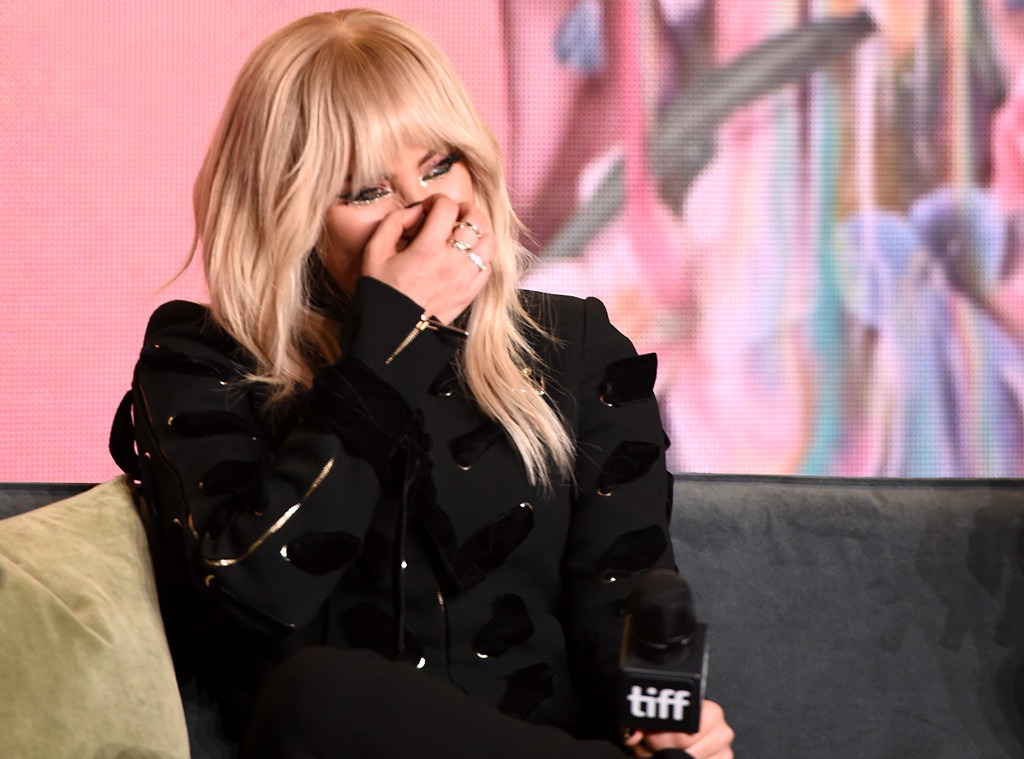 Kevin Winter/Getty Images
Lady Gaga refuses to let life's darkest moments break her down. 
In her upcoming Netflix documentary Five Foot Two, the pop music superstar pulls back the curtain on her personal struggles—including a years-long battle against chronic pain. Gaga addressed the film's most vulnerable scenes during a press conference at TIFF, in which she visibly got emotional while speaking to reporters. 
"It's hard, but it's liberating, too," the Joanne artist said after taking a moment to collect her thoughts when asked what it was like to document the less-than glamorous experiences. 
Five Foor Two's director Chris Moukarbel then remarked, "It was incredibly hard... Beyond just filming, I felt compelled to continue to roll. I know that she wanted me to because it's something that should be included in the film."
In a teaser for the documentary, Gaga seeks medical help for the pain, and there are shots of the celebrity receiving injections on a surgical table. 
The "Million Reasons" songstress explained at the Toronto International Film Festival, where Five Foot Two will premiere tonight, "There is an element and a very strong piece of me that believes pain is a microphone. My pain does me no good unless I transform it into something that is [good]."
"I hope that people watching it that do struggle with chronic pain know that they are not alone," she continued. 
Lady Gaga then addressed those skeptical of the degree to which she suffers. "It's freeing for me because there's a degree of self-deprecation and shame that goes along with feeling in pain a lot," she said.
"I want people that watch it that think there's no way I live that way because they see me dance and sing, to know I struggle with things like them and that I work through it and that it can be done."
"We have to stick together," Gaga continued, "and I don't have to hide it because it's weak. It's a part of me and I'm grateful to Chris for caring. The compassion is overwhelming and that's why it makes me emotional. It's very touching."
More than a year ago, the 31-year-old first revealed her struggle with chronic pain was linked in part to a sexual assault. "I feel physical pain," she said during a radio interview. "I actually suffer from chronic pain and it's from this paralyzing fear that I've experienced for almost 10 years."
"When something traumatic happens, your brain disconnects so that it can handle it," she elaborated. "But, it stays in your body, in your tissues, physically in you."
A 2013 hip injury also required Gaga to undergo surgery and cancel the remainder of her Born This Way Ball tour. 
At Friday evening's premiere, Gaga surprised fans and attendees with an impromptu, piano performance of "Bad Romance," which she dedicated to her director. 
An eyewitness tells E! News the documentary delves deep into her relationship with Taylor Kinney, at one point referencing a good luck gift the actor gave her before her Super Bowl halftime performance. "Nothing like getting flowers from your ex-fiancé," Gaga said. 
Other topics in the documentary include her alleged feud with Madonna, her starring role in A Star Is Born and the aforementioned health issues. 
Five Foot Two hits Netflix Sept. 22.