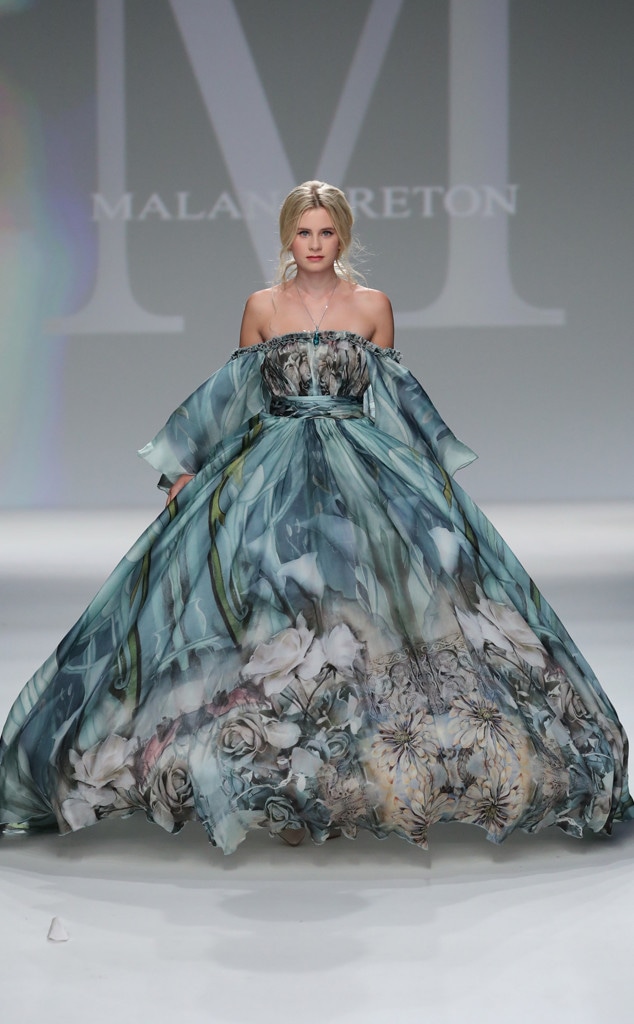 JP Yim/Getty Images
Kelsey Grammer and ex Camille Grammer's daughter Mason Grammer is back on the runway!
The 15-year-old walked the catwalk Thursday at the Malan Breton Collection spring/summer 2018 fashion show in a gorgeous, off-the-shoulder, teal patterned ball gown. She also showcased a belted bronze skater mini dress.
"Mason I'm so proud of you my angel," her mom, best known as a Real Housewives of Beverly Hills star, wrote on Instagram. "@mason.grammer so happy you had a great time. Love you so much."
This is not Mason's first rodeo; The teen had made five past appearances at New York Fashion Week, including last February, when she walked the runway at the Malan Breton Collection fall/winter 2017 fashion show.
"It always feels like the first time, it's just an amazing experience," Mason told Page Six at Bella magazine's NYFW kickoff party Wednesday.
Mason is the latest model whose mom was a Real Housewife; Gigi Hadid and Bella Hadid's mom is Yolanda Hadid, who left The Real Housewives of Beverly Hills in 2016.
Camille, who is also former glamour model, told Page Six she let Mason take part in New York Fashion Week because she keeps up her grades.
"I am so proud, she's a good person, she's a good girl, in school she's getting all A's right now," she said. "She's been acing every test and we want to reward her with something that she loves and I think it helps her with her self-confidence."
"With school, I'll try to stay on top of it and do the best that I can, 'cause I feel school comes first before any of this," Mason said. "It's more fun right now and we'll [see] if anything comes of it, but school is my number one priority."
Mason is Kelsey and Camille's eldest of their two children and the Frasier alum's third eldest out of his seven kids.
They also share son Jude, 12. Kelsey is also father to Greek alum Spencer Grammer, 33, and Greer Grammer, 25, and he and current wife Kayte Grammer have a 5-year-old daughter, Faith, and two sons—Kelsey Jr., 3, and Auden, who is almost 10 months old.