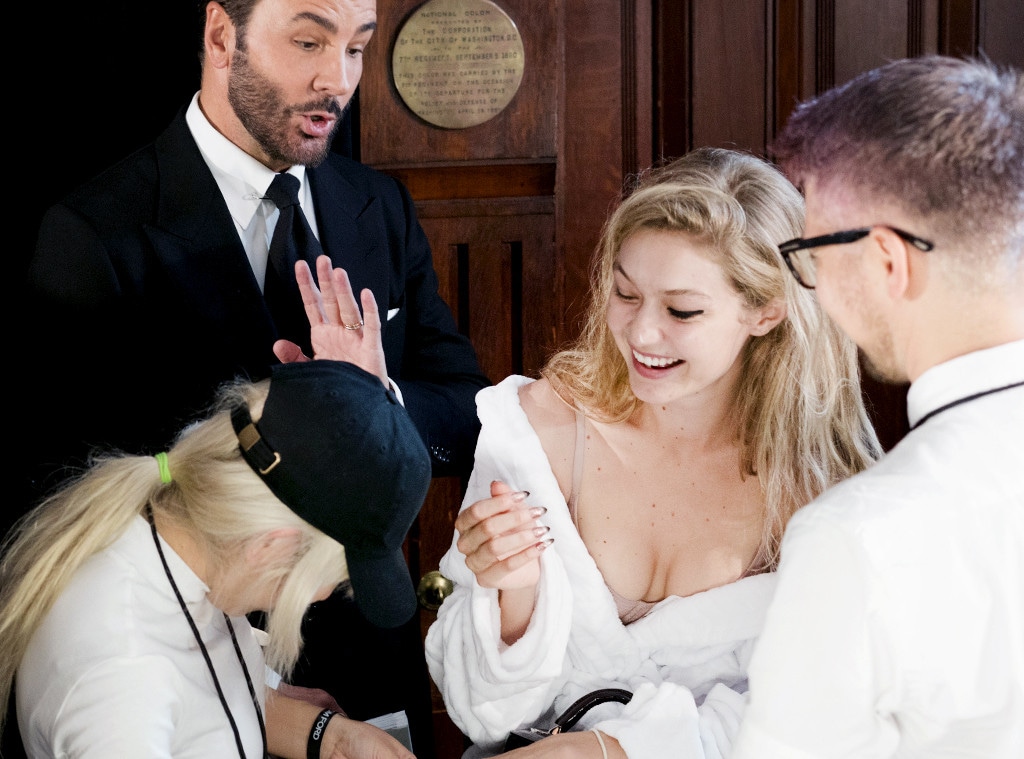 Simberashe Cha/WWD/REX/Shutterstock
In between the glitz and the glamour, there is some sartorial downtime. 
Such is the case for runway stars every season at New York Fashion Week. While backstage at a fashion show can seem like an unchartered, luxurious abyss to someone who's never gotten the chance to venture back there, we're here to pop that mystery bubble and share all of the surprisingly normal moments that typically take place behind the dark curtains.
For strangers to the backstage area, it is typically much smaller, more crowded and less plush than some may imagine. Tables lined with mirrors usually surround the space while makeup artists and hairstylists utilize what sparse room they have to make the designer's vision come to life on the model in their chair.
In the meantime, photographers and videographers document every step of the styling process while fashion editors and beauty writers whip out their recorders for an interview and jot notes on a pad. Simply, it's organized chaos—well, mostly organized. 
However, while the countdown to the catwalk can incite immense buzz behind the scenes, it is also a time for the models to sit back and take a breath while the pros finish their work and they have to sit still. When a stranger isn't asking to snap their intricate 'do or colorful cat-eye, the models take advantage of the spare minutes by scrolling their Instagram feeds, FaceTiming with a family member or taking a selfie because—hey, their makeup looks fierce. 
When they're not in the chair, the runway pros have time for mundane tasks like using the bathroom or grabbing something to munch on. There's usually a table (or two or three) designated to a variety of snacks. As Tom Newton so hilariously documented, backstage can house an assortment of culinary delights—from healthy options like fruit parfaits and smoothies to sweets like cookie trays to bites as rich as roast beef sandwiches and burger sliders. 
Ready to digitally venture into this mysterious world? Check out some behind-the-scenes snaps below.
Models...they are just like us. Kind of.