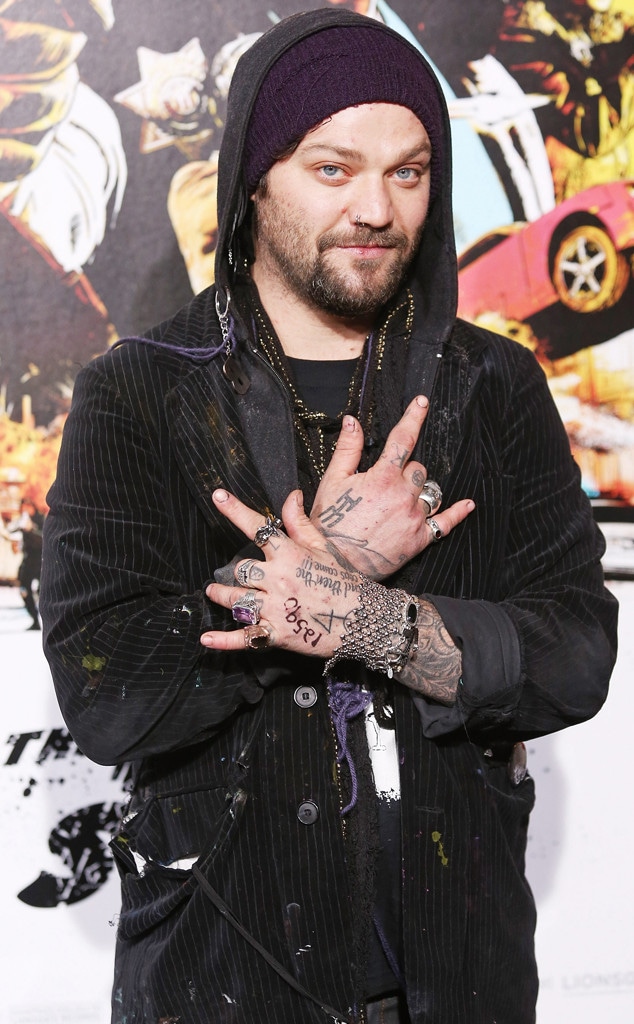 Michael Tran/FilmMagic
At the height of his fame in the early 2000s, Bam Margera battled an eating disorder behind closed doors. 
The professional skateboarder (whose MTV reality series Viva La Bam and participation in the Jackass franchise made him a household name) reveals his struggle with bulimia during a recently released episode of Viceland's Epicly Later'd. 
Bam's parents April and Phil Margera reflected on the 37-year-old's personal demons and how the issue first came to fruition. "When you're on camera a lot," April shared, "people have a lot to say."
"He always wanted to have this very slim, slim look. A lot of it happened when he became good friends with [HIM singer] Ville Valo," she remarked. 
Bam also explained, "I remember when me and Ville Valo were out in London and he woke up at noon, opened up the mini bar and cracked open a beer. That was the first time I was introduced to day drinking." 
From there, the former MTV fixture said he began drinking more and more to curb his appetite, which ultimately manifested itself into behaviors linked to bulimia. Margera's mother added, "Ville drank a lot… He's the loveliest man ever, but he never ate. He just drank. I think Bam started sipping on a beer because he liked the way he looked."
"We would go out to dinner and he would immediately excuse himself and go to the bathroom," she remembered. "I'd say, 'Are you throwing up?' And he says, 'Yeah, yeah. Sometimes I throw up and that way I'm not gonna get fat.'"
Margera confirmed his self-destructive actions, saying, "I didn't start officially drinking until maybe 24 or 25. Then the rock star life and drinking spun out of control."
His struggle with alcohol addiction peaked during his five-year hiatus from skateboarding for bone spurs. During that time, Margera has said his financial income came from nightclub appearances, which lent itself to heavy drinking. The athlete is now sober and lives in Spain with his pregnant wife, Nicole Boyd. 
April also revealed the lasting impacts of bulimia on her son's recovery: "It really hurts me when people make comments. 'You look like you gained some weight there.' I don't respond but I feel like saying, 'He was drinking alcohol and he was bulimic. And that's why he was thin.'"
If you or someone you know needs help, please call the National Eating Disorders Association helpline at 1-800-931-2237.