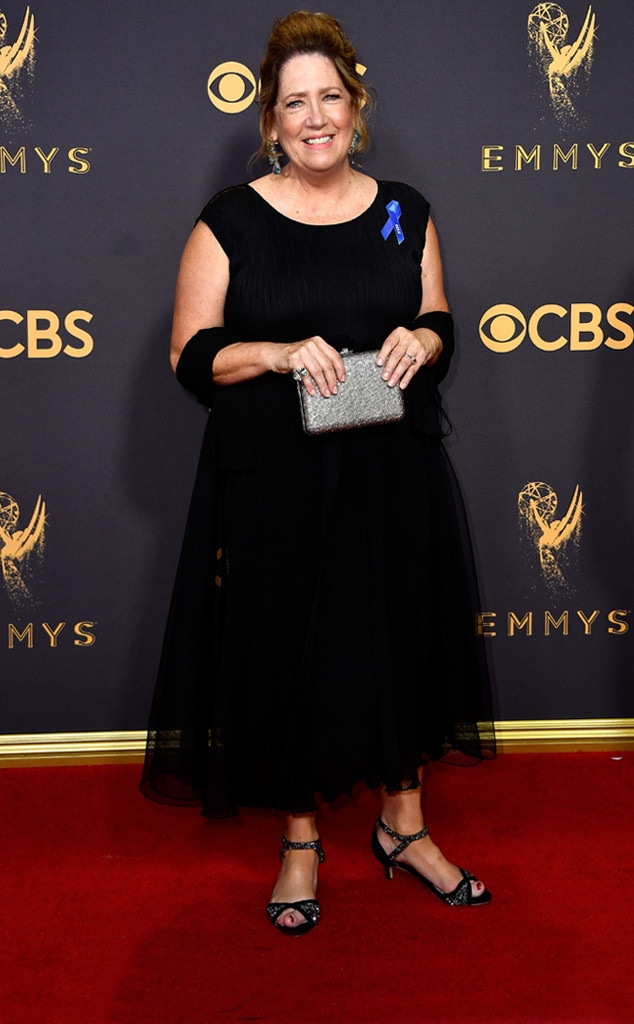 Frazer Harrison/Getty Images
It's finally her time to shine!
Ann Dowd is now a first-ever Emmy winner, taking home the award for Outstanding Supporting Actress in a Drama Series for her role in The Handmaid's Tale at the 2017 Emmy Awards on Sunday night—and proving it's never too late to become a star.
The 61-year-old actress was clearly emotional after her surprise win for the critically acclaimed Hulu series, based on Margaret Atwood's novel from 1985. 
Accepting her award, Ann said, "Hello, everyone. Well, I think this is a dream,I know it's an actor's dream and I'm deeply grateful to you.I have been acting for a long time and that this should happen now, I don't have the words. So I thank you."
Ann, who also had a remarkable role in The Leftovers, also thanked many others, including her husband, children, her cast and Atwood herself.
The character actress has been under-the-radar for years, but has been working in the industry since 1985. While she may not be a household name, Ann has a career that spans over three decades, appearing in Freaks and Geeks, Law & Order, Olive Kitteridge and Masters of Sex.
The other nominees for the award were Uzo Aduba (Orange is the New Black), Chrissy Metz (This Is Us), Millie Bobby Brown (Stranger Things), Samira Wiley (The Handmaid's Tale) and Thandie Newton (Westworld).
Last year, Dame Maggie Smith nabbed the win for Outstanding Supporting Actress in Drama Series for her role on Downton Abbey.
Meanwhile, Ann joins a big list of big winners on Emmys night...
John Lithgow won the Outstanding Supporting Actor for his role as Winston Churchill in The Crown. Alexander Skarsgård won big for her terrifying turn as abusive husband in Big Little Lies.
Kate McKinnon took home a statue for Outstanding Supporting Actress in a Comedy Series for her role in Saturday Night Live. Laura Dern also nabbed an award for her role as an overbearing mom Renata Klein on Big Little Lies.
Don't miss E! News tonight at 7 and 11 p.m. and tune in to the Fashion Police 2017 Emmys Special, with guest co-host Erika Jayne, at 8 p.m., only on E!