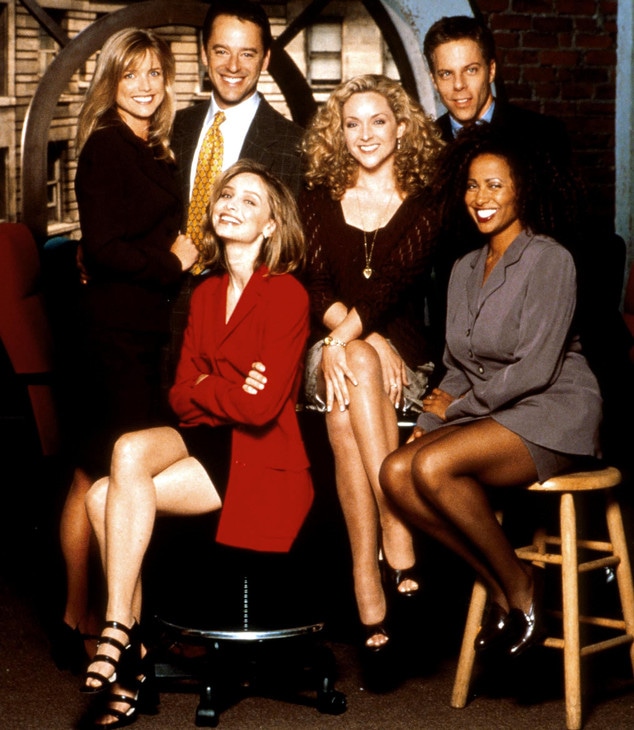 FOX
When Ally McBeal premiered 20 years ago today, it was hailed as a quirky legal dramedy with a fun and feminist bent. Calista Flockhart starred as Ally, a recent Harvard Law graduate forced into quitting her job after she was groped at work by a male superior. She sued the company for sexual harassment and signed on with Cage & Fish, another firm in Boston with some all too familiar faces (married ex alert!) and its own set of workplace issues.
Right away, the David E. Kelley-created Ally McBeal was a hit with critics and audiences alike. The New York Times called it "refreshing and offbeat." Flockhart won a Golden Globe in 1998 for the series' first season, and the show won the Emmy for Best Comedy after season two (as well as the Globe for Best Comedy or Musical Series in 1998 and 1999).
But at the same time, so began the backlash: First, the show—and more specifically, Flockhart's relentlessly self-absorbed, oft-ditzy, miniskirt-wearing character—came under fire for not fitting the media-designed mold of what feminism should look like. In June 1998, Time ran a cover with Flockhart's character in a lineup with Susan B. Anthony, Betty Friedan and Gloria Steinem. Beneath the image of "Ally McBeal," the magazine posed the question: "Is feminism dead?"
Obviously no fictional female's actions, thoughts or delusions onscreen could single-handedly undo the real accomplishments made by past and present champions of women's equality. Still, there was plenty of sexist coverage questioning whether Flockhart's character—and more specifically, her body, and the way in which it was presented—was sending the "wrong" kind of message.
By the time Ally McBeal was in its second season, the public fixation with Flockhart's figure intensified. Tabloids ran headlines asking—and often insinuating—Flockhart was "too thin." Late-night hosts turned her weight into a punchline, and even mainstream media had no shame in their speculation. Los Angeles-based radio station KROQ suggested a "Meals for McBeal" drive and threatened to send truckloads of Twinkies and Ring-Dings to her on set. A local news report in New York one night erroneously reported she was taking time off from the show to undergo treatment for anorexia.
In a 1998 ABC News sit-down, Barbara Walters, addressing the onslaught of headlines, rhetorically asked a then 34-year-old Flockhart, "Are you just naturally very slim? And you eat? We don't have to worry about you?"
The actress politely reassured Walters that she did, indeed, eat, and reiterated that she was just "naturally thin."
She did another interview with People in which she again denied having an eating disorder.
"I guess I don't know the exact definition of anorexia," she told the magazine. "But I eat. I eat normally. I eat whatever I want, whenever I want. I don't have a messed-up relationship with food...Am I anorexic? I guess my answer would have to be no."
But repeated on-the-record denials from Flockhart and her team didn't slow the media frenzy.
Dr. Kara Alaimo, an Assistant Professor of Public Relations at Hofstra University, describes the incessant coverage of Flockhart's weight in the late '90s as "misogynistic."
"I think that it is terribly inappropriate to comment on women's bodies—whether you're telling them that they are too large, too small, or anything else," Alaimo tells E! News. "And to speculate on what's causing it—that's really not something that an outside observer can diagnose."
That's not to say they didn't try, though. Dr. Andrea McDonnell, an Assistant Professor of Communication and Media Studies at Emmanuel College, says this "puzzle solving" took different forms. "It was kind of this mix…[and] trying to figure out whether or not she was healthy according to a standard imposed by the media," she says. "So there was a discourse of, 'Is she or isn't she anorexic?' Some of that was using coded language, [and] some of that was just coming out and saying it very blatantly."
Flockhart, of course, wasn't the only celebrity whose weight became the subject of intense scrutiny, and this type of coverage didn't end when Ally McBeal went off the air in 2002. It might be "a bit less aggressive [now]," but it persists, says Dr. Emily Fox-Kales, a clinical psychologist and the author of Body Shots: Hollywood and the Culture of Eating Disorders. 
"I think the celebrity body is always subject to commentary," Fox-Kales tells E! News. "We're still a pretty weight-obsessed culture, and I think we're still very much driven by the fear of fat…Losing weight is still, in younger girls, considered a status symbol, and even in older women in the workplace, [it's] considered a status symbol."
What Fox-Kales describes as "that competition to the bottom…of who can be the skinniest" is what purportedly happened on the set of Ally McBeal. As Flockhart lost what she estimated to be 3-5 pounds over the course of a year, costars Portia de Rossi and Courtney Thorne-Smith were struggling with body issues of their own.
Thorne-Smith actually left the show in its third season after realizing that the pressure she felt to be thin had taken over her life. Her severe dieting and exercise routine at one point landed her name in an article about actresses who looked too thin (the other side of the body-shaming coin). "I thought, I hate the thought of a 12, 13 or 14 year-old girl seeing a picture of me and thinking she'll do what I did," she recalled on Good Morning America in 2001.
In her 2010 autobiography Unbearable Lightness: A Story of Loss and Gain, de Rossi revealed that a life-long struggle with eating disorders intensified during the time she was on Ally McBeal.
"One friend of mine said to me, 'You look like a normal, healthy woman, and those three words really sent me into shock. Normal? Who wants to be normal? Who wants to be normal weight range?" de Rossi told Oprah Winfrey when the book came out, recalling an anecdote from the time she was on the show. "'Healthy' suggested that I was kind of, like, pudgy. 'Woman' suggested curvy. I wanted to be a skinny, straight up and down girl."
The concept of losing weight to advance one's career isn't unique to Hollywood. "If you're overweight and you sort of crash diet and you lose 50 pounds, people will say, 'Oh, you look good,' and you'll start to get more promotions," says Fox-Kales. But while she says weight loss "is still considered a value in our culture," this only proves true to a certain point. 
As Dr. Michael Bruner puts it, "There's thin, and there's too thin…and at some point, [other] people think too thin is unhealthy."
Bruner, a communications professor at Humboldt University, researched the politics of gender irony and weight loss circa present day. He looked specifically into the case of Rachel Frederickson, who won The Biggest Loser in 2014 by going from 260 to 105 pounds. Her startling transformation was widely criticized, and as Bruner's research found, it showed some support for his "Women Can't Win" thesis. 
It's not just women, though, who are subject to "skinny-shaming" and "fat-shaming." A 2016 study co-authored by McDonnell and Dr. Linda Lin showed that although women overall are critiqued more often than men for their bodies, men are now being critiqued at greater levels than they were before. 
This isn't to say it's all bad news on the body image front. Alaimo, who recently wrote an analysis for the Columbia Journalism Review on how newsrooms should report on women's bodies, tells E! News she thinks "the media, and society in general, has become a little bit more cognizant of these issues" in the past 20 years. Body positivity is now a well-known concept, and as Fox-Kales says, "Shaming—of any kind—is very politically incorrect."
The advent of social media has majorly impacted how we talk about celebrities and body image as well. "Twenty years ago, it was the media that was solely responsible for this, and now social media has enabled ordinary people to pile on to comment on women's bodies," says Alaimo.                          
At the same time, it's a space where "audiences have more control," says McDonnell. "I think some social media commentary tends to be very positive and supportive, moving away from body shaming and very much toward celebrating women of all sizes. But then some of it, of course, also tends to be [negative]."
She adds, "Online people are anonymous, and their worst instincts can come out, which is where we can see some of these really harsh comments being hurled around."
There is wider awareness today, though, that there's no one-size-fits-all "perfect body"—even for the stars. As Bruner says, there might not be "a straight-line evolution or progress" of media coverage from 1997 to present day, but there are "positive things" happening now.
"I think we've come up with places and people that are trying to do something," he says. "[The media] includes resources now, and that's all new, too. Instead of just cashing in on [a problem], it's directing [the audience] where to go if they need help or further information…That's definitely a move in the right direction."
If you or someone you know needs help, please call the National Eating Disorders Association helpline at 1-800-931-2237. For 24/7 crisis support, text 'NEDA' to 741741.