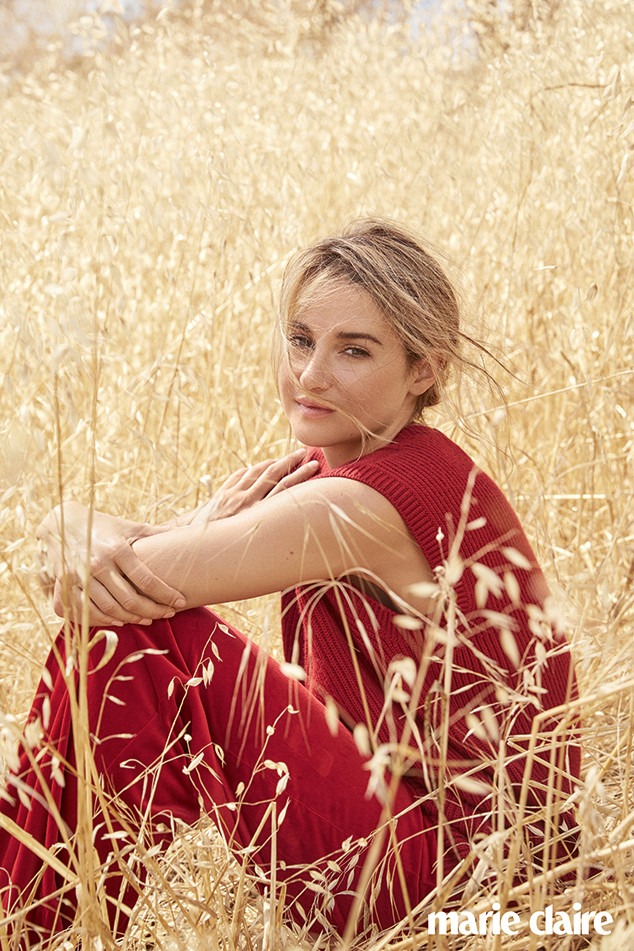 Olivia Malone/Marie Claire U.K.
Oh, the stories Shailene Woodley has to tell.
In the October issue of Marie Claire U.K., the 25-year-old Big Little Lies actress speaks candidly about being arrested last year while protesting against the Dakota Access pipeline. On Oct. 10, as she walked to her RV, she spotted two US military tanks. "I'm like, 'This is some Divergent s--t,'" the actress says. "The only time in my life that I saw a tank like that was on set in Atlanta."
Except Woodley wasn't on a movie set. Minutes after she first noticed the military tanks, the environmental activist was arrested at Standing Rock for criminal trespassing and engaging in a riot; she was transported to the Morton County jail. "I was strip-searched. Like get naked, turn over, spread your butt cheeks, bend over," she recalls. "They were looking for drugs in my ass."
It was then that Woodley realized she was in trouble. "When you're in a jail cell and they shut that door, you realize no one can save you. If there's a fire and they decide not to open the door, you'll die," says Woodley, who has visited Standing Rock often. "You are a caged animal."
Olivia Malone/Marie Claire U.K.
Olivia Malone/Marie Claire U.K.
Woodley says she experienced post-traumatic stress disorder symptoms after Standing Rock. "There was so much trauma. Mine was like, 'What do I do now?'" she reveals. "Kind of like a little bit of depression." She pleaded guilty to the charges in March 2017, and thanks to a plea deal, she avoided jail time. "I'm on a year's probation," she explains. "I've gotta watch my ass."
But don't think for one second that she's given up fighting for environment rights. "This world isn't something to take for granted. The only way to address climate change and these radical, detrimental policies is for us, as citizens, to shift our lifestyles," she argues. "People are too comfortable. We're complacent in many ways. We need to be willing to get uncomfortable."
Olivia Malone/Marie Claire U.K.
The Dakota Access Pipeline is now pumping oil, but she hasn't given up hope. "There's nothing worth fighting for more than each other. The planet is going to be fine. It's humans who aren't going to be OK. We're broken. That's why the world is where it is. The way you heal is with love and empathy and compassion. Take politics out of it," Woodley says. "Vote with your money."
Woodley tries to lead by example, but as she points out, "None of us are perfect."
"I use more plastic than I need to. I'll buy products from corporations that I don't agree with. To me, the biggest shift we can make is the mindfulness around these things. That's the catalyst for change. We must wake up every morning and ask ourselves, 'How can I do more? How am I willing to shift my lifestyle to actually create the change I complain about?'" she says. "Now, all of a sudden you're empowered, you're passionate, you have a fuel beneath your feet to move forward in a way that's conducive not only for your own personal life but also for the world as well."
To read the feature in full, pick up the October issue of Marie Claire U.K., out now.