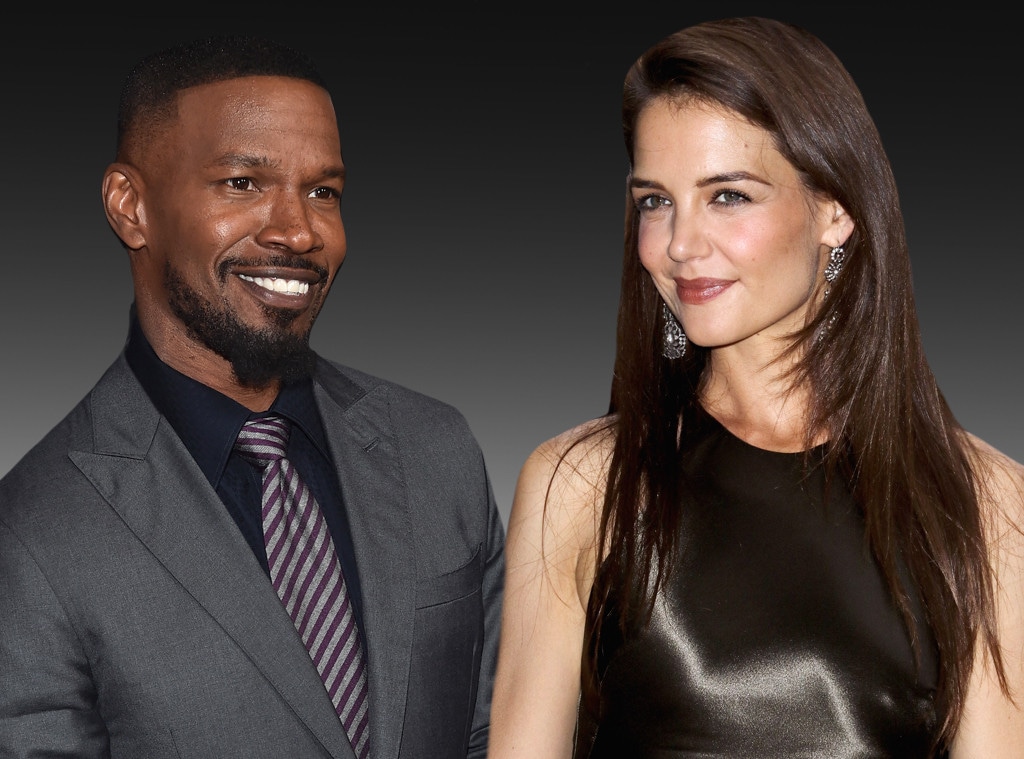 Getty Images
We have consensus—and, for the first time, clear photographic proof.
Four years after their proximity at the same party sparked dating rumors, Jamie Foxx and Katie Holmes have been photographed, not just together, but holding hands and walking on a beach.
It must be love!
Considering how successfully cagey they've been all these years, it stands to reason the low-key (understatement of the year) duo either allowed for that to happen, or were just enjoying themselves so much that they momentarily let their guard down, threw caution to the wind and... went outside.
And so DailyMail.com obtained photos of the pair strolling hand in hand in Malibu on Labor Day, Holmes in a flowing summer dress and Foxx in a black T-shirt and track pants, both wearing sunglasses and brimmed hats. Not disguise-style hats, though. Just protect-yourself-from-the-sun hats.
The ease they evinced made it feel as if we'd seen this from them before—even though we most certainly had not. In fact, they've only been photographed in the same place at the same time twice—once in 2013, when they danced at a charity benefit in the Hamptons, and again in 2015 in a grainy pic taken at a recording studio, their fingers intertwined as Katie checks her phone.
Oh, sorry, three times. Also in 2006, when they were photographed standing on either side of Tom Cruise on the sidelines at a football game.
Which brings us to how Holmes and Foxx met in the first place. When Foxx won his Best Actor Oscar for Ray in 2005, he had also been nominated for Best Supporting Actor for his role as a cabdriver who's forced to chauffeur Cruise's psychotic, silver-haired hit man around L.A. in the 2004 thriller Collateral. 
So the actors became friends, or at least friendly colleagues (though they had first met when Foxx auditioned for Jerry Maguire some years before that). Asked what he was up to in July 2004, before the film came out, Cruise told BlackFilm.com, "Busy hangin' out with my kids, releasing Collateral. I have got the Cameron Crowe picture that we are producing, Elizabethtown...That's going really well. And just working on things. Working on Mission and a few other pictures. I haven't had a break yet. I will. I will take time. But I haven't gone on vacation yet. But I am having a good time. Life is actually very good."
Then, in April 2005, Cruise met Holmes and within weeks they were spotted together in Italy. He declared his love for his new girlfriend on Oprah Winfrey's couch in May and by the time their respective films War of the Worlds and Batman Begins came out within a week of each other in June, they were engaged. 
Carlos Alvarez/Getty Images
Long story short, fascination ensued. They welcomed daughter Suri Cruise on April 18, 2006, and married in Italy on Nov. 18, 2006, in front of family and friends including Victoria and David Beckham, Jennifer Lopez and Marc Anthony, and Will Smith and Jada Pinkett Smith.
Less than six years later, in June 2012, Holmes filed for divorce in New York. The terms of their split were settled swiftly and confidentially that August, the pair having had a seemingly ironclad prenuptial agreement.
Five years later, going by the usual rate at which rebound relationships (or at least rebound rumors) form in Hollywood, Cruise has been positively monastic since their divorce. That can't possibly be the case, but not one Cruise dating rumor has turned into anything. An October 2016 Us Weekly report about him and a "very normal" mystery-woman girlfriend has born no fruit since.
Holmes, meanwhile, has been rumored for four years now to have had this "thing" with Foxx and—as it turns out—she was indeed having it. Multiple sources told E! News over a year ago that the rumors were true and it was "not a secret among their friends." Moreover, between various sightings and other clues, there was simply too much smoke for there to be no fire.
It was only this past year, however, that they started to emerge from the shadows. They reportedly went to Mexico in December to celebrate their birthdays, which, aw, are five days apart. In April a celeb sightings blog had the two eating dinner together in New York. In May, Holmes flew to Paris to spend time with Foxx while he was shooting Robin Hood (and, coincidentally, Cruise was shooting Mission: Impossible 6 blocks away from their hotel). And in June, they were photographed within a mile of each other in Century City, Calif.—exactly five years to the day that Holmes filed for divorce.
And now, their romantic Labor Day spent at a pal's beach house on the sand in Malibu. While we won't be holding our breath for them to hit a red carpet or become Instagram official, could it be that, five whole years after Holmes' divorce, they're going to start dating more openly?
Because boy did they try every trick in the book to make sure the rumors only held so much water.
"One hundred percent not true," Foxx told Entertainment Tonight in October 2013, two months after the Hamptons event. "In fact, it's quite hilarious because we simply danced at a charity event along with a lot of other people." 
In March 2015, he told some trailing paparazzi, "Oh come on, you guys have been trying to get that to stick for three years." He and Holmes were "just friends."
Model and former Real Housewives of Atlanta star Claudia Jordan caused a stir last October when she said in an interview that her pal Foxx was "very happy with her. I like that he seems very happy." It turned out, however, that Jordan was not one of the friends they weren't keeping their secret from. Within 24 hours, she was backpedaling, telling ET, "I have no knowledge of Jamie with Katie at all. I've never seen them together. He's never told me he's dating her."
All the while, reps have occasionally offered rote denials to rumors that they were engaged, expecting a baby, already married, etc.
Then again, Foxx does have a credo. He said on Oprah's Next Chapter in 2012, about privacy, "My thing is like this, this is what I say to all of my friends that are in this business: 'Whoever you're dating, don't let anybody know.'"
Still, the Oscar and Grammy winner should really be honored with a lifetime achievement award for his performance.
Jerod Harris/Getty Images for GBK Productions
This past May, as Foxx was wrapping up an interview with Howard Stern, the host added slyly, "I wonder what the f--k you're up to anyway. You know what I mean, for real...like, what's going on?"
"It's all good," the actor assured him. "You have fun, man, or what?" Stern asked. "I'm having a ball," Foxx replied.
"You've been out there a long time," Stern sidekick Robin Quivers chimed in. "Are you still not into marriage at all?"
"Nah. Why blow it?" he offered. "I got two great kids and stuff like that." From previous relationships, Foxx is dad to daughters Annalise and Corinne, who was Miss Golden Globe in 2016.
And in June, he humorously talked about dating on the U.K.'s Graham Norton Show.
Jason Merritt/Getty Images
"It's tough out there," the Baby Driver star said. "I am getting older but people think I am younger. I was at a club the other night and a group of girls shouted my name. I was like, 'Hey, what's up?' and they said, 'We go to school with your daughter!' You have to be so careful."
The Graham Norton Show is also where Foxx happened to have trotted out his Tom Cruise impression in 2014 and recalled, "When I did get in Collateral [after not getting Jerry Maguire]...[director] Michael Mann was like, 'Hey, you better keep your stuff together 'cause I'm making sure this movie works for the big star." (Aka Cruise.) "And that's how I knew I wasn't a big star. We're in the car and we're driving and we're supposed to do this stunt, and I crash into another car. It's supposed to be a stunt...And when they get they're like, 'Jamie, get outta the way. Tom, are you OK?!' And that's where you know where you are."
It's unclear what, if anything, interviewers have been asking Holmes, 38, about Foxx, 49, over the years as she continued acting, directed her first feature film and delved deeper into the fashion scene. The most personal she's ever gotten on the relationship front has been to talk about wanting to do her best for Suri, life after marriage (never, ever the marriage itself, of course) and how she didn't want her scuttled union with Cruise to "define" her.
Though the terms of Holmes and Cruise's prenup remained officially under wraps, people have their theories—about money, of course, but also about what Holmes was or wasn't allowed to say about her famously private ex-husband, let alone what she was or wasn't allowed to do (such as date publicly, perhaps, at least for a while), once the marriage ended. Cruise talked about Holmes and Suri a little bit a few years ago—but he had to, he was being deposed for a defamation lawsuit he filed against Bauer Media, whose magazine Life & Style reported he had "abandoned" Suri. (He accepted a settlement in 2013.)
"We are thrilled for Katie and her family and are excited to watch as she embarks on the next chapter of her life," Holmes' lawyer said after they had signed off on the divorce settlement. Cruise's lawyer added, "All the lawyers and the parties are happy that it's done, the deal was closed, and we wish everyone well."
Hmm.
Post divorce, Holmes told More Magazine in January 2016, she realized that "you've got to keep going in every part of your life. Focus on the positive. Stay creative. Go to things that interest you. Do work that's fulfilling. Challenge yourself. What's amazing about the human spirit, there are so many people doing inspiring things. If you focus on that, it makes your life richer."
She added, "I like to be around people who make me learn something. I gravitate toward people who are doing things I don't know how to do."
Quizzed about her love life, Holmes said, "That's not something I want to answer." There's no "five- or 10-year plan."