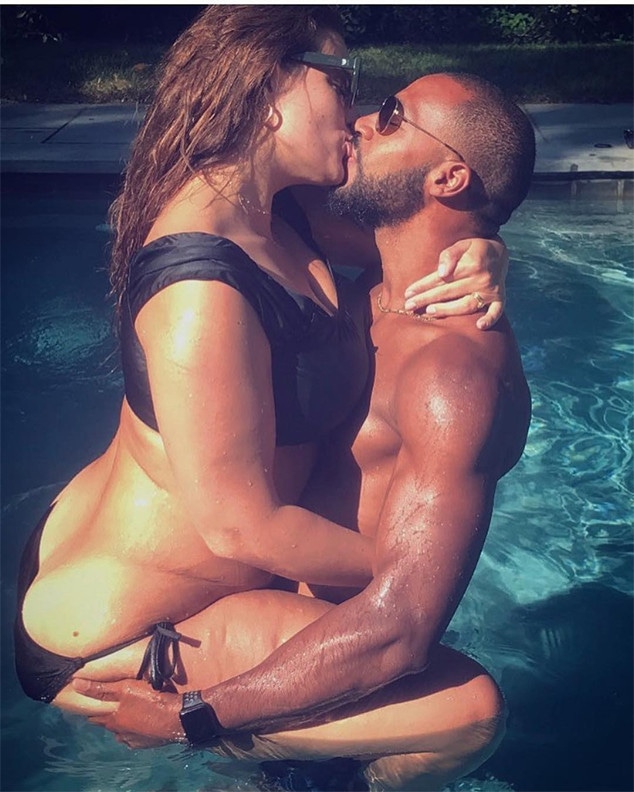 Instagram
Now that's true love.
After seven years of marriage, curvy model and body image activist Ashley Graham and Justin Ervin are still prone to making out like a couple of teenagers.
She posted on her Instagram page Tuesday a photo of her and husband Justin Ervin kissing in a swimming pool, with her legs wrapped around him and him grabbing her butt. She is wearing a black bikini with string bottoms. The photo was taken as they vacationed with friends in the Hamptons over Labor Day Weekend.
"No caption necessary #marriedlife," she wrote in the caption. 
The two have no problem showcasing their hot relationship to the world; In 2016, she starred in a sexy cover photo shoot for Maxim magazine and one of the photos featured her posing topless, with Ervin cupping her breasts.
Graham and Ervin, a cinematographer, wed in 2010 after dating for more than a year. The model has said in past interviews that they met at a church and did not have sex until marriage.
"When I was growing up, my parents always told me 'Don't have sex until you're married,' so I was like, 'Okay, I'm going to go out and have a ton of sex.' But then an ex-boyfriend made me realize that I need to respect my body and I need to have a man respect my body. It's not for everybody, but, in order for that to happen for me, I needed to not have sex [again] until I was married," she told ELLE Canada in 2016.
"My husband and I waited; call me crazy, but it worked. Our sex is amazing!" she said, "It made me feel like I had the power back in my dating life. He respected me more because I wasn't willing to just give it up. I tell my friends to wait three months. Just see if he can wait. If he can, he's a good guy. And, again, it's not for everybody, but for me it was great. It's something I'm actually really proud of."