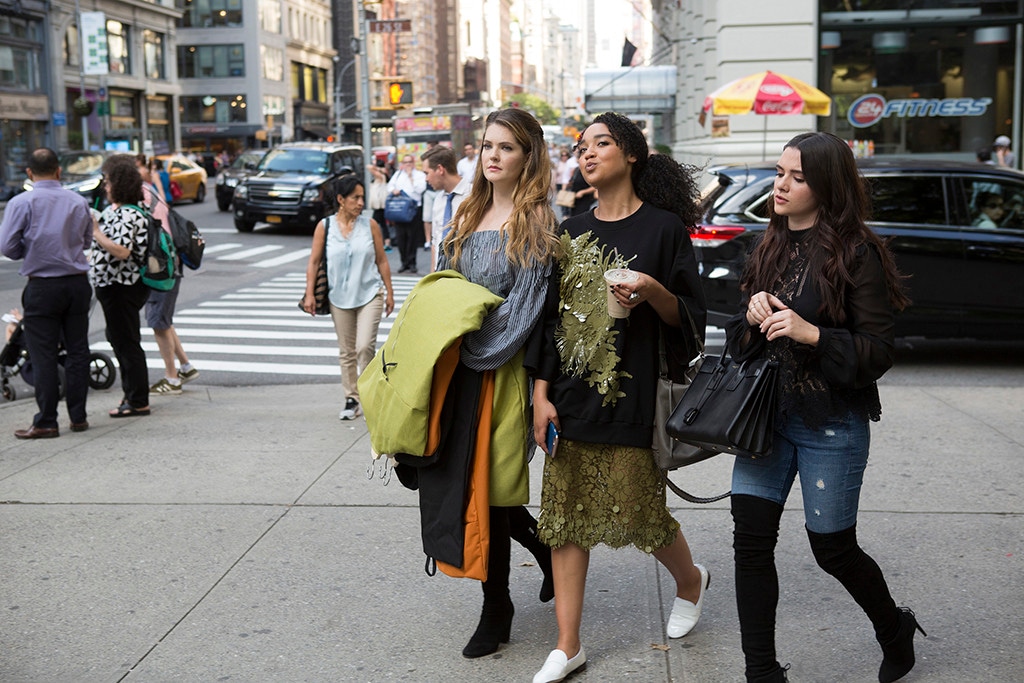 Freeform
When The Bold Type promos first started airing, it didn't look like the show it actually was.
It looked like Sex and the City but younger, a show where young women wore fashionable clothes, had sex with the wrong people, and screamed at subway cars.
Sure, a lot of it is about sex, and it's in a city, and it centers on a group of fashionable women, and one of those women is a writer who often finds herself writing about sex in the city. And sure, it's a a grand fantasy of clothes, jobs, apartments, boyfriends, girlfriends, orgasms, and access to far-reaching social media accounts, but somehow it might also be the most realistic show on TV in terms of its portrayal of young, working millennial women.
The Freeform series premiered relatively quietly earlier this summer, with a preview of the pilot airing after Pretty Little Liars. As the season went on, it started gaining steam in terms of tweets about how unexpectedly great it is, and how important it is, how beautiful the central friendship is, and about how cool it is that one of its main relationships is between a mixed race bisexual female social media director and a Muslim lesbian artist.
The tweets were right. What at first seemed like an attempt to fill the Pretty Little Liars void turned out to be so much more. The show is funny, sweet, socially aware, and most importantly of all, unboundedly optimistic.
"I wanted to do something really hopeful," creator Sarah Watson tells E! News. "I wanted to do something where we get to see friends actually be friends. The characters I like to write are inherently good, and we've been in this sort of era of the anti-hero for so long on TV and they're wonderful dark shows, but I want to come home at night and have a glass of wine and feel good at the end of watching it. So I wanted to write something that felt very hopeful and optimistic."
The show is based on Joanna Coles' time as EIC of Cosmopolitan, with Melora Hardin stepping in as Jacqueline, the EIC of the fictional Scarlet Magazine. The series centers on three women in their mid-twenties, all with dream careers.
Jane (Katie Stevens) just got promoted from assistant to writer. Kat (Aisha Dee) is the magazine's social media director, and assistant Sutton (Meghann Fahy) has ambitions in the fashion department. Jacqueline takes them all under her wing in different ways, forcing Kat to make tough decisions, teaching Sutton to stand up for herself, and getting Jane to open herself up as a writer and as a person.
The friendship between the three main girls—Jane, Kat, and Sutton—is the show's best and most unwavering feature (aside from everything about Jacqueline, which we'll get to). There wasn't a moment in the show's first season where the group was divided for more than a couple scenes, and even then, they were quickly brought back together with a million apologies and a whole lot of understanding.
"I never want the drama to come from the girls turning on each other," Watson says. "It's about friendship, and I do want it to have that feeling of wish fulfillment on top of everything else."
The Bold Type is one of those shows where everything is pretty and unrealistically dream-worthy—the clothes, the jobs, the New York apartment—which is part of its charm.
"I think we just sort of take the elements that are there and sort of turn 'em up a little bit," she explains. "Like in Sutton and Jane's apartment, Sutton still sleeps in the living room, but it's a really pretty living room."
And the friendships are no different.
"We jokingly refer to all the friendship moments as friendship porn, because these are the friendships of your fantasies," Watson says. "It's sort of like the friendships you have, but just a little bit shinier. Everything's just got a little shine to it."
Given the fact that nearly all of the main characters are social media-obsessed millennials with a phone glued to their hand and a fixation with who they want to be in the world, it's also important to note that those characteristics aren't looked down upon. Watson says she only recently discovered that in writing the show, her view on millennials changed completely.
"I feel like weirdly writing this show has made me like millennials more, because as I'm writing their struggles, it's like oh, they don't want to be unemployed, and they don't want to be dicks at work, they want to succeed. It's just that right now the economy is bad and there might not be opportunities," she says. "So now that I'm more in their souls writing these scenes, I'm like oh, millennials are great. I truly believe millennials are going to be the ones to save the world."
She particularly cites Kat as an example of the kind of young person who gets a lot of flack for her attitude and the way she was raised.
"Kat grew up being told she's completely awesome, but she's completely awesome," Watson says. "And did it make her a little bit too arrogant? Maybe, but that's also allowed her to excel at work. And is she annoying sometimes? Absolutely, and yet at the same time, it's given her this superpower to be able to walk into a room full of board members and not be afraid."
The show also subverts the typical idea of the female boss. Melora Hardin's Jacqueline is loosely based on Coles, particularly in terms of how her employees saw her.
"When I first started talking to all of [Joanna's] employees, I was really struck by how they all have kind of a healthy level of fear of her but also a tremendous amount of respect," Watson explains. "And how she doesn't micromanage at all, she's not mean, she's incredibly nurturing, but it makes her people work so much harder because they really want to live up to the expectations that she has for them, and she does expect a lot, and people really rise to that occasion. If every boss could be like her, I feel like every employee would be so much better."
While the show is easily comparable to The Devil Wears Prada in a lot of basic ways, that's not where Watson wanted to go with this series.
"We've seen the Miranda Priestlys. We've seen the dragon ladies, and those are not the kind of female bosses I've had," she says. "It's not the kind of female boss I am, and so I wanted to show that women can be amazing and kind and still be respected. Like it was important to me that we get to see all sides of that."
The Bold Type is filled with little lessons in feminism (often coming from Jacqueline, but not always), and dabbles in current real-world politics and issues and how they mix with the media and social media. When is a good idea to utilize a major platform, and when is it not? How does the Muslim ban affect a relationship? Can you define feminism in universal terms? How does a journalist cover a subject completely objectively?
It can sound like the show is an after school special on living in 2017, but it's really just a realistic, if very very shiny show that happens to feel alive in 2017, somehow filled with optimism and positivity even when things could seem dire. Jane, Kat, and Sutton are constantly looking to the future, seeing who they could be and what they could do despite how things might not be working out in the present, and that attitude couldn't feel more refreshing.
The Bold Type airs on Freeform.