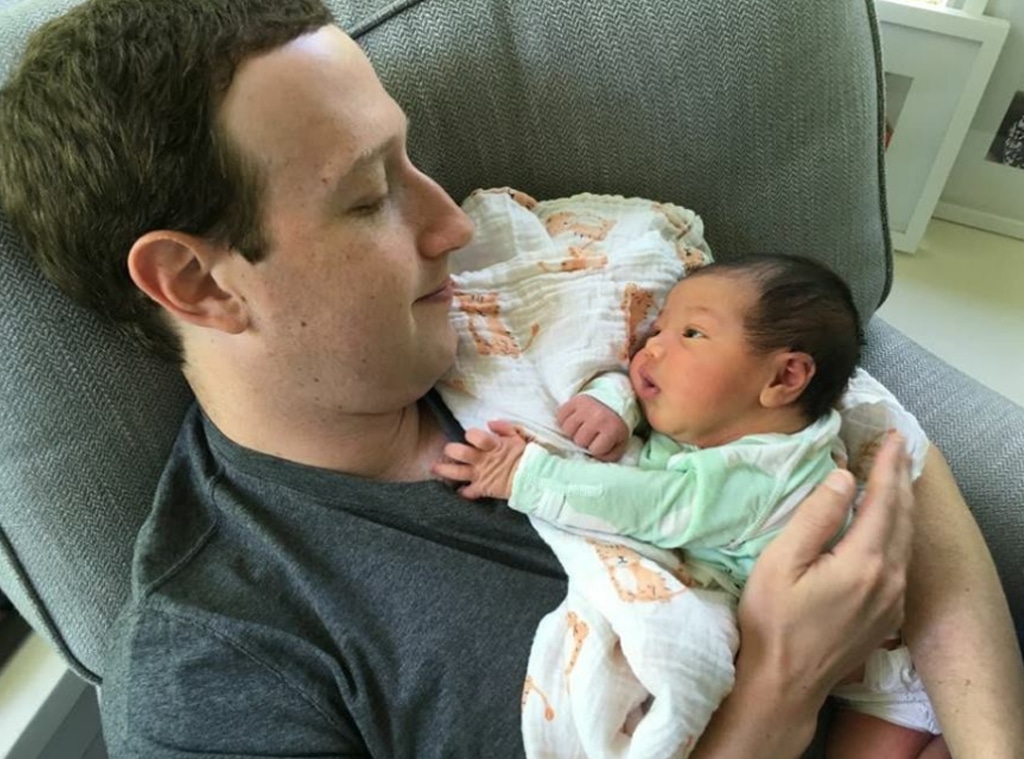 Facebook
Who wouldn't "like" this photo?
Facebook founder and CEO Mark Zuckerberg shared an adorable pic of him holding his newborn baby girl August Zuckerberg over the weekend. The photo's caption was short and sweet: "Baby cuddles are the best."
Zuckerberg and his wife Priscilla Chan announced the arrival of their latest addition in an August 28th Facebook post. The parents penned a letter to their daughter in which they expressed their love for her and emphasized the importance of enjoying childhood.
"You will be busy when you're older, so I hope you take time to smell all the flowers and put all the leaves you want in your bucket now," a snippet of the letter reads. "I hope you read your favorite Dr. Seuss books so many times you start inventing your own stories about the Vipper of Vipp. I hope you ride the carousel with Max until you've tamed every color horse. I hope you run as many laps around our living room and yard as you want. And then I hope you take a lot of naps. I hope you're a great sleeper. And I hope even in your dreams you can feel how much we love you."
Zuckerberg recently shared how he planned to take two months of paternity leave—one month right after August's birth and one month in December—to spend more time with his children, including his 1-year-old daughter Max.
"I'm looking forward to bonding with our new little one and taking Max on adventures," he explained last month.
Meanwhile, Zuckerberg announced Chan was pregnant with their second child back in March and shared that he had been hoping for another girl, explaining that both he and Chan grew up with sisters who served as strong female role models.
"We are all better people because of the strong women in our lives — sisters, mothers and friends. We can't wait to welcome our new little one and do our best to raise another strong woman," he wrote in the March post.
Zuckerberg has also been open about how he and Chan struggled to have children. In a July 2015 post announcing Chan's first pregnancy, Zuckerberg revealed that his wife had experienced three miscarriages and discussed the importance of being transparent about something that affects so many families. 
"You feel so hopeful when you learn you're going to have a child," he wrote at the time. "You start imagining who they'll become and dreaming of hopes for their future. You start making plans, and then they're gone. It's a lonely experience. Most people don't discuss miscarriages because you worry your problems will distance you or reflect upon you — as if you're defective or did something to cause this. So you struggle on your own."
"In today's open and connected world, discussing these issues doesn't distance us; it brings us together. It creates understanding and tolerance and it gives us hope."
We're happy to see that the family-of-four is doing so well!