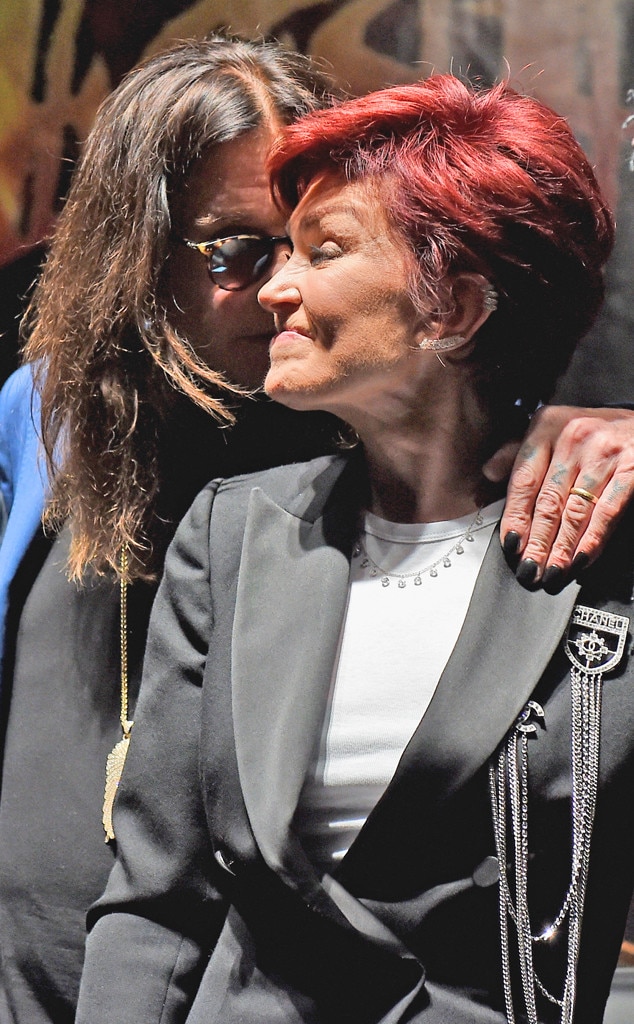 Kevin Winter/Getty Images
Sharon Osbourne isn't mincing words about her famous husband's affairs. 
After splitting in the spring of 2016, the Talk co-host and her rockstar husband have since reconciled and even renewed their wedding vows a year after their split. While there seems to be harmony in their marriage once again, Sharon may have forgiven, but she hasn't forgotten her partner's affairs—yes, plural. At the time of their unexpected breakup, it was revealed that Ozzy had been having one affair with a hairstylist. However, as she clarified in a recent interview to The Telegraph, there were six women in her husband's life. 
"Some Russian teenager, then a masseuse in England, our masseuse [in the U.S.], and then our cook," Osbourne said, according to People. "He had women in different countries. Basically, if you're a woman giving Ozzy either a back rub or a trolley of food, God help you."
The TV star ultimately discovered Ozzy's infidelity while they were "sitting on the couch watching the telly." 
"Ozzy on one couch and me on the other, and suddenly, he sends me this email," she recalled to The Telegraph, People cited. "'Why did you send me this stupid email?' I asked, and when Ozzy told me that he hadn't sent me anything, I grabbed his phone and said, 'Look!' And of course it was a message meant for one of his bloody women."
Sharon has one theory for her husband's actions. As she said, "When I found out about the hairdresser, I couldn't believe it. Because none of these women were show ponies; he was doing it to fill the void in some way."
Since discovering the affairs, Ozzy moved out of the house temporarily and sought treatment for sex addiction. Though Ozzy later backtracked on the sex addiction claims, by September 2016, they seemed to have fully rekindled their relationship. "I adore Ozzy," Sharon told The Sun at the time. The following month, the daytime talk show co-host appeared on Good Morning Britain sporting a new diamond band. 
"I'm good, I'm happy! What's not to be happy? My husband got me a new wedding band before I left, put it on my finger before I left. Ice, ice, baby! And everybody's healthy and happy, so I'm good."
Most recently, the two celebrated their 35th wedding anniversary in July. "Thank you Ozzy for 35 crazy & wonderful years. Here's to the next chapter of our lives," Sharon wrote to her spouse on Instagram. "Love you more today than yesterday. Always remember: You carry my heart in yours, and it's getting older and needs protecting."