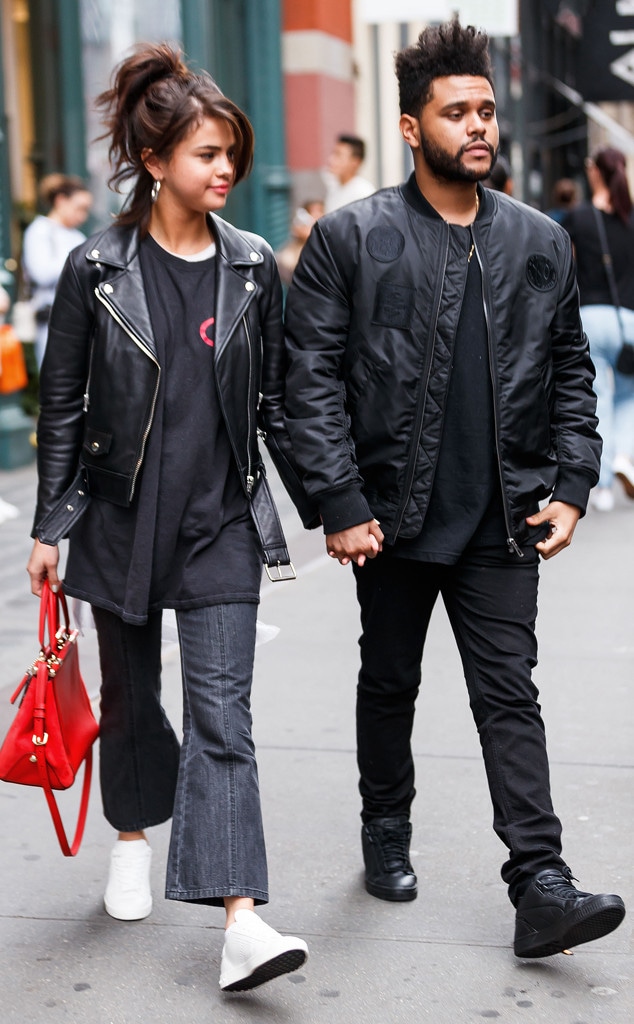 Splash News
Aww! Look—they match!
Selena Gomez and The Weeknd stepped out for an epic day date in New York City on Saturday—and it was hard to not notice that the twosome' were totally twinning as they each rocked all-black ensembles (black t-shirts, black pants and black jackets) in the Big Apple.
Despite the pair's dark and stormy summer looks, Selena, who wore her hair in a stylish updo, made sure to accessorize with a pop of color, carrying a fire-engine red purse.
For their day out on the town, the two hit up The Vintage Twin clothing shop and some other stores in Manhattan.
These lovebirds, who have been going strong since January, certainly seem to be on the same page romantically, so maybe that's why Selena and The Weeknd (whose real name is Abel Tesfaye) were on the same wave-length when picking out their fresh gear earlier today?
The pair also grabbed some grub, hitting up a few eateries over the course of their day together. The singers hit up Mexican restaurant Ofrenda in the West Village. The restaurant posted a pic of the "Come and Get It" song bird with a few male fans. They also lunched at Lure Fishbar in SoHo.
A source tells E! News the couple, who started dating earlier this year, took a romantic stroll together and took in the sights of the city.
Later on, the couple were photographed by fans when they stopped by a pet shop and hung out with some four-legged friends on Saturday night. Talk about puppy love!
Selena and Abel got caught kissing back in January, but are clearly much more open about their romance nowadays. Check out Selena and Abel's relationship from the budding beginning to full-fledged love...
Watch Daily Pop weekdays at 12:30 p.m., only on E!