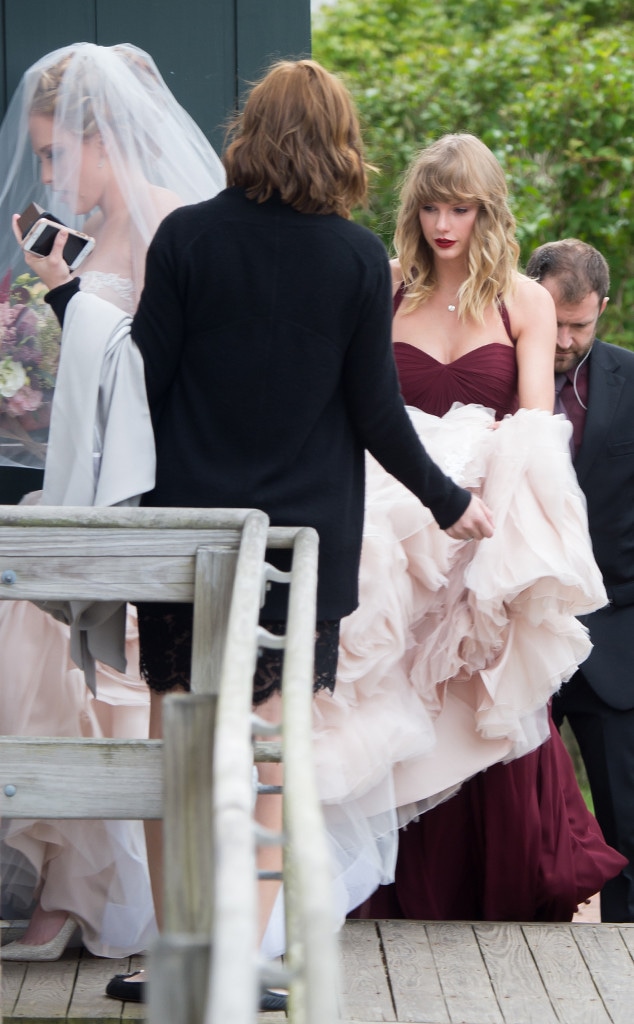 Splash News
That's what best friends are for...
Taylor Swift may be having one of the most record-breaking weeks of her career, but that doesn't mean she can't take time to be a bridesmaid at her childhood best friend Abigail Anderson's wedding on Martha's Vineyard on Saturday.
But the 10-time Grammy didn't just show up for the nuptials, the A-lister, who appears to be playing a vital role in the wedding, got the honor of holding her bestie's elaborate wedding dress as the blushing bride entered the Old Whaling Church in Edgartown.
E! News can confirm that the Tay's gal pal selected a Stella York Moscato Gown for her big day.
Wearing a burgundy-colored floor-length gown, Taylor was spotted lifting up the back of the voluminous gown as her friend walked into the church.
An eyewitness tells E! News that Taylor went in the church around 4:12 p.m. and the service, which began at 4:30, was over in 20 minutes. The "Look What You Made Me Do" was dressed in the same color as the other bridesmaids. The flower girls were outfitted in white.
Patriot Pics / SBMF / BACKGRID
A second eyewitness said, "All the bridesmaids came through the park to the church and Taylor arrived with the bride in a black car. They entered through the back door of the church since that was easier and shorter way for avoiding people and paparazzi. They walked in very quickly and she was holding the bride's dress and [Taylor] had a serious [look on her] face."
The second eyewitness added that there were about five police officers and five security guards spread out around the church.
Before there was fame or fortune or infamy, there was Abigail—who is basically her OG squad member. Abigail and Tay have been inseparable since they met, the first day of high school—so it's no surprise the 27-year-old would be right by her ride-or-die pal's side on her big day. 
BTW: Taylor even put Abigail in one of her hit singles, "Fifteen," which had the lyrics: "You sit in class next to a redhead named Abigail/And soon enough you're best friends Abigail gave everything she had to a boy who changed his mind/We both cried."
As for Abigail's love story...
On June 28, 2016, Abigail took to Instagram to announce that she got engaged to her photographer beau Matt Lucier.
"Tonight I answered the easiest question I've ever been asked. Without any doubt and without fear I am so excited for this next chapter in our lives @mattthephotographer," the newly engaged lady wrote, "Thank you to my family & all of my friends that went the extra mile to make sure this night was everything I've ever imagined. #HePutARingOnIt."
A little over a year later, the twosome has made it official—with friends, family and a superstar by their side!
Of course, this isn't the first time that the songstress has played an integral role in a pal's wedding. The singer was the maid of honor at her childhood friend Brit Maack's wedding in Pennsylvania in February 2016. 
—Reporting by Holly Passalaqua and Allie Rosenbloom